Another back shaver has found its way into my hands to put it through the paces and write about it. This one is quite different and gets me excited about trying it out. So let's not delay any longer and get into this OmniShaver Maintenance Back Razor Review.
What Is The OmniShaver Back Razor
Omnishaver Back Razor is a very unique back shaver mainly in part to its shaving head and razor. This has bi-directional shaving heads that cut hair when you pull and push. As a normal back shaver, you just pull, but not here with the OmniShaver! This pulling and pushing of the blades across your back have a stropping effect on the razors, this means that they according to OmniShaver will last twice as long as conventional razors.
What Is Included?
1 – OmniShave Maintenance Back-Razor (somes with 4 Omnishavers cartridges already installed)
1 – Shave Butter (6 FL. OZ. for a limited time this comes with the Back Razor)
1 – Lubrication Spreader/Cover
1 – Detail Set Of Instructions
OmniShaver Maintenance Back-Razor Specs
The whole Back-Razor, handle and head measures a whooping 19 1/2″ inches long. There is a button in the middle of the handle when pushed allows you to adjust the angle. There is a total of 11 angles in which to potential set this back shaver to.
While the shaving heads measures 3 7/8″ inches wide. It has four cartridges installed with 5 razors per cartridge.The shaving is highly articulating, as the whole head swivels side to side then the next step inward swivels up and down then the housing for the shaving cartridges goes up and down and also side to side.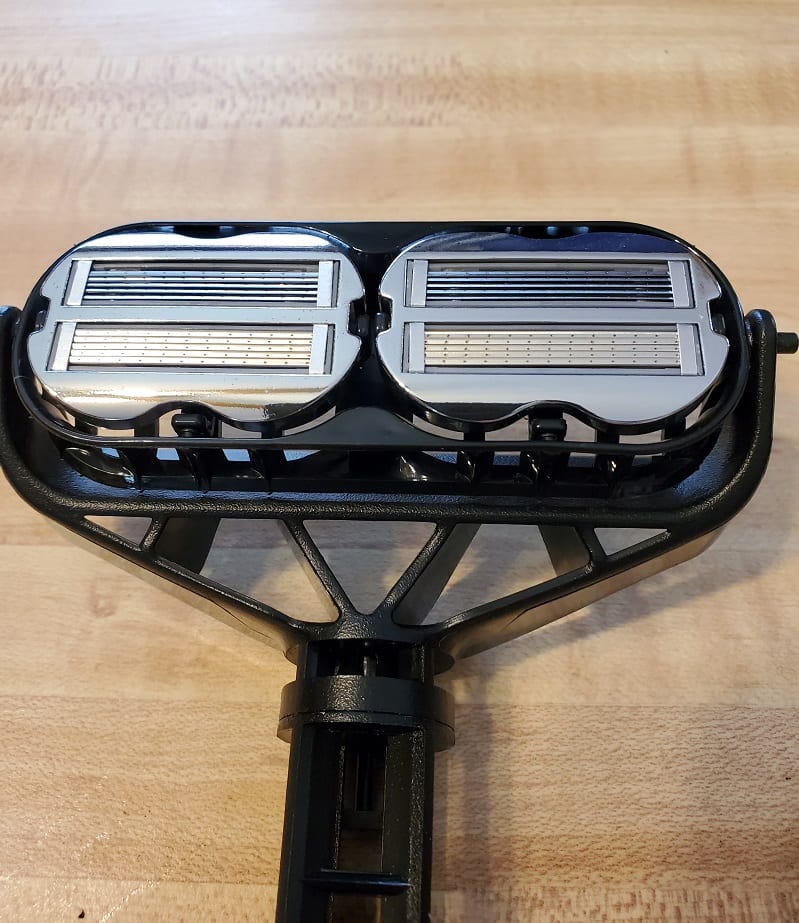 How Does It Perform?
After waiting a week from my last back shaving review, letting my back hair grow a little before giving this a try I gave this a go. This is important as the Maintenance Back Razor does not handle long back hair, as it will quickly clog with hair, OmniShaver readily admits this.
This worked well on my shoulders and upper back and as well my lower back but it was a pain to use in the middle of my back. As the shaving head didn't always index correctly. The swiveling head or articulating angles would catch my skin wrong and swivel the head so as to provide a useless stroke. This annoyed me and left me frustrated as I demand ease of use.
I also didn't like the handle as it felt slightly uncomfortable and skinny in my large hand.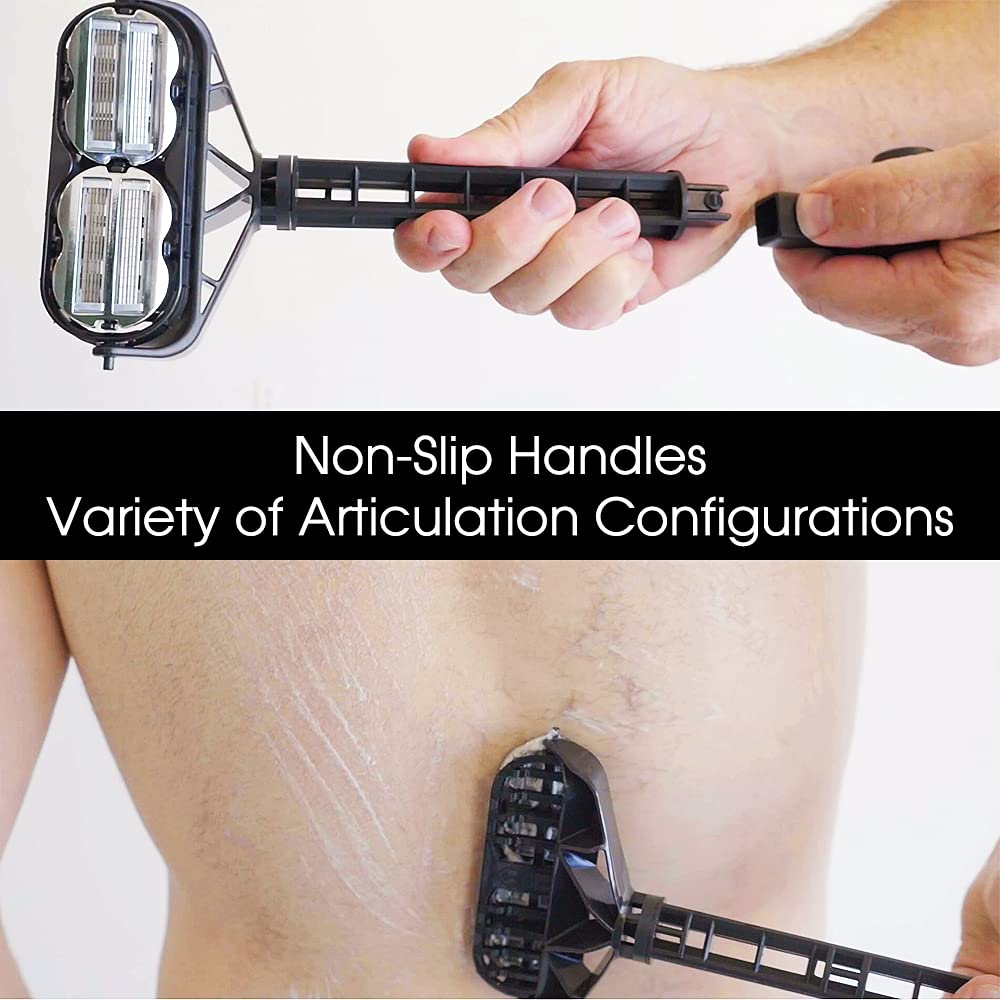 Pros & Cons
Pros
Really appreciate the Lubrication Spreader/guard that easily snaps on and off. This helps prolong the blades and for safety purposes as well as applying the shave butter (sold separately) or other shaving creams.
Great set of detailed instructions.
They have a rewards program in place for earning rewards for money off future purchases.
Have Discounts for Military, Responders, Medical, and Teacher. Love this!
Great system for the man that wants a smooth back every day as part of a daily or multiple times a week.
OmniShaver claims using the Back-Razor will essentially strop the razor blades due to the back and forth method needed to shave with this razor. Thus your blades remain sharp for longer. This makes sense to me and I can not dispute their claims, as I haven't had this long enough to determine if this is so.
The Omnishaver also self-cleans during use so no need to constantly rinsing the blades.
The button in the middle of the handle has multiple locking positions to get the right angle for whatever position needed.
The shaving head is articulating which allows it to stay in contact with the many countors of the back, except the middle of the back, at least for me it did.
Worldwide shipping.
Not happy with the product? OmniShave has a no-questions-asked 30-day return policy.
The Shave Butter is great and highly recommend checking it out.
The handle comes apart to give more control when needed.
Cons
The handle isn't the most comfortable, I also feel like it is too skinny in hand, as I have large hands.
The head is slightly heavy and is unbalanced and it feels a bit awkward. Not horrible but noteworthy.
A slight learning curve on learning how to correctly use this back shaver.
This is called a "Maintenance" back shaver because it does not handle long back hair. The back hair needs to be short otherwise it clogs. So, you will either need to trim it with a different back shaver or shears to adequately use this back shaver. So you will have to buy another back shaver to initially trim/shave the long hair, I feel this leaves the average man in kind of a pickle, making him buy a back hair trimmer plus the OmniShave Back-Razor.
Sometimes it is hard to keep shaving head in contact with skin to shave. When shaving in the middle of my back with my arm over my shoulder the articulation of the shaving head would catch and go off and not remain in contact with my skin. This annoyed me.
Video link in instructions leads me to nowhere.
Some Tips On Using This
Use Promo Code – BSFM10 to Save 15% Off Your Order.
If you are a man and shave your head, you got to check out their Premium OmniShaver as this there product that shaves heads. This looks like it takes no time at all to shave your head and definitely worthy of looking at. I don't shave my head otherwise I would review it but I have seen videos of men very quickly shaving their heads. Seeing the video below leaves you with little doubt.
When using this on the lower back I found choking up on the handle to give me better results.
Cleaning the OmniShaver after each use will extend the life of your product.
What Back Shaver Would I Recommend To Complement The OmniShaver Back Razor?
I would recommend the Mangroomer Lithium Max Plus to complement the OmniShaver Maintenance Back Razor as it is the best electric trimmer for back shaving. You can read my full review here, Mangroomer Lithium Max Plus Back Shaver Review.
The Final Shave
Is the OmniShaver for me personally? No.
Would the OmniShaver Back-Razor be right for some men out there? You bet.
I love their unique razor head design but I feel it doesn't fit exactly into my lifestyle. This in large part to I often let my back hair grow in the winter months and/or I am not religious about shaving my back when I am not reviewing back shavers. As OmniShaver Back Razor you have to continually maintain (shave) when the back hair is short otherwise you will have to use a seperate device to handle the longer hair. This translate to more time, I don't know about you but working 11-hour shifts and maintaining a couple of websites I am in short supply of time. I feel I want one device no matter what length of back hair I have.
That being said, I know this would be a good fit for potentially other men out there. A man who can constantly stay on top of daily hygiene rituals and prefer to be hair-free every day.
I also prefer a shaving head that remains static and doesn't articulate. I want to know with each stroke it's doing its job and is where it is supposed to be. I didn't get this effect the OmniShaver's Maintenance Back Razor and it greatly affects how I view it.
I love the uniqueness of the OmniShaver but find it impractical in my opinion in the long run for back shaving. I would however recommend checking out their Premium OmniShaver for shaving your head as it looks amazing and would see little to no drawback as I experienced with their Maintenance Back Razor.
Any questions or comments please feel free to leave below, I would be more than happy to reply to them.