Not Very Happy With Manscaped?
Neither was I! After years of hearing the marketing hype surrounding this ball trimmer, I was expecting stellar results. I didn't get stellar results what I did get was a bunch of nicks instead, yeah on my nut sack. That was fun. So needlessly to say I was a bit let down by the whole experience of using the newest and supposedly greatest Manscaped product the Manscaped The Lawn Mower 4.0. I hope to present some Manscaped Alternatives in this post to help men find a better experience as well as a better product in my opinion.
Note: my experience with the 4.0 was not using any of the guide combs provided but just using the trimmer all by itself with nothing attached. Using the guide combs would have eliminated all nicks and cuts I am sure, FYI. I have reviewed other ball trimmers and have experienced zero cuts and nicks from just using the trimmer alone. So, I do know it is possible to trim down there without nicking yourself.
You can read my full experience over here on my page, Manscaped The Lawn Mower 4.0 Review.
Also in full disclosure, I am an affiliate of Amazon and other products. I place links on this page to these sites and potentially make a small commission on clicked-purchased sales. My website is a small website and would greatly appreciate any support that is if you find the information helpful to you. Thanks.
Why You Need A Separate Trimmer For Your Balls
First off it is a manner of hygiene, right? Do you really want to put something you had around your nether region and then trim the hair around your mouth and beard?
Yeah, I didn't think so…neither do I!
Secondly, beard trimmers are designed for the hair around your face. They are not designed for the folds of skin around your junk. Using a beard trimmer around this region will surely in blood being spilled. Ball trimmers take into account the weirdness of skin down there and design features to prevent nicking the ole bean bag down there.
Something else to consider before running off to purchase a dedicated nut trimmer is to remember that some of these trimmers have different attachments designed for different areas of the body. Just something to consider and I wanted to initially point it out.
Alternative To Manscaped Products
I have the pleasure of using and reviewing some of the products listed below. I will put a link to the review with the ones I have reviewed if you want to look further into it.
Also, most modern-day trimmers can perform multiple tasks, this can include trimming your beard, groin area, chest, legs, and arms. It is also important to note to follow the instructions sent with the product you purchase.
Worried About Cutting Yourself – A Tip
Most if not all ball trimmers have guide combs. These usually attach to the top where the trimmer is located and come in varying lengths. The guide combs elevate the trimmer head allowing more space between the trimmer head and the skin (thus creating more stubble). This space that is created by using a guide comb can help protect you from nicks and cuts on your sensitive areas. Keep in mind though that more hair will be left as opposed to not using a guide comb and just the trimmer alone. Some trimmers are so well designed that no trimmer guide comb needs to be installed when shaving your balls, as they do not cut you.
Also, keep in mind, that anything is possible and you could still nick yourself down there but it is far less likely. Always take your time and don't rush it. It is not a speed contest.
Make It Last Longer
A tip to have the best possible performance is to adequately clean any trimmer after you are done with it. This helps to ensure the maximum lifespan of your product and keep it in good working order. Yes, it takes a little effort but you will have a nice clean, and working product the next time you go to use it. Also, follow the instruction given on cleaning by the manufacturer.
Oil It Up
Another tip to make your trimmer last longer and also perform better is to keep it good and lubed. Most trimmer manufacturers ship a small bottle of oil lubricates with their trimmers. If you start noticing a performance issue or a change in motor tone just a couple of drops of lubricate to the blade and rake after you have cleaned it.
This is my current favorite groin hair trimmer. Why is that? Well, because it doesn't ever cut or nick you and is well-designed. Those two reasons go hand in hand with creating a stress-free grooming experience and also leaving the blood where it should be in your body and not outside of it. It has never nicked or cut me ever! Really a great ball trimmer! It was a wider blade than most, which I actually prefer too. Plus it performs very well and never bogs down no matter how much hair you throw at it.
Quality in design and parts and more importantly in quality control.
This has a very comfortable handle that just fits really well in the hand. It also has three indicator lights letting you know how much power you have left.
To find out more about why I choose this as my ball trimmer check out my full review here, Meridian Trimmer Review – Best Male Pubic Trimmer?
Promo Code
10% off any purchase – use code SUMMERVIBES10 from July 31, 2023.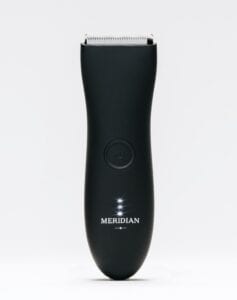 Features
Battery – 90 min run time.
Blade width – 1 1/2 inches wide.
RPM – 6,000 strokes a minute.
Recharge time – 5 hours.
Waterproof – Yes.
Charging indicator – Yes.
Guide Combs – 2 two-sided (3-6mm & 9-12mm)
Brio advertises this as "The Last Trimmer You'll Ever Need?" and I agree, it's that good.
The Brio Beardscape Beard Hair Trimmer is more than a beard trimmer, this is a multipurpose grooming tool that can be used from head to toe. As beard trimmers go this is the BEST one I have reviewed, and no wonder there is so much hype around this trimmer as it is just a great tool for trimming the beard as well as the whole body. Highly adjustable has a great design and performs spectacularly. A very well-designed tool.
The Micro Adjust Lever is a great feature as you can make adjustments to get that right length of beard stubble or for trimming ball hair. I would start out trimming your ball hair with the maximum setting of 1.9mm and see how it goes, either adding the 1mm guide comb or lowering the setting a little at a time.
This can be used for a variety of grooming tasks, including cutting your hair, trimming your beard, and trimming body hair, and groin hair. It does all these grooming tasks very very well. I cut my hair with this Brio and it did a fantastic job, easily getting the length I needed, especially on the sides of my head as I use a 1mm on my sides. The best all-around trimmer in the bunch!
This is my new favorite all-around grooming tool. I just got done reviewing and posting a review of this amazing trimmer, check it out here, Brio Beardscape Beard Hair Trimmer Review.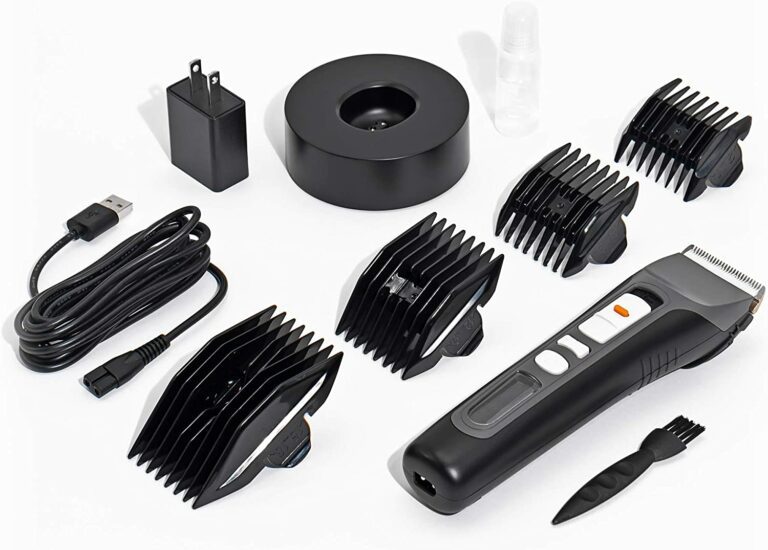 Features
Battery – Extra-Large Li-ion battery with up to a 4-hour run time.
Blade Width – 1 5/8″ inches wide
RPM – 5-speed settings (5,000, 5500, 6000, 6500, 7000 RPM)
Recharge Time – 3 hours
Waterproof – No
Charging Indicator – Yes
Guide Combs – 4 dual-sided combs (1-2mm, 3-6mm, 9-12mm, and 15-18mm)
This is a solid electric trimmer with many attachments designed to handle hair just about anywhere on your body. Ears, groin, chest, arms, legs, eyebrows, and facial hair. It also has a micro foil shaver attachment that I am not that big of a fan of but the other attachments work well. This also comes with a leather travel kit which is great for keeping all the attachments in one easy-to-find location.
The motor speed is one of the highest and the motor is of good quality and works great. It has two-speed settings which is a very nice option and a LED readout for battery life.
How well does it work for your boys down there? With its special GroinGroomer attachment with its micro teeth it and high power setting I had zero nicks and cuts when I used this down there.
You can read more about this in my review, Bakblade Bodbarber 11-In-1 Total Body Groomer Review.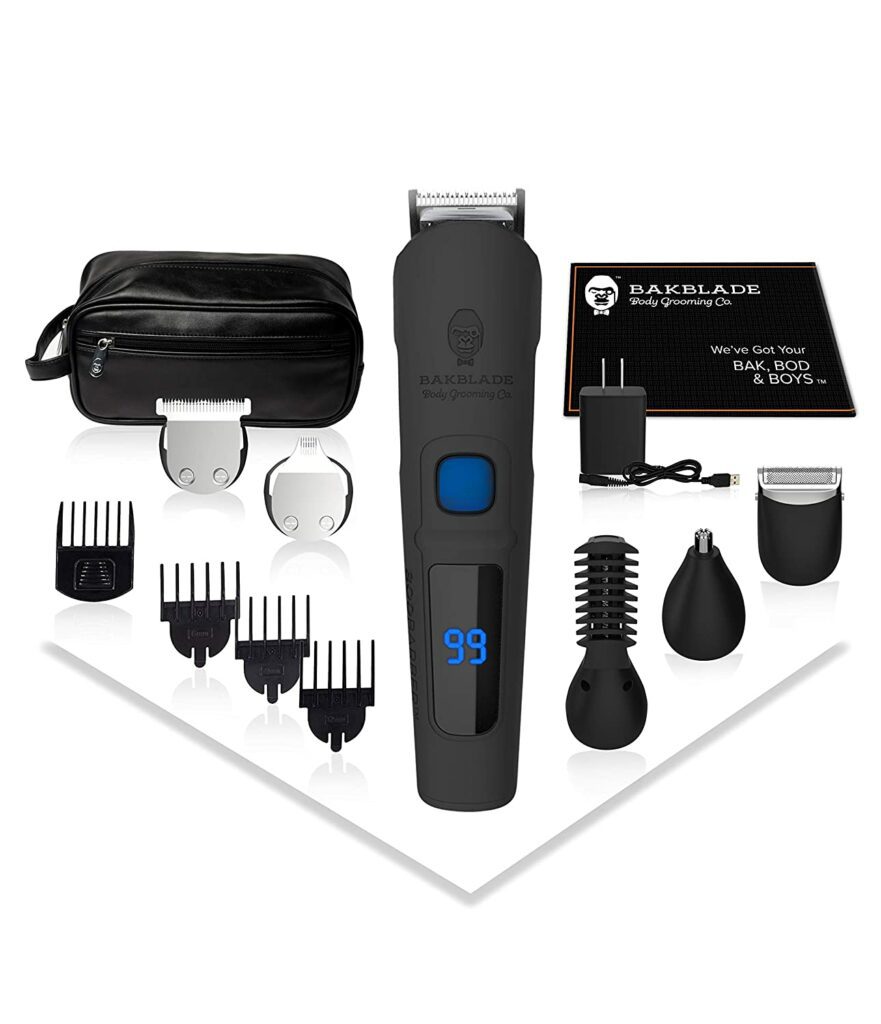 Features
Battery – Lithium-Ion
Blade Width – 1 1/8″ inches wide.
RPM – 7,300 RPM
Recharge Time –
Waterproof – Yes
Charging Indicator – Yes.
Guide Combs – 9 different attachments total
This is the new guy on the block and it is a great trimmer that doesn't cut you.
This has a unique dual-sided ergonomic blade design and can cut hair both ways. This is a slim shape that easily maneuvers into tight hard-to-reach areas. This is also waterproof so it can be used in the shower. When fully charged it can last up to 3 hours on a single charge, god help you if it takes 3 hours lol. You should get quite a few trimming sessions off of a full charge before you need to charge this unit. The blade also pivots 30 degrees to help say goodbye to any nicks or cuts.
The motor runs at 7,000 rpm which is a great speed to handle any bush no matter how dense. This also has a 90 Day warranty. This has a slim but comfortable handle that feels good in the hand.
Check out my full in-depth review here, Happy Nuts The Ballber Electric Hair Trimmer Review.

Features
Battery – Lithium-Ion 150 minutes on a full charge.
Blade Width – Dual-sided design.
RPM – 7,000 RPM
Recharge Time – unknown
Waterproof – Yes
Charging Indicator – Yes.
Guide Combs – 4 guards included
This groomer from Mangroomer is a double-ended groomer, having a foil-type shaver on one end and a trimmer head on the other end. Each end has a separate power button. Mangroomer makes a few different body groomers but this is their top-of-the-line model. I know Mangroomer makes quality products as I have reviewed quite a few of their back shavers over the years and they always work great in fact, their top back shaver is ranked #1 by me in the electric back shaver category. They make quality grooming tools for sure.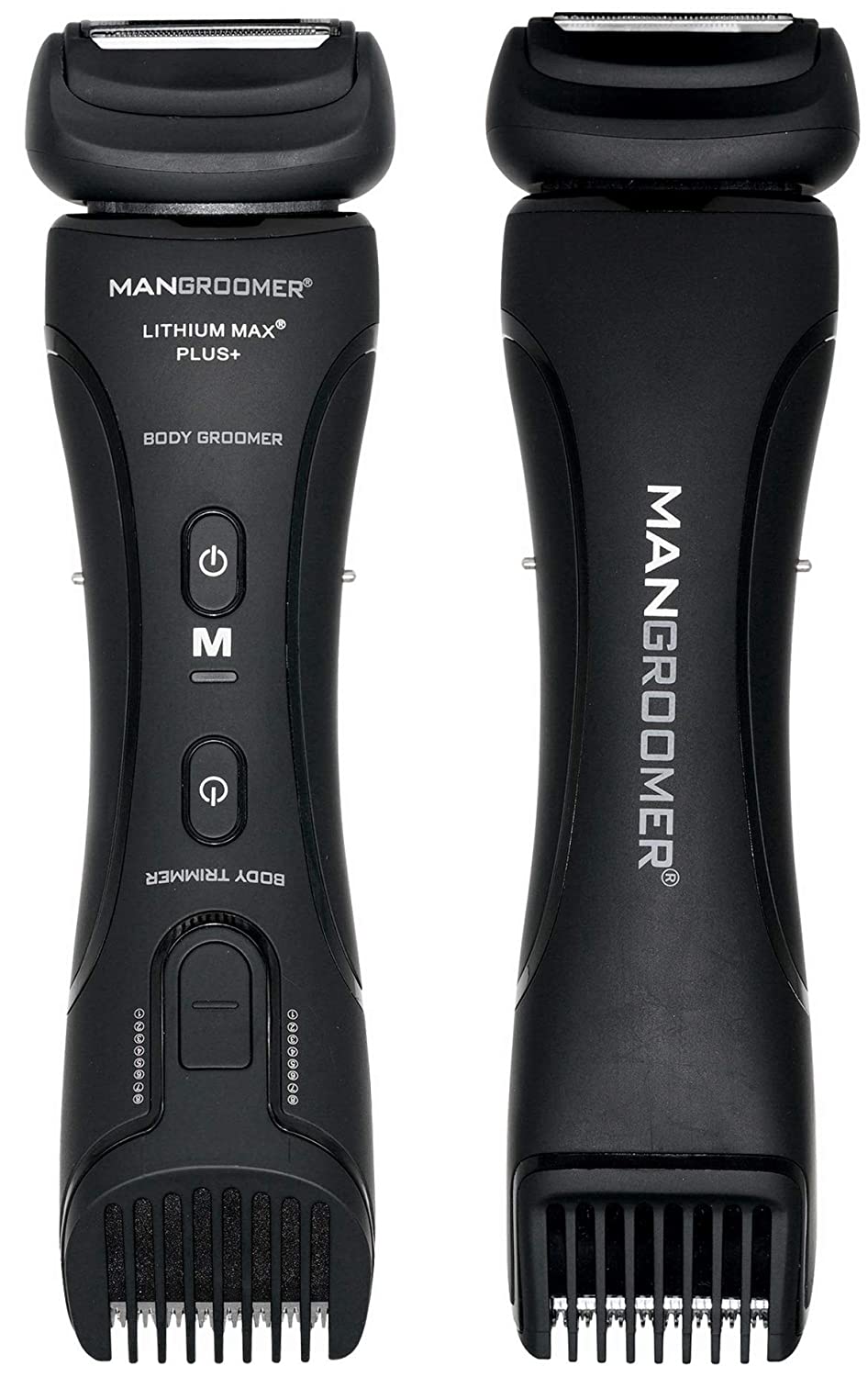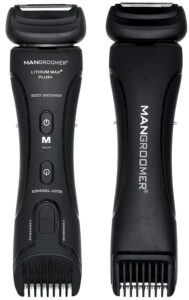 Features
Battery – Lithium-Ion battery.
Blade Width – unknown
RPM – unknown
Recharge Time – unknown
Waterproof – Yes
Charging Indicator – Yes
Guide Combs – 1 Adjustable guide comb for a total of 8 settings.
The OneBlade Face & Body is worthy of mention in this list as well as it is a terrific revolutionary Shaver/Trimmer for the face but also for the body. This hybrid of a shaver slash trimmer gets so close to the skin without cutting the skin it is truly amazing. This highly popular trimmer would make an excellent all-in-one body hair trimmer. It has multiple stubble combs as well as two other guards a Skin Guard for the groin region and a Body Comb for general body hair. For trimming the groin region I would highly suggest sticking to using the Skin Guard Comb, which is the small green and black comb provided.
Check out my review of this amazing product here, Philips Norelco OneBlade Face & Body Review.
Features
Battery – Lithium-Ion battery
Blade Width – 1 1/4″ wide
RPM – 200 times a second
Recharge Time – 4 hours
Waterproof – Yes
Charging Indicator – Yes
Guide Combs – 6 guide combs provided (4 stubble, 1 Skin Guard (groin) 1 Body Comb)
Another small and wielding trimmer is also double-sided as you can trim by pushing as well as pulling. A very precise tool that can be used on the face and is hardy enough to be used elsewhere on the body. This also has a LED light to light the way into the underworld.


Features
Battery – Lithium-Ion
Blade Width – unknown
RPM – unknown
Recharge time – unknown
Waterproof – No
Charging Indicator – Yes
Guide Combs – 3 Guide Combs


Any questions or comments? Would love the opportunity to answer and address them. Thanks!