What Is The BODBARBER?
Bodbarber is a near-complete hair grooming kit, near-complete because it handles everything else but shaving back hair (at least by yourself). So everything else from head to toe this grooming tool will tackle. But luckily we are dealing with Bakblade here, as they are the best in the world in my opinion for shaving back hair. So needless to say I am pretty excited to try out one of their newest products, the Bakblade Bodbarber 11-In-1 Total Body Groomer Review.
Bakblade as a company has always impressed me over the years, from their first back shaver the Bigmouth 1.0 Bakblade to the current reigning champ the Bakblade 2.0 Elite Plus Back Shaver. They constantly work to improve products with each iteration.
Hoping to be wowed again with this BodBarber. Well, let's see…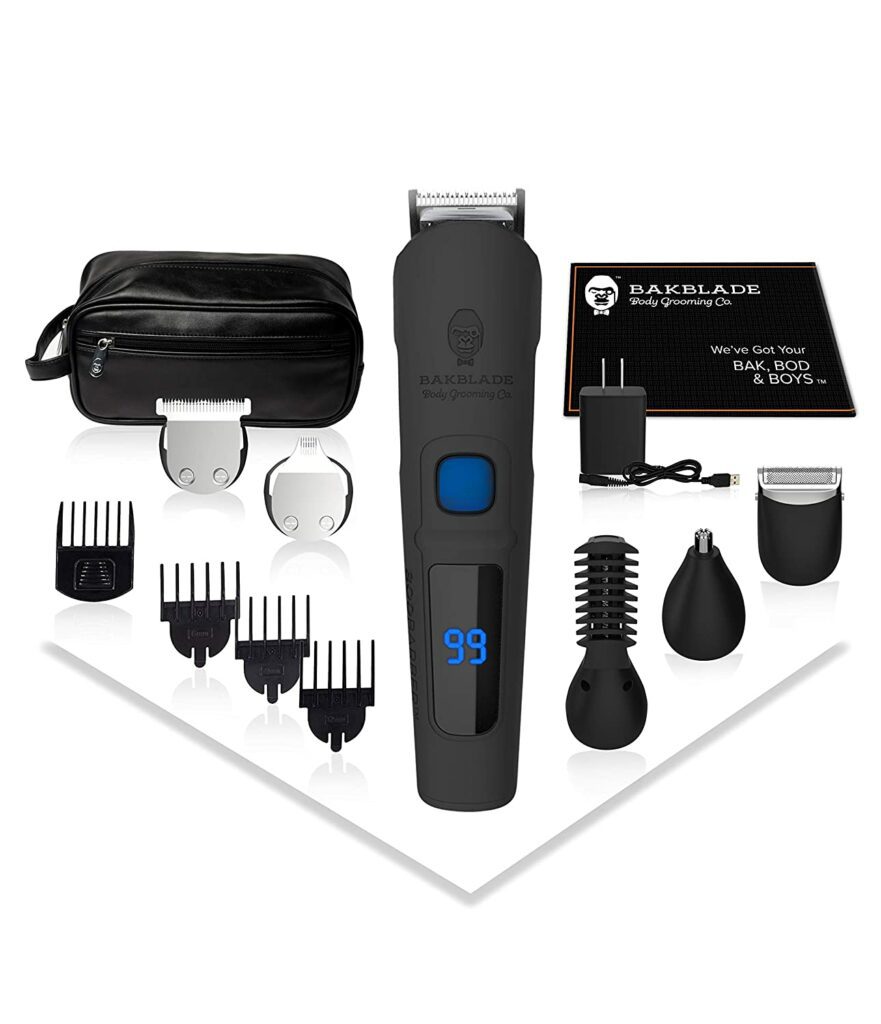 What's In The Box?
1 – BODBARBER Body Groomer
1 – GroinGroomer trimmer attachment
1 – Full-Size trimmer attachment
1 – Body Groomer trimmer attachment
1 – Ear/Nose Groomer attachment
1 – Micro Foil Shaver
1 – Micro Shaver attachment
1 – Design Trimmer attachment
1 – USB Cable
1 – Wall Adapter
1 – Cleaning Brush
1 – Blade Oil
5 – Guide Combs (3mm, 6mm, 9mm, 12mm, and Guide Comb)
1 – Hair Comb
1 – Bakblade Leather Travel Bag
1 – Grooming Stand
1 – Set of Instructions included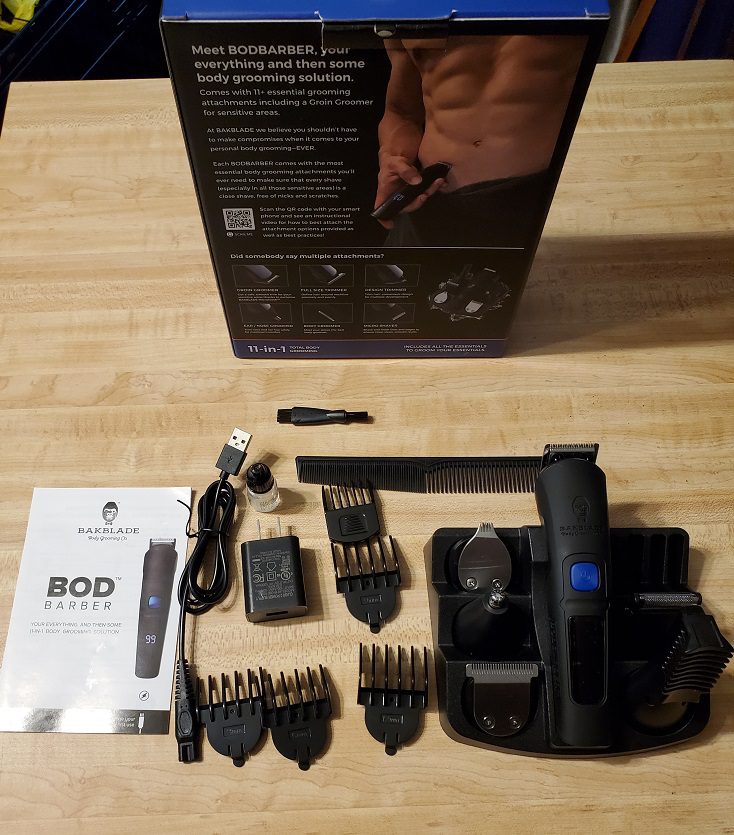 BodBarber Specs
GroinGroomer – 1″ wide
Full-Size Trimmer – 1 1/2″ wide
Foil Shaver – 1″ wide
The Most Important Thing…How Well Does It Work?
The many attachments can easily win you over right from the get-go. They all work great after trying them all out. I find the motor of the Bodbarber is more than adequate for trimming body hair. Although that being said I wouldn't cut the hair on my head with this, as I prefer a more robust motor and a bigger shear head for doing this. I do cut my own hair once in a while. But for body hair, I think it does a fantastic job.
This isn't the cheap junk that you can find for really cheap on Amazon, the Bodbarber does have some power and everything fits well and runs well. The sound from a properly designed sheer can also tell you a lot about itself. Thankfully, the sound is pretty decent. I've purchased junky sheers and trimmers in the past and right away after turning it on, you can tell by the noise it makes whether or not it is going to work.
Changing the different heads feels great and solid and securely locks the head in place. Comes with a plastic grooming stand which you can place on the counter and stores nicely till you need it.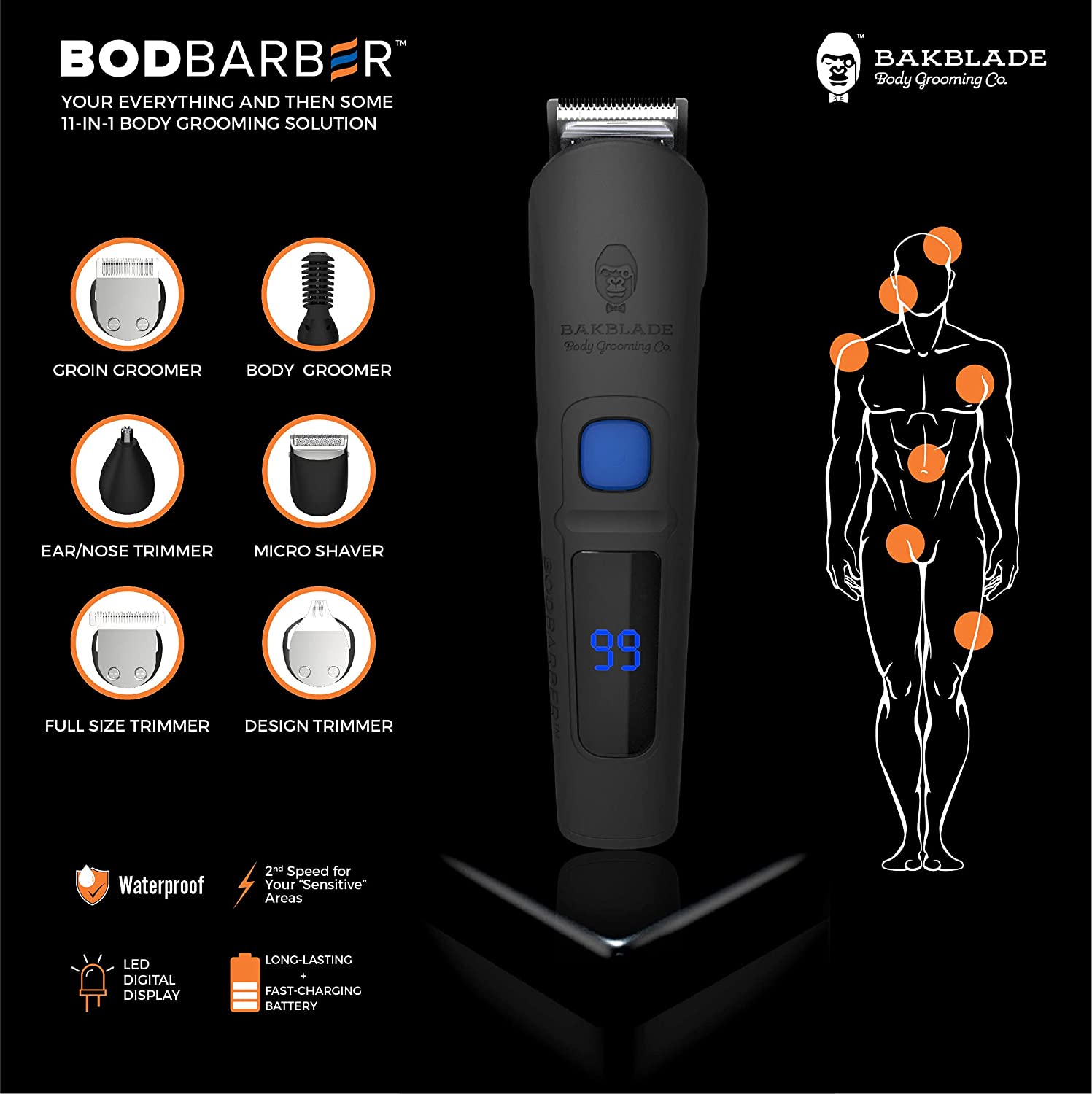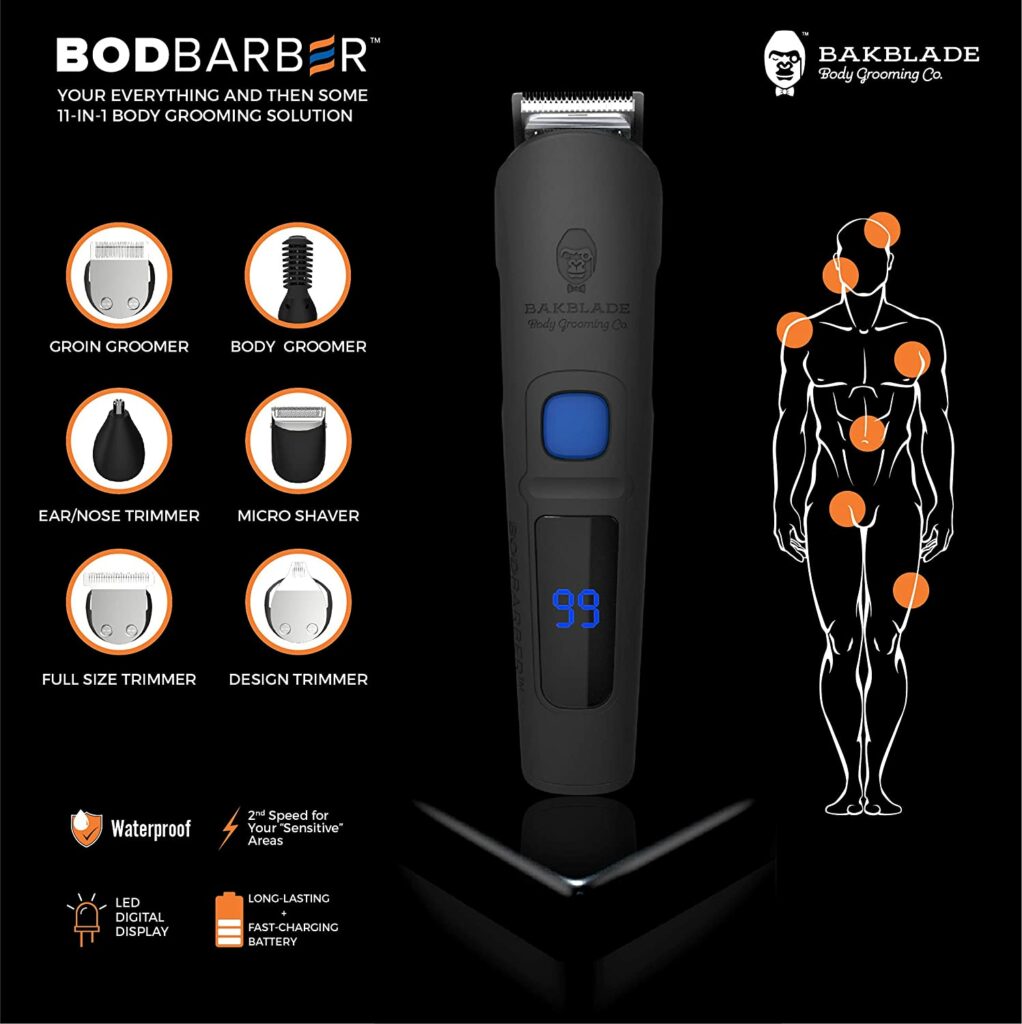 Pros & Cons
Pros
Love the idea this handles just about everything that needs trimming on your body and addresses that issue.
Comes fully charged. Love this!!!
100% Waterproof but I don't recommend using this in the shower.
Comes with the Bakblade Leather Travel Bag great for storing all the many items that come along with this kit. This is a nice and simple Dopp kit, you can read a full review of it here, Bakblade Leather Travel Bag Review.
The grooming stand is a nice touch if you have the available space on your bathroom sink, I do not, as my wife has commandeered every available space.
Lots of different attachments more than I have seen elsewhere.
Fits in the hand nicely.
Digital Monitor that tells how much power is remaining in charge.
High Speed by pressing the power button twice you get the high speed setting.
A great little cleaning brush is included and necessary for cleaning the different shaving attachments out.
Attaching and reattaching different heads is simple and fast once you learn how.
No bloody nuts! It did not cut me down below when trimming down there. The GroinGroomer head attachment has significantly smaller teeth and tighter spacing in between the teeth, this is a really good thing as the tighter the gaps are the less likely that skin can get cut
Cheaper in price than some other popular grooming products.
Cons
It's hard to get away from this these days, but everything is made in China, and while it doesn't mean it is a deal breaker, just a downside.
Would like to see the different trimmer head attachments have some sort of label on them so you can more easily tell what attachment you are grabbing. As some of them are very similar in appearance.
Would maybe like to see a ceramic blade for blade longevity and sharpness.
Tips On Using The Bodbarber
When trimming the hair around your junk it is recommended to use the High-Speed setting and everywhere else to use the regular power setting.
To change shaving and trimming heads simply pull downward and off and to reattach simply line up the clip and push downward.
If you are in need of a back shaver you need to check out the Bakblade 2.0 Elite Plus Back Shaver. You can read my full in-depth review here, Bakblade 2.0 Elite Plus Back Shaver Review.
If you want to use an actual razor to shave your body hair on the larger areas like the chest, arms, and legs Bakblade also makes a Bodblade. You can read my full review of that here, Bodblade Review – Shave Chest, Arms, & Stomach? Find Out!
The Final Shave
I really like the Bodbarber and think most people will too! The motor seems more than adequate to handle body hair. The different attachments will help also help get rid of body hair more conveniently. Just like Bakblade other products this also is made solidly and performs well. Bakblade didn't let me down and continues to make great products. It is in this vein I can highly recommend the Bodbarber for getting rid of body hair.