Get Rid Of Nose & Ear Hair
Today I will be reviewing a nose and ear hair trimmer from the maker of the best electric back shaver currently on the market. The Mangroomer Pro Essential Nose And Ear Hair Trimmer Review will highlight how the product performs and should help you decide if this product is right for you.
Nose and ear hair are pretty disgusting to sport around.
Isn't it?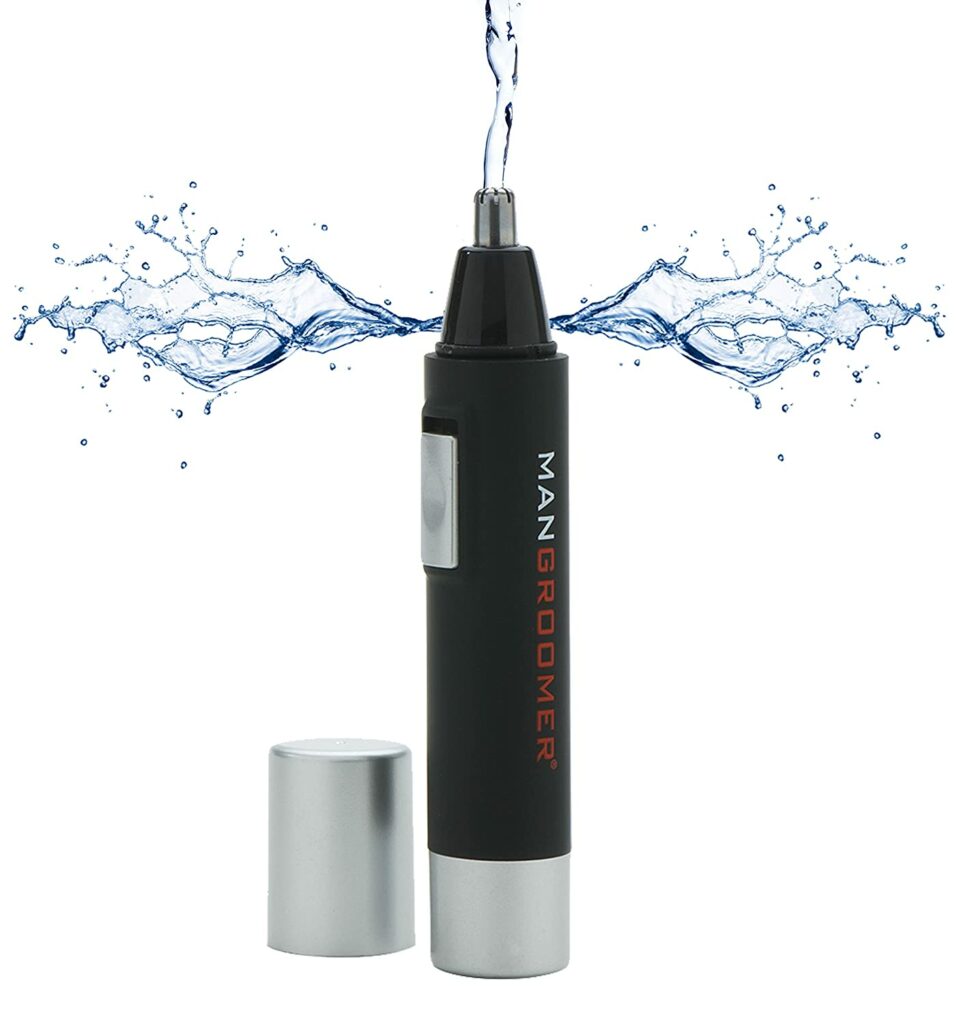 What Is All Included?
1 – Mangroomer Pro Essential Nose And Ear Hair Trimmer
1 – Set of Instructions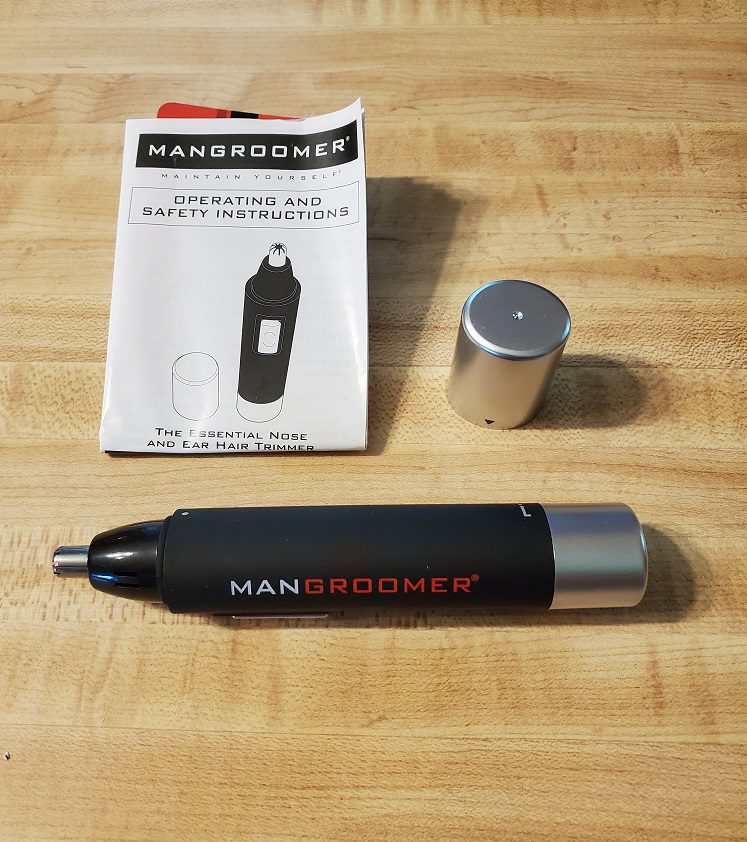 How Well Does It Work?
Let's just get right into whether or not this works shall we, well, this thing does a pretty darn job of handling any hair and doesn't slow down in the least. Okay, I stuck the trimmer end up my nose and was pleasantly surprised to it hear it working WITHOUT pulling and nose hairs. You can obviously hear when you are cutting hair and you know it is working by the sound of it. I have been neglecting to do this for a while to make sure I could properly test this trimmer out on my nose hair.
A quick mirror check, with my nose up in the air, and I had no long bristly nose hairs to speak of. Job well done Mangroomer. Tried it on my ears and same quick results and another awkward mirror check and again job well done Mangroomer.
My legs are pretty hairy so I thought why not try to bog down the Pro Essential and see if I could do it just for testing sake. I quickly had a 1 inch by 1 inch square on my legs that was relevantly smooth in short order. It didn't bog down at all.
Some I am pretty pleased overall with this trimmer. One thing I didn't really like is no battery is included but we all should have AA batteries laying around the house. This device takes just one battery.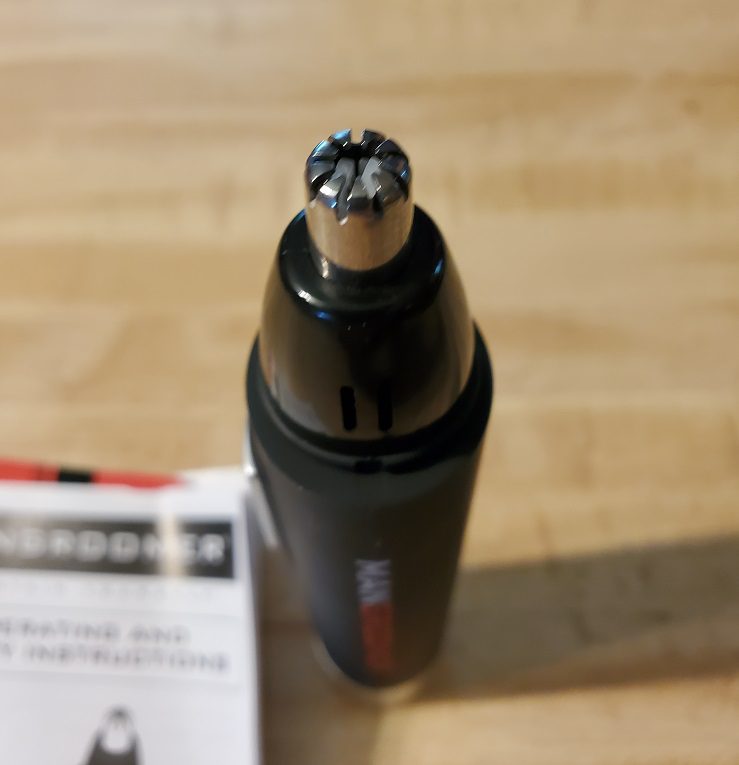 Pros & Cons
Pros
Works great! Trims hair in no-time at all.
Instructions are pretty thorough and come in several languages.
Slightly more power compared to some other models of nose hair trimmers I have reviewed.
This is a pretty fast way to get rid of hair in the nose and ears as opposed to wax treatments.
Comes in at a pretty decent price!
Cleaning is a snap too, just twist the top and the trimming head easily comes off, then tap on waste basket to rid it of hair.
Very comfortable in hand and just feels right.
The new feature HydraSpin is designed to flush out dirt and shavings in the resovior instead of stuck to the blades. I haven't used it enough to determine if this works.
No pulling of nose hair occured and no cuts!
Stainless steel blades.
Can be rinsed with water.
Cons
Came with no battery, as this takes a single AA battery.
Tips On Using This Product
I love using rechargeable batteries, you might pay more initially with a rechargeable battery than a regular throw-away battery, but you will save money in the long run. Plus you are helping with the environment.
Clean out the trimmer after each use to avoid having gunk and build-up hindering its performance, which could happen over time and neglect. Just turn the top of the trimmer below the cutting end counter-clockwise and it comes apart. Then screw clockwise to put it back on. I simply just tapped it against the wastebasket to empty it and there was definitely hair inside the tip.
Other Great Hygiene Products
If you are interested in an electric back shaver head on over to my review here, Mangroomer Lithium Max Plus Back Shaver Review. It is the best electric back shaver on the market!
All my favorite grooming products here, Must-Have Grooming Accessories For Men You Probably Don't Have. Many great products specifically for men.
Final Shave
This is a quality-made piece for an ear and nose hair trimmer. I mean I have bought some junky trimmers in the past, but this isn't one of them. The motor gives a nice solid rpm and noise to really tell it has quality. I couldn't bog it down despite how hard I tried and for this, I can highly recommend this Ear & Nose Hair Trimmer for any man.
So do yourself a favor and the people that surround you and take care of that unsightly nose and ear hair now.
Have any questions or comments? Would love to hear them.