As far a price is concerned, this is the second to the last in being the cheapest back hair shaver in Mangroomers stable of back shavers. Mangroomer having a current total of four back shavers all varying in price according to their features. I will discuss the features of this particular back and comment if it is worthy of buying in my post, Mangroomer Professional Do-It-Yourself Electric Back Hair Shaver Review.
Well, let's see if this works at getting rid of back hair…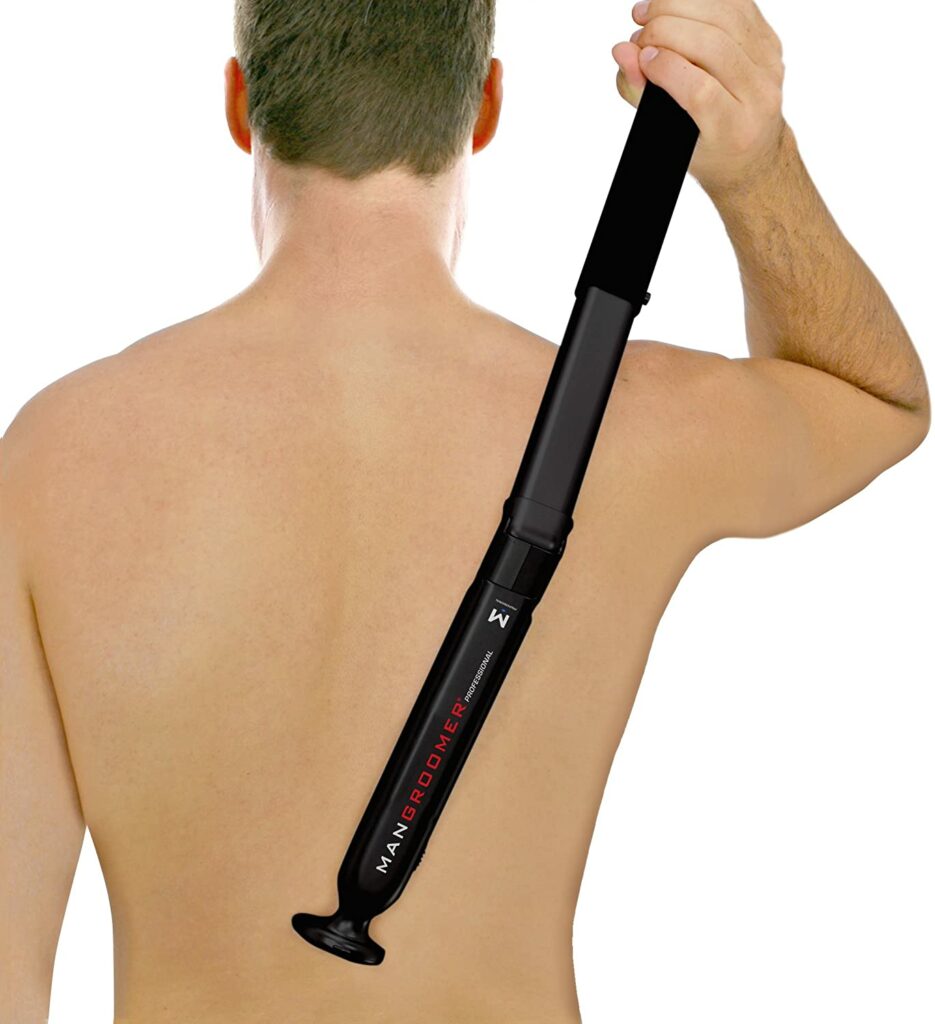 What Do You All Get?
1 – Mangroomer Professional Do-It-Yourself Electric Back Hair Shaver
1 – Bottle of Lubricate Oil
1 – Cleaning Brush
1 – Charging Cable
1 – Set of Instructions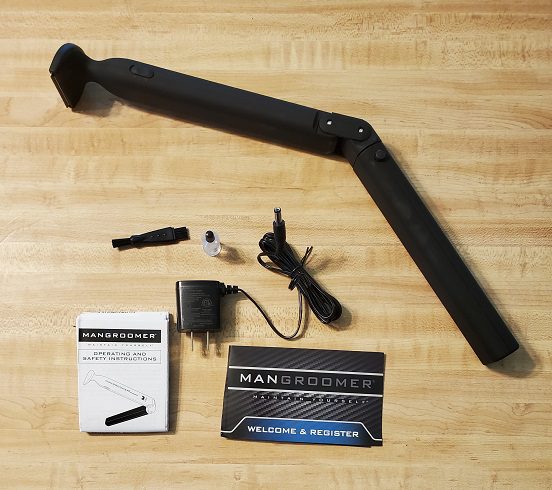 Features Of Mangroomer Professional
This is a rechargeable back hair trimmer with only one included trimming head. Other models of Mangroomer back hair shavers have two attachable heads, a trimmer head, and a foil shaving head which are interchangeable. Just thought I would put that out there.
The trimming head width comes in at 1.5 inches wide. This has a 135-degree opening that only has two real positions which adequately lock in place while shaving. The handle is extendable and starts out at 7 5/8 inches long and extendable to a total of 12 3/4 inches long when fully extended.
How Does It Perform?
Right off the bat, for me personally, after having used many different back shavers I find the 1.5 inches wide trimming head not wide enough. It just took too long to trim all my back hair. I want faster results than the Mangroomer Professional can give. The lack of width also makes it harder to keep the trimming head properly indexed, that is to have it at the right angle in order to trim hair. The motor works great, as well as the trimming head but I found the experience dragging on and on. I want a back shaver to work fast, cause that is what I am used to.
I prefer having some sort of razor blade on my back shaver, either it being a cartridge razor or simply being a safety razor attached to a back shaver over an electric back shaver.
I am by no means floored by the performance if that wasn't clear earlier.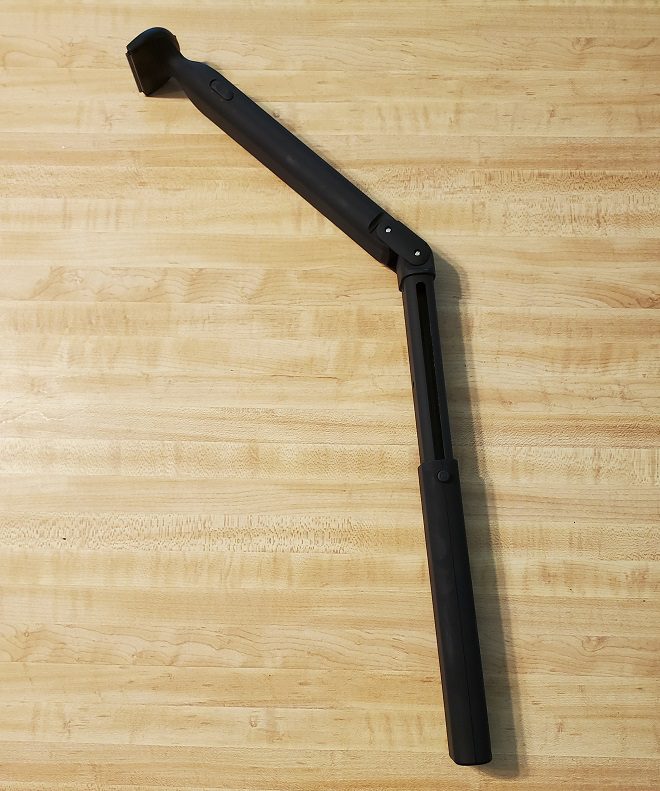 Pros & Cons
Pros
Replacement Blades for the Professional are available for purchase on Mangroomers website.
Detailed instructions are included.
Trimming head is easy to take off and put back on for cleaning and lubricating.
Very lightweight and easy to manuever.
Always have loved all of Mangroomer's handles. They fit very nicely in the hand and are comfortable.
Highly adjustable surely to reach easily any where on your back. As very lengths can adjusted as well as trimming angle.
If you are prone to in-grown hairs from shaving this might be just what you need, as it will just trim hair above the surface of the skin instead of below it, without having to pay more for a foil head.
Has two hinges which when folded fully collapse for easy storage or travel.
Will not cut you.
Quality parts overall.
Cons
The name emplies it is a shaver, it is not a shaver, it is a trimmer.
No foil shaver is included. So you can only trim back hair, as you will have stubble, as a trimmer will only take hair down so far. Other models of Mangroomer Electric Back Shavers have a foil head attachment which will shave your back smooth.
Must charge this unit 18 to 24 hours before using it.
Battery maintence is recommended by manufactor every 6 months. This can be a pain to remember.
Older battery technoligoly that require more mantiance and less performance of newer models.
Less options as far as the angles you can use as opposed to higher priced models. You get roughly two angles in which to choose.
Took a long time to trim all my back hair due to the small trimming head width.
Indexing and finding the correct angle of attack left me also wanting something better.
Tips For Using The Proffessional
If you want an electric back hair shaver you will have to go elsewhere, Mangroomer makes other models that have the ability to shave the back as well as for trim back hair. I have reviewed two other Mangroomers that have this feature I will post their reviews below.
To help better to preserve the battery life you must fully drain the battery every six months then fully recharge for 24 hours.
Take slow deliberate strokes with light pressure is what I found to get the most bang for your buck with each pass.
The Final Shave
I can see why this product is on the lower side of Mangroomer's product line. Not in the form of quality but in performance. I was left wanting more performance in a faster time and more ease of use finding the right angle. I had too much thought and twisting looking in the mirror only to see I missed an area.
I can see a need for this for someone but I would just spend the few extra dollars on Mangroomer's best back shaver and get a better experience, mostly impart because of the wider trimming head.
I always recommend my favorite back shavers the Bakblade 2.0 Elite Plus back shaver or the Bro Shaver 2.2 Saucy.
It's not the worst trimmer in the world it just takes too long.