One of the best new grooming tools I have come across recently is the exfoliating washcloth. This I believe, came first out of Japan or Korea. This, my friends, is a complete game-changer. As it blows away the typical out-of-date washcloth, loofah, back scrubber, or sponge completely out of the water. So, I went out and purchased 7 of the best exfoliating washcloth to give my honest opinion on which one you should pick up in this best exfoliating washcloth.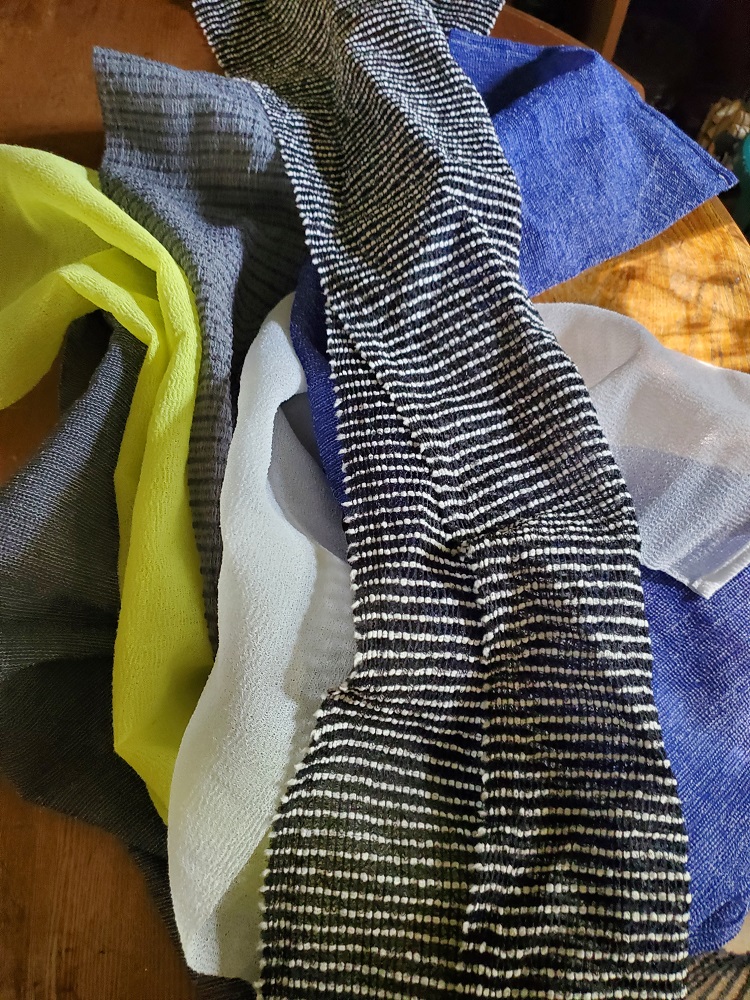 I will review each of these exfoliating washcloths and give my opinion on them and determine which one you should get. There are a lot of companies jumping on this bandwagon and making their own as of late. As the market seems to be flooded with many brands. Which tells you how popular they are.
Let's get into it, shall we?
Okay…What Is An Exfoliating Washcloth Anyways?
It is pretty much what you think an exfoliating washcloth is. These types of washcloths work a little bit like sandpaper to clean and exfoliate the superficial dead skin cells and scrub the dirt away.
These come in varying lengths but generally, these are quite a bit longer than your typical everyday washcloth. They typically measure around 38″ inches long and around 12″ inches wide. Allowing you to effectively scrub and clean your back with minimal effort. In general, they are flat and long.
Most exfoliating washcloths are made from a nylon and polyester mix. They have a texture woven or built into their design. This texture and material used to construct them also make them dry super fast. Unlike when you hang a typical washcloth up which may or may not be dry the next time you reach for it.
Are Exfoliating Washcloths For Everyone?
The answer is no…they are not for everyone. For example, I initially bought two of these shower towels one for me and one for my wife. While I loved the washcloth my wife did not. She thought it was too rough for her skin. Although she uses a loofah and various scrubbing mittens she did not appreciate the extra scrubbing power of the exfoliating washcloth. I was kind of bummed out because I thought she would love it but oh well, can't win them all.
So, for some people, it might be a little rough but for me I love it. As the extra tactile scrubbing power really makes cleaning yourself more enjoyable and rewarding. After initially using it I quickly realized how amazing this product and I couldn't live without it.
These Go By Many Different Names
Exfoliating Washcloth
Exfoliating Towel
Exfoliating Shower Towel
Asian Exfoliating Washcloth
Japanese Exfoliating Washcloth
Japanese Washcloth
Korean Exfoliating Washcloth
Korean Washcloth
Shower Scarf (My wife's name for them)
Why Exfoliating Washcloths Just Simply Rock!
They dry very quickly. Unlike other shower accessories like loofahs or washcloths when you hang them in the shower they dry super fast. Thereby not allowing mold & mildew to take hold. They never get musty!!!
The scrubbing power is amazing. Far superior to a standard cloth washcloth or loofah. This really helps hard to get dirt, grease, oil, and grim off your skin.
Length. These typically measure around 38″ inches long and around 12 inches wide. This allows you to easily reach and clean hard-to-reach areas like your back for example. If you have a back scrubber you need to ditch it and get this. Night and day difference.
Very lightweight.
Easy to clean. I simply rinse the soap out by holding it over the shower spigot while in the shower when I am done. Hang it and you're done.
Increases the suds of any soap.
Remove dead skin cells. This leaves your skin feeling very smooth afterward.
Very affordable.
The Negatives Of An Exfoliating Washcloth
Not recommend using it on your face or other sensitive areas.
The Competitors
Which One Is The Best?
I will rank the best to worst in my opinion and give some general comments. Keep in mind your skin and the level of exfoliant of the washcloth.
1. Salux Exfoliating Washcloth
Salux nails it out of the park with texture!
This to me has the best texture out of all the other brands I have tried. It is so good that I would say it is actually perfect. It just has it dialed in and is a real pleasure to use. I really enjoy using it on my legs and back especially. The texture and weave are tight which I find more enjoyable to use.
After using this for almost a year now this has retained zero smell from various soaps, mildew, mold, or anything else. It just always smells fresh and clean. Salux comes in seven different colors too (blue, yellow, pink, white, green, peach, and powder blue). This is great if you have a bunch of people in your household and want to keep things separate. These can be purchased individually or in packs, which makes it great.
I have written a full in-depth review of the Salux here, Salux Washcloth Review – You Need This Shower Towel!
This is number one because it has the best exfoliating texture. It is that simple and you can't go wrong with Salux.

2. Salux Super Hard Washcloth
If you want a slightly more aggressive texture then the Salux Super Hard Washcloth is for you. This has the same great texture only slightly more aggressive than the regular Salux. It is definitely harder and courser but still not actual sandpaper.
This makes it number two on the list because it is similar to number one (rougher).
3. Goshi Exfoliating Shower Towel
If you are looking for a product with a more natural feel and slightly less exfoliant texture then this is it. This is more of a quality-made product because it is actually woven material that uses two different threads, an exfoliating thread, and a lathering thread.
This towel is specifically designed to be rough but without being too abrasive or harsh to the skin. This has more of a handmade feel to it and feels more like cloth than other towels in this category.
I really like this towel and was my favorite before switching to the Salux because I prefer the rougher feel but for those looking to tone down the roughness, this would be a great choice.
This is made in Gumma, Japan known worldwide as the best textile producer in the world. For more information, I wrote a full review here, Goshi Exfoliating Shower Towel Review.

This is a really aggressive washcloth too. This is also made in Japan and is imported. This is one of the longer towels coming in at almost 40 inches long. Great for taller people. This is a pretty good towel as it seems well made with tight stitching.

This is one of the lightest exfoliant washcloths on this list but still rough enough to help remove hard-to-remove dirt. This would be the one to get if you have really sensitive skin. There was a little fraying with the one I received.
I wrote a full review here, Daiso Body Towel Review if you are interested in further research.

This is a pretty good one with a very tight weave and a quality washcloth with pretty tough roughness. A solid choice.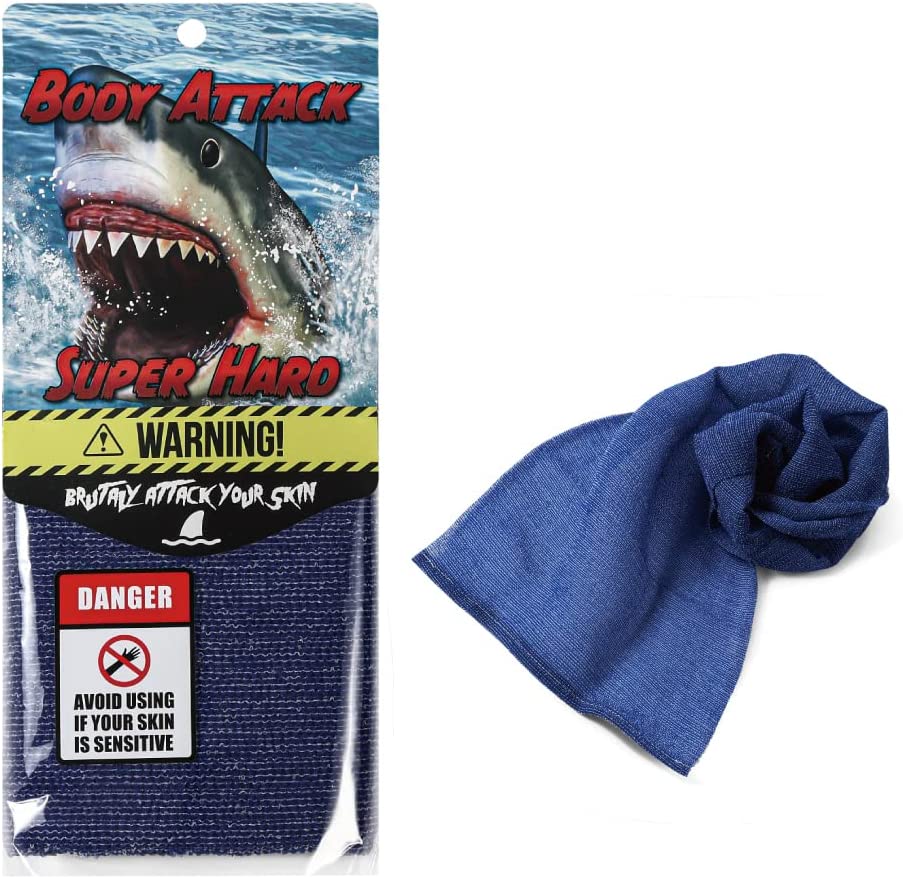 This is my least favorite out of all the washcloths reviewed here. I just felt ho-hum about it when using it and left me unimpressed. Although it did leave me clean. It has a wider weave to it and I just prefer the tighter weave materials.

Which One Is The Hardest & Roughest?
Some of you people prefer a really rough scrub.
I prefer it too, as I feel it really helps get the dirt, grime, and grease off me after coming home from my full-time job at a stainless steel factory. Plus it gives a rewarding tactile feel when using it.
Yeah, I come home pretty bad some days. Grease on my arms, hands, fingers, and clothes. This dirt & grease is very stubborn and is hard to remove from the skin with just soap and water. You need a more aggressive approach.
Again, the Salux Super Hard Washcloth is the one to get. The Death Body Towel is a real close second from what I can tell.
Looking For A Better Soap? Try These!!!
Some of the best soaps around, as I have used these and reviewed them. Having a great soap along with an exfoliant shower towel will take your shower game to the next level.
Harry's Soap – Is Just Great Cheap Soap. Very Affordable, Amazing Lather, & With Great Ingredients.
Huron Bar Soap – One Of The Creamiest Lathers You Will Ever Use!!! High Quality & Great Scents!
Grondyke Tactical Soap – Pheromones Infused Soap That Attracts The Ladies!!!! It Really Works & Great Scents Too!
The Final Shave
These types of shower towels perform better than other shower tools that many have been using for decades. It is time to make the switch and give one of these a try and be amazed at how they work and the fact they dry quickly. So no more foul odors coming off of what you use to clean yourself.
It is simply just a no-brainer. I highly recommend giving it a try for yourself.