It's Time To Replace The Old Washcloth In The Shower!
Since this website is about grooming I love finding and sharing unique grooming tools. I believe this towel is unique as well as highly beneficial. So in this post, Goshi Exfoliating Shower Towel Review I hope to fully review this product to determine if it is worth owning and purchasing. Let's see how this performs, shall we?
Scrub, scrub, scrubbing you up…
What Is The Goshi Exfoliating Shower Towel?
Other countries and cultures have different ways of grooming and performing hygiene rituals. Some are not so good and some are just fantastic. We can definitely take the possible positives of these cultures and add them into our lives to help improve our grooming habits.
I believe the Goshi Exfoliating Shower Towel does just this.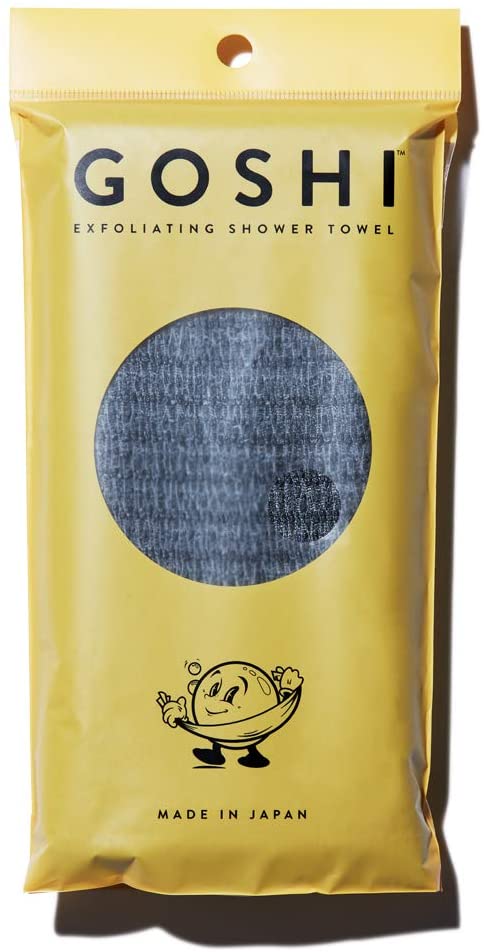 Well, what is the Goshi Towel?
To put it in layman's terms, a towel that you use in the shower which various textures are woven into it to exfoliate the skin. Think of a loofah, washcloth, and a back scrubber had a baby, this would be the child.
The towel is longer than a standard washcloth so to adequately reach areas a standard washcloth or loofah will not reach, like your back for example. You apply hard or liquid soap to the towel, get it wet, and lather then wash and scrub your body to help soften your skin and leave yourself super clean.
What Is Included?
1 – Goshi Exfoliating Shower Towel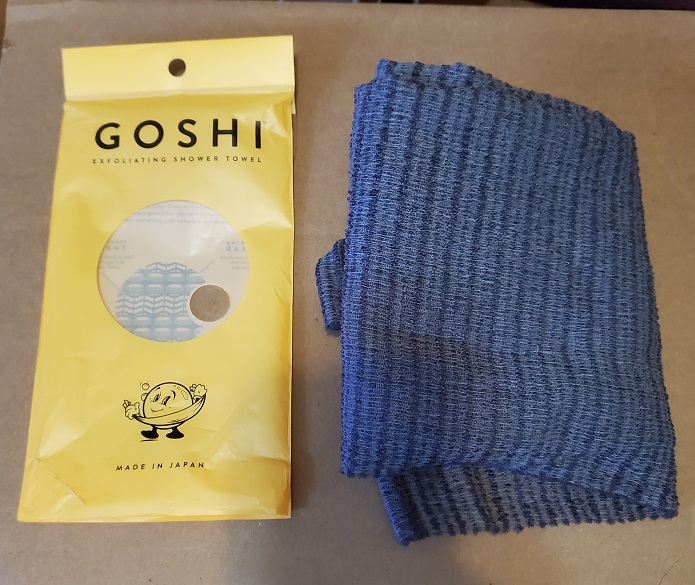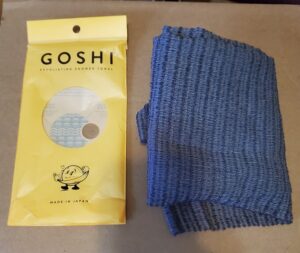 How Big Is The Towel?
This towel measures roughly 11 inches wide and 48″ inches long.
Possible Reasons To Buy The Goshi Towel
This is a very versatile towel that can do a lot more than a standard washcloth, loofah, or back scrubber can do. As it can do everything all rolled up in one product and is a good reason to consider buying.
Exfoliate the skin.
Helps with acne.
Can be used as a washcloth.
Scrub hard to get off grease and oil in no time.
Works with liquid or hard soaps.
The ability to reach all angles of the back.
Small pieces of soaps can be wrapped and folded inside to provide a good handle.
How To Use Goshi?
Lather – wet towel with soap for 5-10 seconds
Scrub – across your back
Wash – Fold or simply bunch the towel and wash other areas.
Rinse – Rinse the towel thoroughly and hang dry.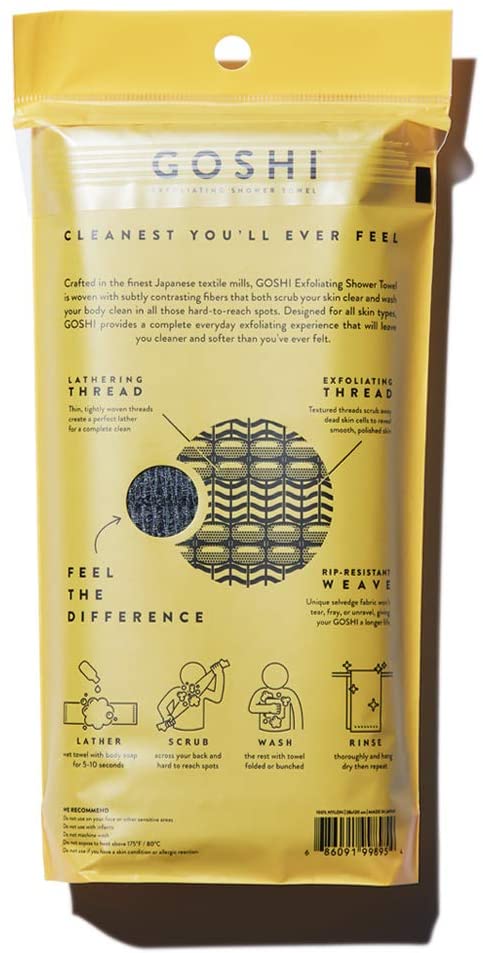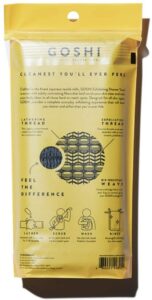 Does It Work? Worth Getting? My Opinion
I'm just going to come out and say it, I Love This Shower Towel. The best shower towel I have used to date and I prefer it over any other back scrubber I have used.
There are many reasons why I like this towel and it is not hard to understand why this is a great product. The exfoliant materials and design really do a fantastic job of cleaning the skin while not being too coarse or hard.
I am very impressed by the materials used in the construction of this towel as well as the weave. This reeks of quality! You can tell they use high-quality materials and not just plastic as some other similar products do. The material isn't soft like a standard washcloth, the Goshi is more coarse than that but it isn't too coarse. If you know what I mean. I find the coarseness is just right, it is not too soft and not too hard.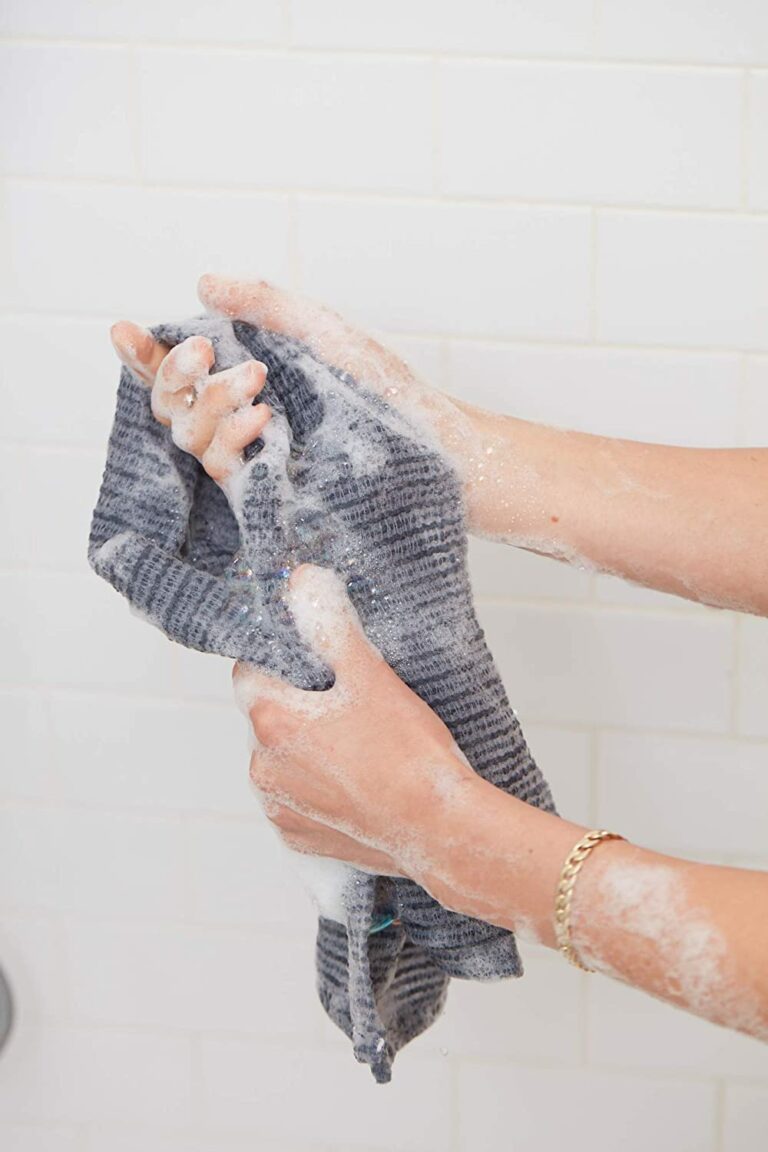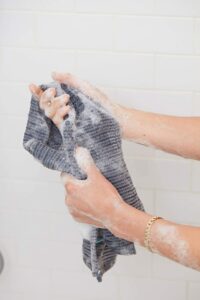 I never liked using a washcloth in the shower mainly because it never seemed to dry completely when I took the shower the next day. This always is 100% dry when I reach for it and is never wet plus it dries very quickly. The open weave really allows a lot of air to flow in between the fibers to allow full dryness by simply hanging it or draping it over something. I typically just drape it over the shower spigot.
The length makes scrubbing your back super easy. I am tall and I have no problem getting every area of my back comfortably. It also provides a good pleasurable back scratch when using it. It can also be used by just bunching it up or being folded like a washcloth. Which makes it highly versatile. I use hard soap which you can either place inside of the cloth or simply scrub the towel on the soap for a few seconds to transfer the soap onto the towel.
Get this towel and take your shower game to the next level!!!


Pros & Cons
Pros
Quality made!!! Made in Gunma, Japan which has been making textiles for 1,400 years. WOW!
Love the texture as well as the weave. Not too hard and not too soft but
Rip-resistant weave.
Made in Japan. Japan generally makes fantastic products. Their way of life really translates to making some of the best products available. Their attention to detail and quality control is second to none.
The towel is adequately long enough for me, as I am 6'2″ tall and I easily can scrub every area of my back.
Dries fast. Just simply rinse and wring the water out and drape over something in the shower and it dries in no time.
Super bubbles. This really gets the lather and bubbles going when used with soap.
Can be cut or trimmed. If you don't want to use it as a back scrubber you could cut it in half or into smaller pieces to better fit how you want to use it.
It easily removes hard-to-clean grease and oil on your skin.
Doesn't fray.
Helps with acne or other skin problems.
Works great as a back scrubber.
Versatile shapes, bunched up, folded, or full length for attacking the back.
I like the color scheme on this towel. Dark blue and a lighter blue.
Cons
Not to be machine washed as stated on the back of the package.
As stated on the package not to be used on the face or other sensitive areas.
Just for curiosity's sake, I wished they would put what type of materials they use to make this towel.
Some Tips On Using It
Apply Different Pressures
If you want to really scrub hard to get off dirt or grease apply more firm pressure and the product will work better at removing hard to remove dirt. If you want softer pressure just lighten up on how much pressure you exert downward on your skin.
How To Clean The Goshi Towel?
Since you can not machine wash this towel as per the instruction on the back of the package. I would assume just washing it by hand when needed in hot or warm water. Note you should be thoroughly rinsing this after you are done washing in the shower to remove dirt and the soap so it dries cleanly for the next use.
How Does It Compare To Similiar Product
I used various back scrubbers, loofahs, washcloths, and exfoliant towels and the Goshi is the best one I have used. I had loofahs that hard became hard and gross after using them for a while and back scrubbers that have fallen apart after a while. The Goshi Towel kicks all of their asses. I even have recently reviewed a plastic exfoliant towel (which I like) but after using the Goshi it doesn't even compare in quality. Yes, it is cheaper overall but I much prefer the quality and texture of the Goshi.
You can check out my review of the Daiso Body Towel here, Daiso Body Towel Review.
Need A Great Soap?
I have reviewed some great soap companies that I would highly recommend you check out.
Dr. Squatch Pine Tar Soap – See my full in-depth review of this amazing soap here, Dr. Squatch Pine Tar Soap Review.
Sudsy Bear Soap – Check out my review here, Sudsy Bear Soap Review.
The Final Shave
By exploring other cultures grooming tools you can definitely find new and better-performing tools to help with hygiene.
Such is the case with the Goshi Exfoliating Shower Towel and it does live up to its motto of the "Cleanest You'll Ever Feel"!