It is with a sigh of relief that today I ventured off the well-beaten path to a less explored area of grooming, at least to me that is, and probably you as well. Today in this Daiso Body Towel Review I will be reviewing and putting this through the old wringer. To help people determine if it is worth purchasing.
Let's see…
What Is The Daiso Body Towel?
I didn't know they made these, did you?
Think of this as a loofah shower scarf, at least this is what my wife calls it.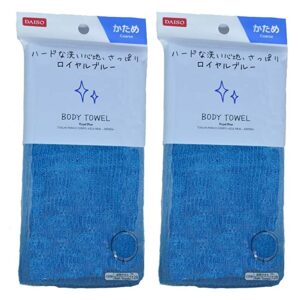 This is essentially a long cloth loofah that has a woven texture to it. It is very lightweight and porous and is specifically designed to exfoliate the skin while showering. The beauty of this towel is that is long enough to use to scrub your back with both hands but can be used in any number of various other forms as well. Folded, balled up, soap inserted inside and folded, liquid soap applied to it, and used anywhere on the body to gently exfoliate the skin.
What Is Included With Purchase?
2 – Royal Blue Daiso Body Towel
Specs
I measure this when fully stretched out as 10 inches wide and 43 inches long.
The Many Ways You Can Use It?
The cloth-like towel can be greatly more versatile than your standard loofah or washcloth. There are many more uses you can use to clean your body with this Daiso Body Towel plus it's more than likely to have more cleaning benefits.
Place small pieces of leftover soap inside the towel and fold it in order to easily use smaller pieces of soap.
To reach hard-to-reach areas of the body.
Can be used with hard soaps or liquid soaps.
Works great in the shower or next to the sink.
Exfoliate skin.
Used as a washcloth.
Help with acne.
My Opinion On How Well It Works. Should You Get It?
I find the texture to be just right for myself personally. Not too hard and not too soft but just right. I do get my arms and hands greasy at work at my full-time job and when I use this it really helps to remove the grease and grim pretty fast. Often times regular soap will not remove all of the grease and dirt but with this towel, it comes off pretty much right away.
I would say this would also work great for people with sensitive skin as well, as you could just apply softer pressure to not aggravate the skin. On the flip side, you could also apply more pressure to get a better clean and exfoliation.
This is a great tool for reaching your hard-to-reach areas like for example your back. I easily used this to scrub my back in the shower and it felt great as the towel is long enough to handle this and provide a relieving gentle back-scratching effect too.
It drys super fast! I hang it around my shower spigot when I am done and the next time I take a shower it is completely dry. Thereby eliminating any possibility of mold or mildew forming on the body towel. So much better than an ordinary washcloth.
I find it really helps me to get cleaner faster and is pretty cheap around just five bucks per towel.
So I really like this towel and I highly recommend getting it.
Pros & Cons
Pros
This is marketed as light abrasion and I would tend to believe it by my sense of touch but rough enough to do the job.
Great for exfoliating.
Great for acne sufferers to remove excess dead skin without the heavy abrasion.
A great back scrubber.
Greatly helps with getting soap to suds up.
Can be used in many different shapes. Folded like a washcloth, full length for scrubbing your back, bunched up in a ball, or any other various shapes.
Small pieces of leftover soaps can be placed inside and folded over to make handling soap easy. Great for effectively using all of the soap.
This was big enough for me and I am 6'1″ tall and weigh about 240 and I was easily able to scrub my back with this with no problems.
Dries very fast. I just hang it around the shower spigot to dry in between showering.
Very minimal fraying, a few strands sticking out.
Cons
Comes in only one color royal blue. It would be nice to have two different colors for couples using the same shower and for easy identification.
Sold in pairs. Would like to see it sold singularly as well as not everyone wants two and would reduce the price as well.
Tips On Using It
The great thing about this Daiso Body Towel is if you want less scrubbing action simply lighten up on the amount of pressure you are applying, especially around sensitive areas of skin. But if you want more scrubbing action or more exfoliating just increase the amount of pressure. Pretty common sense but it bears expressing.
Similar Products Out There
There are many different towels on the market similar to the Daiso Body Towel. I will list a couple of other well-known towels worthy of checking out.
I recently reviewed the Goshi Exfoliating Shower Towel. Check it out here, Goshi Exfoliating Shower Towel Review.
Goshi Exfoliating Shower Towel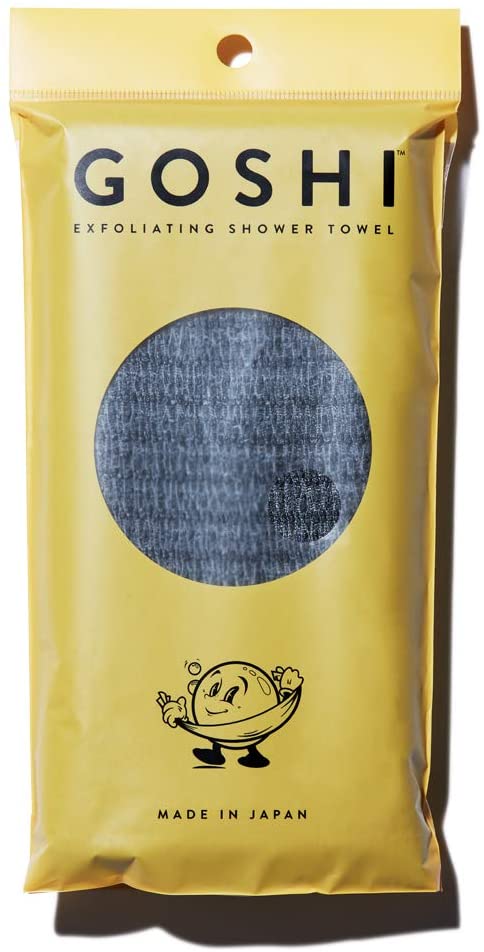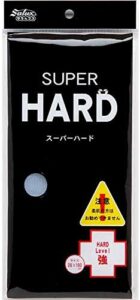 The Final Shave
This helps takes your shower game to a more significantly productive level. It adds to both cleaning and being able to reach otherwise unreachable areas of the body.
If you are looking for such a towel or if you are looking at adequately scrubbing your back in the shower this is a pretty good towel for the job.