No Baboon Ass Here…I Hope
Don't be ashamed of the name, if you got a problem, you got a problem. You need to solve this problem and this funny named Anti Monkey Butt Powder might be your ticket to butt relief or other areas of the body with skin problems. So, in this post, I will determine from personal use if this product is a good buy or if it is a strong pass and not worth buying. Let's get into this Anti Monkey Butt Powder Review.
Ooh ooh ah ah…
What Is Anti Monkey Butt Powder?
Anti Monkey Butt Powder is a powder you apply to your skin that is anti-chafing and also helps absorbs sweat and keep things dry. This powder is talc-free and is formulated with a cornstarch base. It also has the added ingredient of calamine to help aid in healing.
There are three different versions of Anti Monkey Butt for purchase.
Okay…What Is Monkey Butt Anyways???
Simple put monkey butt is often a skin irritation around the butt area. Either between the butt cheeks or even around the groin area. This can be caused by chafing, sweat, a specific fabric, and dampness. Some of the symptoms of monkey butt are itchiness, swelling, redness of the skin, rashes, or inflammation.
This often leads to people having to itch their butt and hopefully not in public. But some people also refer to monkey butt as the same type of skin condition on other parts of their body as well, not just the butt.
People That Might Need Anti-Monkey Butt Powder
Almost anyone might potentially need this product and the list could be quite long but I will highlight some down below to help people familiarise themselves with this common problem.
Truck Driver
Factor Workers
Police Person
Fire Person
Manual Laborers (especially if they work outside in humid environments)
People That Wear Uniforms (extra clothing despite the weather)
People Who Excercise & Sweat (Runners, Cyclists, Hikers, etc.)
Horseback Riders
Babies (They have a baby formula made specifically for babies.)
Women (Bra Rash)
Babies
And More
Where Can You Use This?
This can be applied to your butt, back, feet, thighs, waist, armpits, chest, etc. Basically anywhere you have chaffing of skin or moisture.
Scent Profile – How Does It Smell?
It has a low scent profile that in noways projects. It's a light smell that smells mostly like a powdery smell, with a hint of calamine.
Ingredients
Zea Mays (Corn) Starch, Kaolin, Calamine, Sodium Bicarbonate, Tricalcium Phosphate, Fragrance.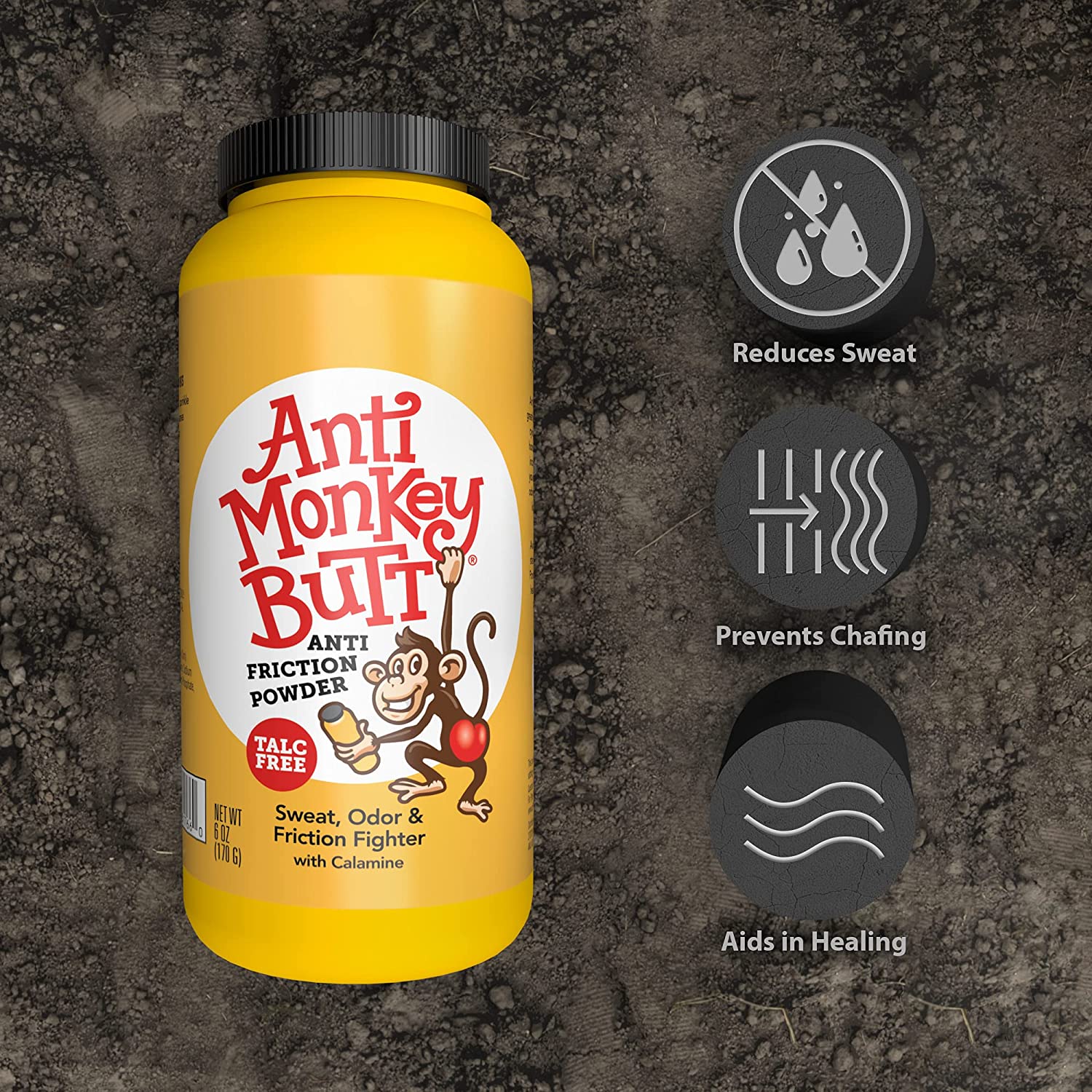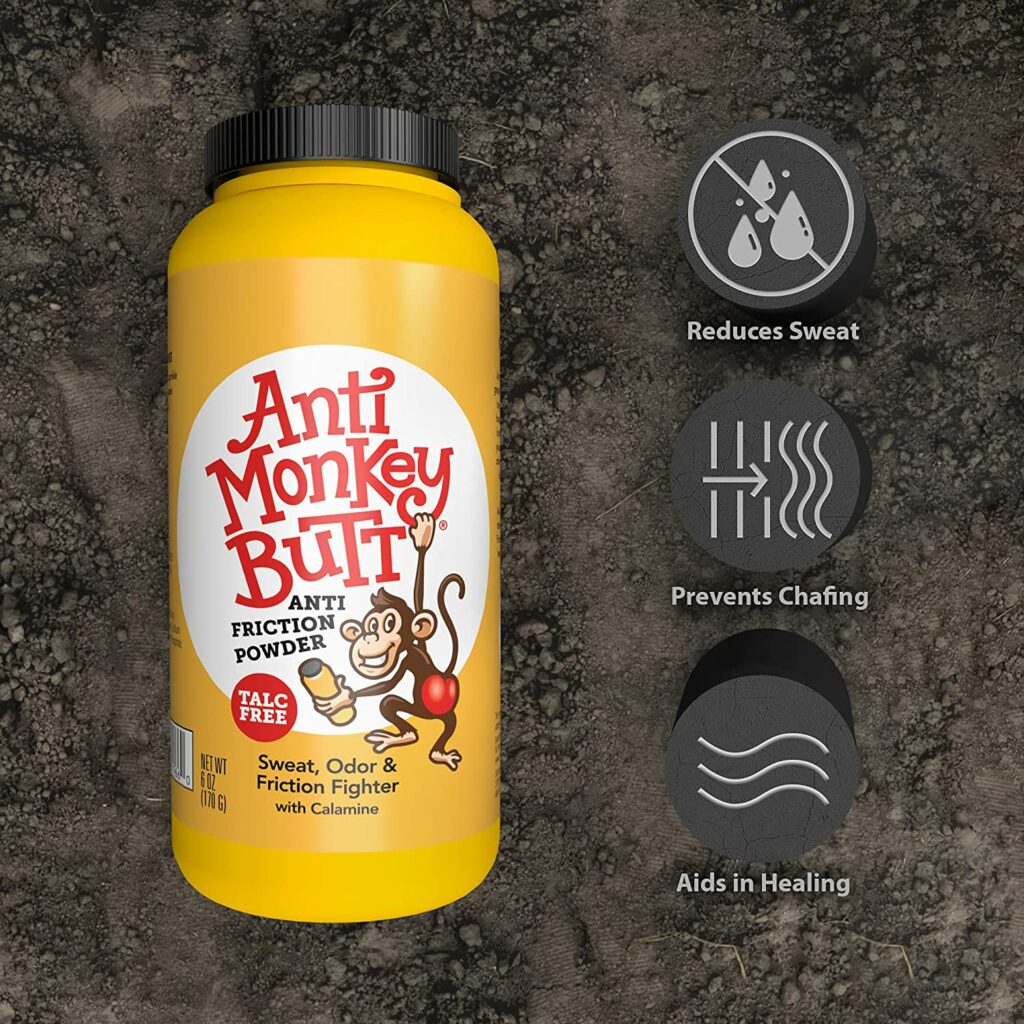 How Do You Use It?
The directions are pretty straightforward on using this product I will post it below.
Directions
For best results, sprinkle or apply to skin areas prone to chafing prior to the activity.
How Well Does It Work? Is It Worth Getting? My Experience
The top of my ass crack in the hot summer months gets itchy and irritated. This I believe is caused by my back sweat which naturally drips down when I am out working at a stainless steel factory job, a ten-hour shift of manual labor mind you. This is accompanied by my clothing which are underwear, pants, and an overhanging shirt, a total of three layers over this area as well and it doesn't dry the quickest. This little affliction only happens for a month or two but is often bothersome.
Thankfully, when testing this product for this review it is hot and slightly humid where I live almost the perfect storm for testing.
Did Anti Monkey Butt alleviate the problem?
Yes! The first time I used it I got instant results. The day before I had itchiness and slight redness and the next day I had nothing. This was an ongoing problem for at least a week. Problem solved! All I had to do was sprinkle a little on and my problems were solved.
I appreciate the low scent profile as well. Even though it says fragrance at the last in the list of ingredients.
If you suffer monkey butt or any other skin problem related to chaffing or sweat. Anti Monkey Butt Powder works great and I highly recommend it. You gotta love the price too, as it is highly affordable and is talc-free too.
A great experience and buy!
Pros & Cons
Pros
The biggest pro I can think of is it helped me with my minor problem and I saw instant relief the first day of using it.
A simple list of ingredients.
Has calamine in the list of ingredients, and this has been used for decades to help with skin problems. Trusted and works for millions.
Talc free.
Cruelty-free! Not tested on animals.
The scent is very light. It just smells like a powder to me. Different scents for the three different products mind you.
Great price!!! One of the cheapest powders on the market.
Made in the USA.
Sold almost everywhere.
Cons
Wish there was a fragrance-free version.
Have to be careful at applying this if you are wearing clothes. It is better to apply this before you get dressed. Preferably after a shower and you have dried yourself off.
How Well Does It Compare To Other Similiar Products?
I've used groin powders in the past in order to review for my website and in general this ranks right up towards the top. The big difference is the calamine ingredient which really lends itself to healing the skin.
This is by far and away the cheapest of other powders I have reviewed. Which makes it towards the top of my list.
Nut Powder
If you are looking for a specific nut powder I would highly recommend checking out Happy Nuts Comfort Powder. This smells amazing and works great too.
You can read my full review here, Happy Nuts Comfort Powder Review – How Well Does It Work?
The Final Shave
The cheap price & great performance and quality are what comes immediately come to my mind after using this product. What more could you ask for?
If you suffer from swamp ass or other skin problem areas this should be definitely a must-try and I highly recommend this Anti Monkey Butt Powder. Get some!