Is It Time To Switch Your Toothbrush?
Whether you are still using an old fashion toothbrush or even an electronic toothbrush…maybe, just maybe…it is time for an upgrade. So, in this Burst Sonic Toothbrush Review, I will be going completely over all the features to help you determine if it is worthy of your hard-earned money.
Let's find out…
Full Disclosure
I am an affiliate of Burst and will earn a small commission on links clicked on this page. I purchased this Burst Sonic Toothbrush with my own money. I only review products I have used or own. Full transparency and honesty.
What Is Burst?
Burst is owned by an e-commerce company Burst Oral Care. This is an American branch of toothpaste and other oral hygiene products. So this company was founded in 2017 by Brittany Stewart and Hamish Khayat.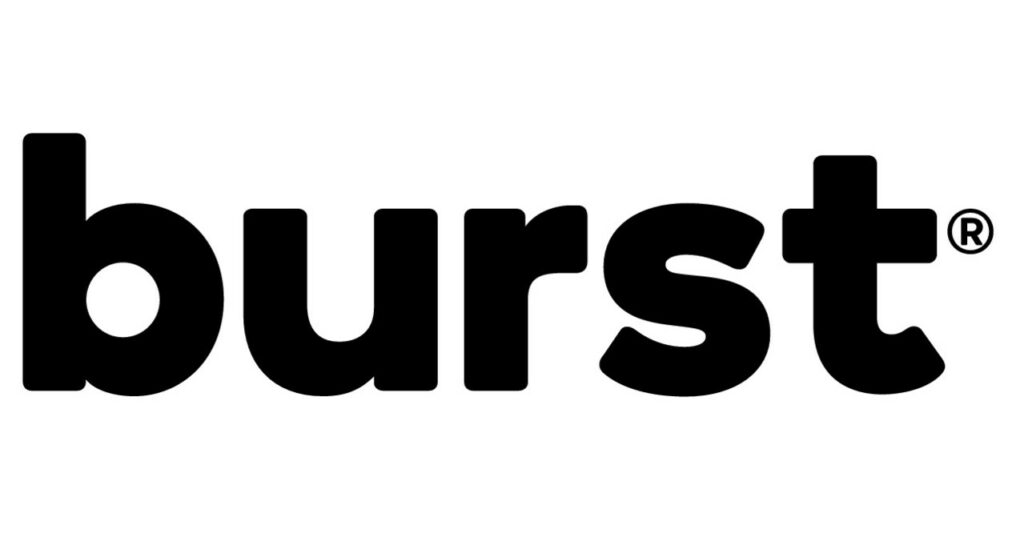 They started off first selling electric toothbrushes then quickly expanded to include other dental hygiene products. They have a large group of dental nerds (dentists & oral care specialists) to help design and improve their products.
What Is Burst Sonic Toothbrush
This electric toothbrush can be purchased in four colors, black, white, rose gold, or lavender.
There are three different modes that you can select on this toothbrush.
Whitening (Solid Circle Top Light) – More aggressive than the other modes.
Sensitive (Empty Circle Second From Top Light) – A gentler mode.
Massage (Dotted Circle Third From the Top Light) – More of a pulsating mode.
Each mode has a quad-interval built into it. The quad-interval is just a brief pause during operation to let you know to switch to a different area of the mouth.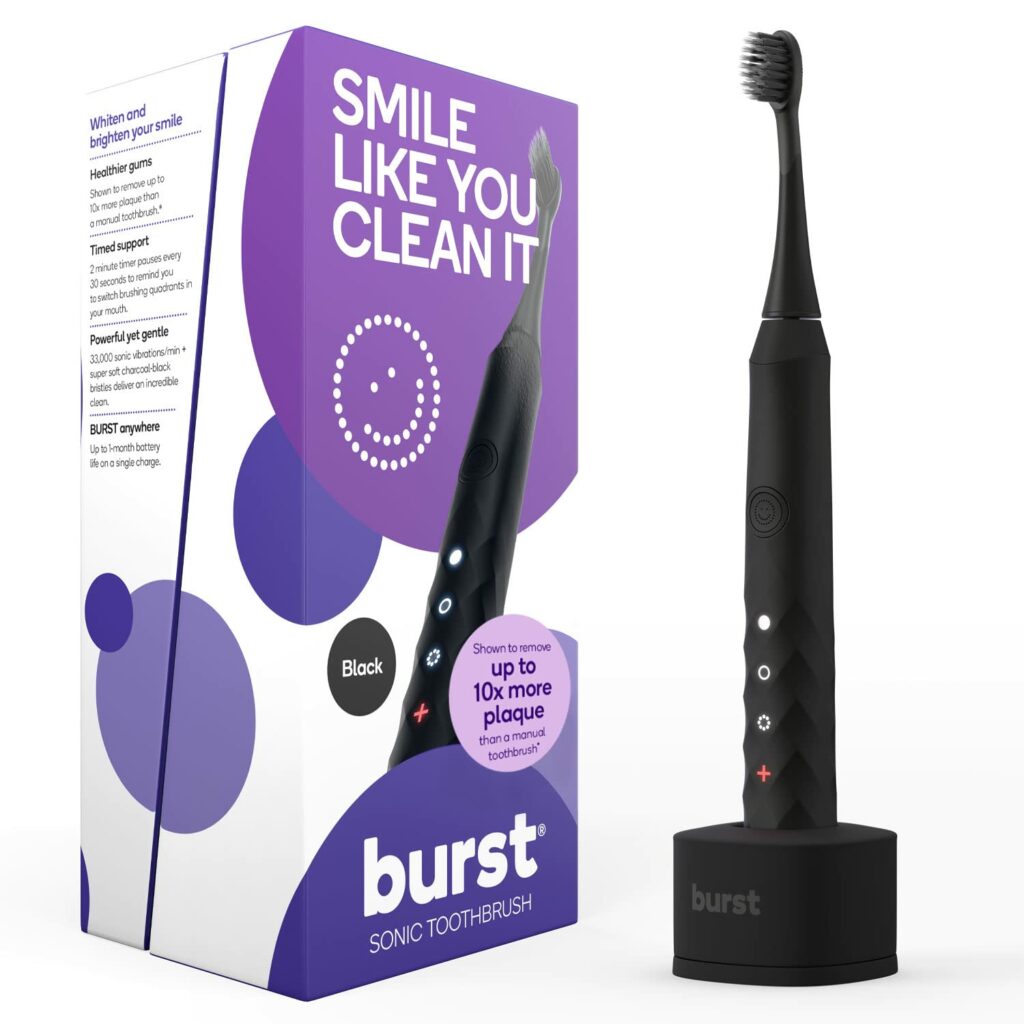 What Is Included With Purchase?
The Burst Sonic Toothbrush comes neatly boxed with:
1 – Sonic Toothbrush (handle)
1 – Toothbrush Head
1 – USB Charging Dock with Cord
1 – Instruction Manual
Burst Sonic Toothbrush Specs
Length – 9 13/16″ inches long with the brush head attached. 7 1/2″ inches long with the brush head taken off.
Bristle Length & Width – 7/8″ inches long and 1/4″ inch wide.
Vibrations – 33,000 sonic vibrations per minute.
Bristles – Super soft bristles that have charcoal impeded in them to help remove surface stains.
Battery – One overnight charge lasts up to 1 month on a single charge. Long battery life. The battery is a 700mAh lithium-ion battery.
Warranty – Lifetime warranty as long as you have a subscription.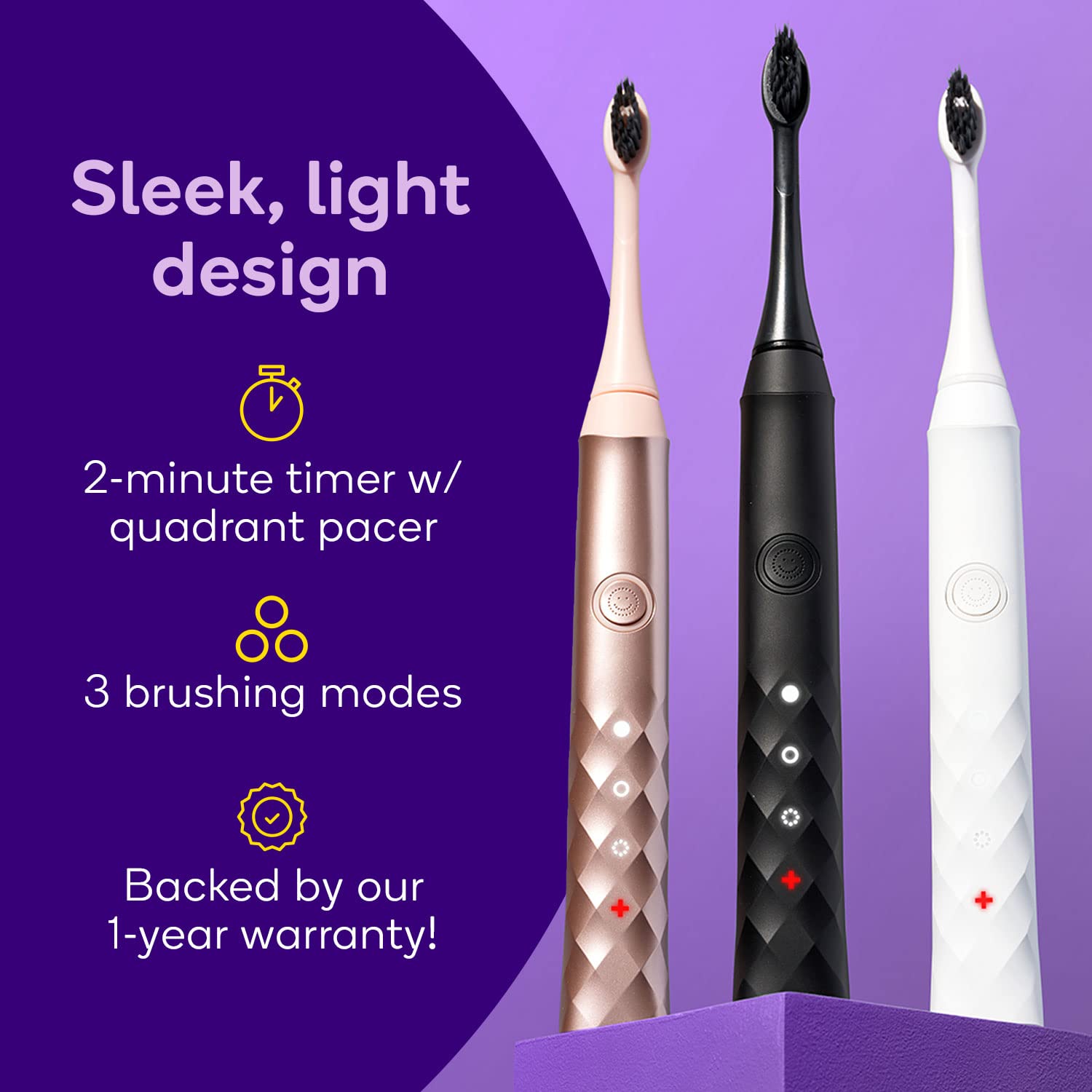 My Experience – How Well Does It Work?
My First One
This is my first electric toothbrush even though I have wanted to try one for decades. I have been using this for over 6 months now. Well, I finally purchased one, and overall really glad I did. Here is why…
Great Cleaning
First off, it does a really good job of cleaning my teeth. As I've noticed, my teeth feel and appear cleaner after using this for over 6 months. My teeth and mouth in general feel really clean after brushing my teeth with the Burst Sonic Toothbrush. It does a far better job than a standard toothbrush.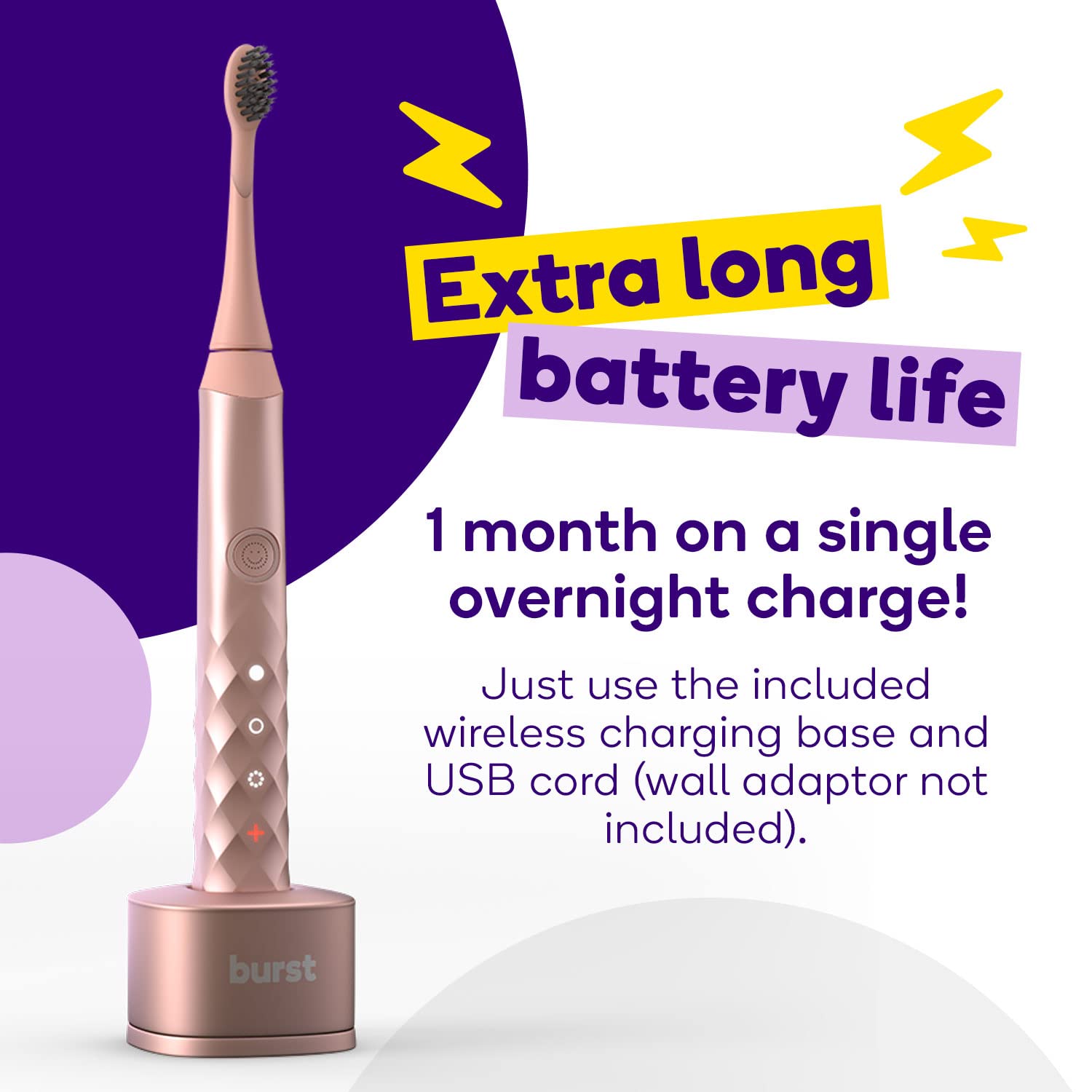 How much better than a standard toothbrush? I don't know how to scientifically quantify it but I just know it does from how my teeth appear and most importantly…feel. As my teeth just feel cleaner. It must be the 33,000 sonic vibrations doing its job.
In fact, they ran a study and found that using their toothbrush reduced plage 10 times better
Great At Cleaning The Tongue
I really enjoy also using it to brush my tongue too. As I am a practicer of tongue scraping. I feel the vibrations help to fully clean my tongue after using a tongue scraper. Having a clean tongue is paramount to having clean breath.
This is way better at cleaning my tongue than a regular toothbrush.
Small Brush Head
I also appreciate the smaller brush head of the bristles. This easily allows me to easily get anywhere in my mouth with minimal effort. As opposed to a larger brush head that makes it more awkward and cumbersome.
Very Easy To Use
When fully assembled this toothbrush is rather shockingly long, as it is almost 10 inches. At least this is what I initially thought. I thought it was going to be hindering but was quite pleasantly surprised I actually love it and it actually was more ergonomic.
If you don't like your toothbrush you are more likely not to use it…right? Well, thankfully Burst has designed a toothbrush that you really want to use because it makes this daily chore less chore-y.
3 Modes To Suit Your Needs
I appreciate the different modes as you can switch things up and try something else as opposed to being stuck with just one mode. Great feature.
Overall
This has a great battery as I barely feel I have to charge it. It will also let you know on the light indicator when it should be charged. I really don't pay much attention and it fully charges overnight when you do charge it.
It is obvious that Burst is a serious oral hygiene company and that they make quality products. So feel secure in knowing this is a great product and worthy of consideration.

Pros & Cons
Pros
Lifetime warranty. If you ever have a problem with your toothbrush Burst will replace it for free as long as you have a subscription.
Sleek handle that is super comfortable in the hand. There are diamond patterns designed on the handle to ensure a secure grip.
My teeth are noticeably whiter.
Great at removing plague. As they state 10x greater plague removal after 30 days compared to a manual toothbrush. The studies can be found here,
Better breath!!! Sonic toothbrush is great for cleaning the tongue as well. As the vibration really helps remove material that a manual toothbrush doesn't. The vibration helps clean the tongue. Most cases of bad breath usually originate on the tongue. FYI.
A very decent price point for a quality electric toothbrush.
A small brush head that really allows you to get the bristle anywhere in your mouth. Leaving no spot untouched and cleaned. I really appreciate this as I hate a big and clunky brush head.
I don't usually like subscriptions but I really appreciate having my 3-month Refill for brush head replacement. Saves me the trouble of remembering and keeps me on track. Plus gives you a lifetime warranty.
Soft bristles. I have a receding gumline due to a bad habit that I won't mention here, and I need soft bristles.
Easy to remove and put on the brush head. Just simply pull straight up and it releases.
The power button is recessed and placed optimally to reduce turning on and off accidentally while using it.
Great battery life. As this has a lithium-ion battery that you don't have to charge very often.
Comes with a charging dock which is easy to use and has a small footprint.
There are colored Burst Bands that you can purchase separately that slide over the Brush Head to help distinguish individual toothbrushes for families.
Three different modes to choose from to get the results and experience you want.
The toothbrush remembers the last mode you used and automatically turns on that mode.
If you stop brushing and hit the power button before the recommended time (2 minutes) the mode you are on will blink for twenty seconds. Letting you know you didn't reach the recommended time. A great feature because who knows how long it has been brushing your teeth.
4 colors to choose from. Black, White, Rose Gold, and Lavender.
If you don't care what color to buy, currently you can get the white for $10.00 cheaper.
They have a huge lineup of dental care products.
Cons
If you are new to an electric toothbrush like me (this is my first one) there is a tickling of the gums when using this. Not all the time but once in a while and it is a strange feeling. But you get used to it over time.
Don't like that you have to be subscribed to the brush head subscription to enjoy the lifetime warranty.
No wall adapter plug is included. Not a super big deal but worthy of note, as I have a bunch of these just laying around.
You can only buy the Burst Sonic Toothbrush by automatically subscribing to their 3-month refill plan. This might turn off some people but I actually enjoy it and it is not a lot of money at all. You can also cancel at any time.
I think the quad-interval 30-second pause is unnecessary, as I don't need to be reminded to brush my whole mouth. I have already built a routine to brush my whole mouth already. Although it doesn't really bother me.
Does Your Current Toothpaste Suck? Best Toothpaste I Have Ever Used!!!
I just recently found this and it is amazing!!!
If you are looking for natural and healthy toothpaste that super cleans your teeth then you really have to take a look at this brand…the Primal Life Organics Dirty Mouth Toothpowder. Yes, powder! Not, paste.
They have three different sizes to choose from which makes it great to buy a smaller size to see if you initially really like it. They also have eight different flavors from which to choose. This is also a great gentle teeth whitener. I noticed a significant whitening effect after just the first week.
You will notice and feel how clean your teeth are using this the first time. At least I did. I am super impressed by this toothpowder and highly recommend it!!! This toothpowder coupled with the Burst Sonic Toothbrush will really clean your teeth amazingly.
Check out my full in-depth review here, Primal Life Organics Dirty Mouth Toothpowder Review.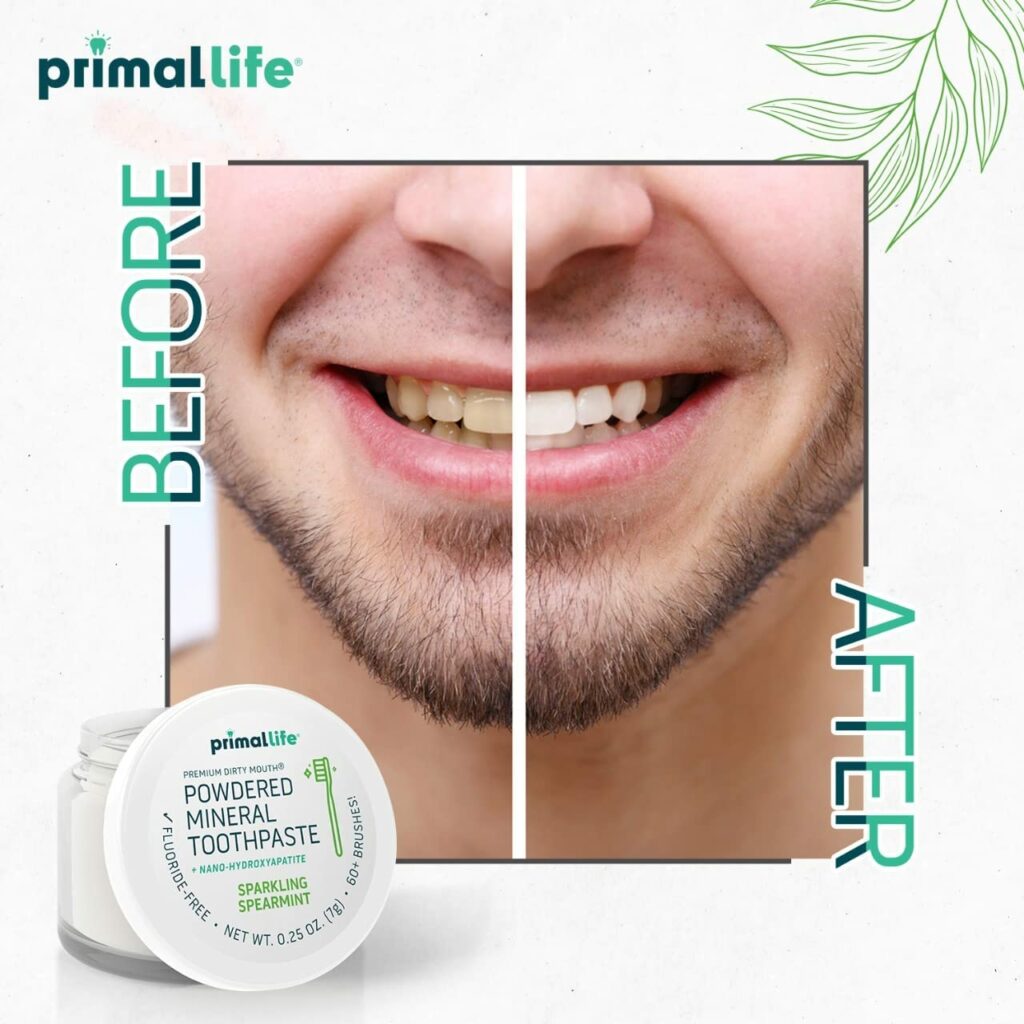 How To Change Modes On The Burst Sonic Toothbrush
There are three modes as stated above on this toothbrush but how do you access them? Don't worry it is pretty simple.
When the brush is completely off press and hold the power button for about two seconds. The toothbrush will then cycle through the different modes by lighting up different symbols on the front of the toothbrush. The top blackout circle is for the Whitening Mode. The empty circle is for Sensitive Mode and the Dotted Circle is for Massage Mode.
The great thing is the toothbrush remembers the last mode you used so you don't have to do it every time either.
The Final
There are a few minor negatives but I honestly believe overall that this cleans your teeth better than a normal toothbrush and offers great features. This will not break your bank either and is rather quite affordable and really is a quality grooming tool.
I am very happy with my purchase and this is a great electric toothbrush.