There are many different types of back scrubbers to choose which can be both a good thing and a bad thing too. Good being you have a lot of options and bad in a way is having to choose in finding the best one for your own personal preferences through the long line of options of available back scrubbers out there. It can be quite daunting, to say the least.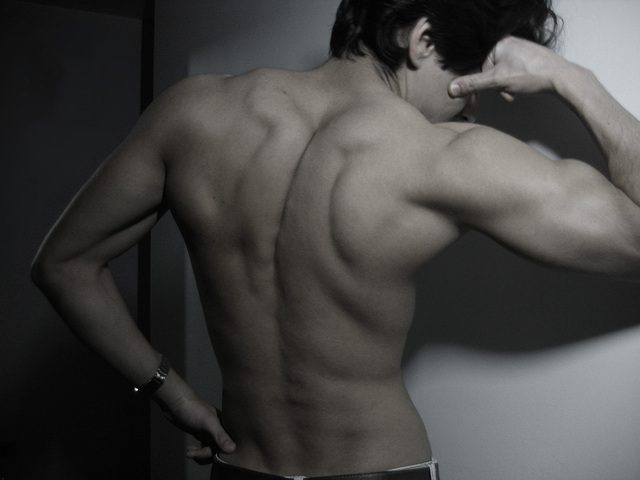 I will list the best back scrubbers as well as tell you what I think is the best back scrubber I have used and it is a shocker let me tell you. I've used several back scrubbers over the years and I think I've found the one I am sticking with for the rest of my life.
What I Think Is The Best Back Scrubber & It's Not What You Think
Let's just cut right to the chase…shall we?
When you immediately think of a back scrubber you right away think of some sort of a device with a handle. Well…we are throwing that right out with the bath water.
I've been recently using and reviewing various Japanese exfoliating towels and let me tell you these towels are AWESOME!
So they are basically a large exfoliating washcloth you use in the shower or bathtub that has a texture that gets you really clean. Think of a large washcloth but better…way better. I just love the texture of the towel against my skin for cleaning. These are large enough to easily hold in both hands and effectively clean your entire back and also give it a nice scrub too. There are so many advantages of using this back scrubber compared to other back scrubbers.
I've tried three different similar brands, which all have a different feel and texture, and have settled on the Salux Nylon Japanese Beauty Skin Bath Wash Cloth. This simple-looking washcloth is a real game changer and shouldn't be dismissed.
Advantages of The Salux Over Other Back Scrubbers
Cheap. Very affordable!
Product longevity.
Easy to clean and faster than handled back scrubbers.
Can be used elsewhere on the body, not just on the back. Elbows, hands, legs, feet, etc.
Can be put in the washing machine. (but not in the dryer)
Dries super fast, so you don't have mildew problems like other back scrubbers.
The best texture.
Scrubs grease and oil right off. I often use this in the shower when I get home from work on my arms and hands. Grease and oil that soap alone does not remove but with the Salux and soap it comes right off. Just amazingly.
Super soap lather.
Takes up less space.
Can easily adjust to different sizes by folding or bunching.
Ability to adjust exfoliant by the pressure exerted on the skin. Want a harder scrub press harder, want a lighter scrub back up on the force exerted.
You can also cut them up into smaller pieces if you want.
Disadvantage Of The Salux Skin Cloth
Some people find the texture to be too rough. My wife is one of those people but not me I love it. (see below for other recommendations)
It is not recommended to use on the face, as it is a little too rough for delicate facial skin.
A lot of fakes and knock-offs are being sold on eBay. Buy at Amazon for an authentic Salux.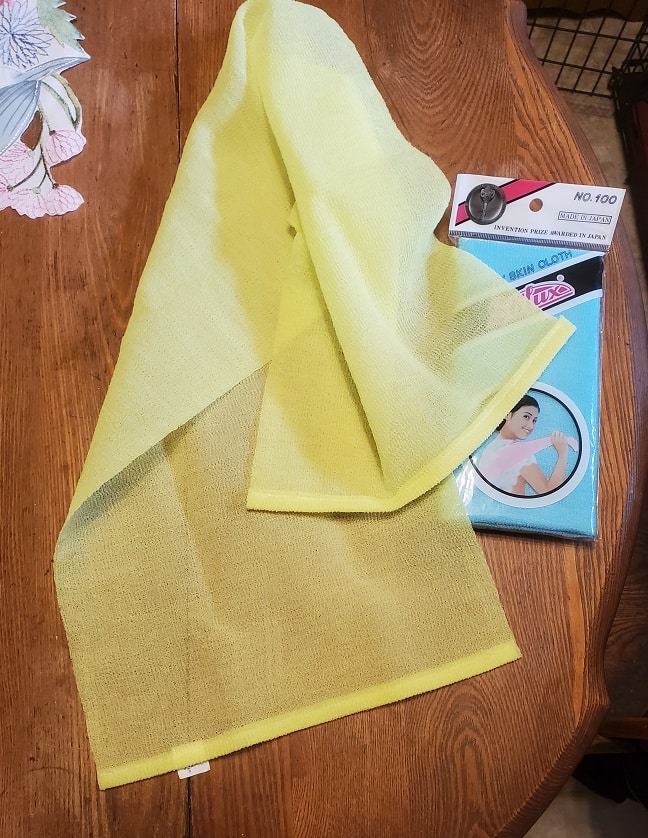 I've Been Hooked Since…
I've tried your traditional back scrubbers, loofahs, and other towels like scrubbers but nothing compares to the ease of use and the scrub-ability (is that even a word? IDK) of using the Salux. Sponges and loofahs get weird and hard after a while, long-handled back scrubbers are kind of a pain in the ass to use, and they often hold on to moisture too long which promotes mildew. Yuck! Then you clean yourself with this. Not good, not good at all.
The Salux dries very quickly often within an hour or so. The reason this happens is because of the many holes in the fabric which allows it to easily dissipate into the air through evaporation. Every time I reach for this in the shower it is bone dry.
The texture gives me just the right amount of friction to quickly get my back looking and feeling great. This is the best texture I have found and used.
I have written a review of this product on a separate page if you are interested in reading more about it, it can be found here, Salux Washcloth Review – You Need This Shower Towel.
How To Use The Salux
The Salux washcloth is used with soap and water. Wet it and place your choice of soap, bar, or liquid, in the center, massage it into a lather. It can also be used without soap and water for dry brushing. No need to rub hard; let the cloth do its work. The authentic Salux cloth is easy to incorporate into your skincare routine.
Similar Products To The Salux
A good alternative to the Salux.
This is a close runner-up to the Salux washcloth. Just missing out on the texture by a little bit. But the Goshi is still an amazing washcloth too. While the Salux is made from plastic, the Goshi is more refined by using cloth materials that have a textured woven material. This is made by very fine craftsmen and it is also more expensive. A good alternative to the Salux, if the Salux is not for you. Also, this has a softer texture.
You can read my full review here, Goshi Exfoliating Shower Towel Review.
Key Features To Think About Before Purchasing Any Back Scrubber
While I understand not everyone will want a non-standard type of back scrubber there are some key features to look for when purchasing a back scrubber. You don't necessarily think about things until you use an item a couple of times.
Length – Will it reach where you need it to reach? People often use it on the legs and feet as well due to mobility issues.
Handle Curacture – A straight handle is harder to reach at certain angles or on your back a curved hand is a lot better and requires less contortion.
Lanyard – This is super important if you are disabled and can't bend down to pick up the back scrubber. This will usually slip around your wrist and keep you from dropping it.
Dries Fast – Why is this important? Well, because if it doesn't dry mildew will quickly form. Sponges, some bristles, cloth, and loofahs can often be hard to dry.
Handle – Some back scrubbers have handles while others do not. Make sure your handle will easily fit in your hand for comfort and a secure grip.
Absorbency Of Material – Some back scrubbers don't accept soaps as well as others and can often fall to the tub in no time.
The Different Types Of Back Scrubbers
Long-Handled Brush Back Scrubber
Cloth, Loofah, Silicone & Pad Style Back Scrubber
Electric Back & Body Brush
Tips & Questions Concerning Back Scrubbers
Is There A More Aggressive Exfoliant Salux Product?
Yes, Salux also makes a Super Hard Nylon Japanese Beauty Skin Bath Wash Cloth/Towel. If you really like a rough washcloth. For most people, I would recommend trying the original Salux first, and if that is not rough enough for you then getting the Salux Super Hard.
Do You Have To Clean Your Back Scrubber?
With most things, if it's looking pretty grimy, it's time to either get a new one or to properly wash it. Follow the manufacturer's instructions for cleaning your back scrubber.
Should You Use A Back Scrubber Every Day?
While it is not necessary to scrub your back every day. Every person is different depending on their situation but most people can use it every other day with no problem. Other people use it once a week it is all dependent on you and your needs.
Does Using A Back Scrubber Help With Acne?
It can definitely help with acne but could also agitate the skin and possibly cause more acne if done excessively. Just keep that in mind. Just use it in moderation and be gentle.
But after all, you are ridding your back of dead skin cells which should help with the overall appearance of your skin.
Should Everyone Have Some Type Of A Back Scrubber?
Yes, our arms are not really designed to reach our backs adequately. Using some type of back scrubber really helps maintain a clean and exfoliated back. The skin on your back is prone to accumulating dead skin cells.
The Final Shave
I truly believe this is the best back scrubber on the market for ease of use and performance. It is a multifunctional device that can be used on most areas of the body to clean and exfoliate your skin. Simpler is often the best and the Salux proves that fact.