Okay, I have recently upgraded my scissors and I couldn't be happier, after years and years of using cheaply designed hair scissors I finally took a moderate step up in price but really upgraded the quality of build design and sharpness. Today I will be reviewing the Equinox Professional Razor Edge Hair Cutting Scissors 6.5″ Review.
Let's get into why you might want to consider stepping up your scissor game with these affordable scissors.
What Is Included?
1 – Equinox scissors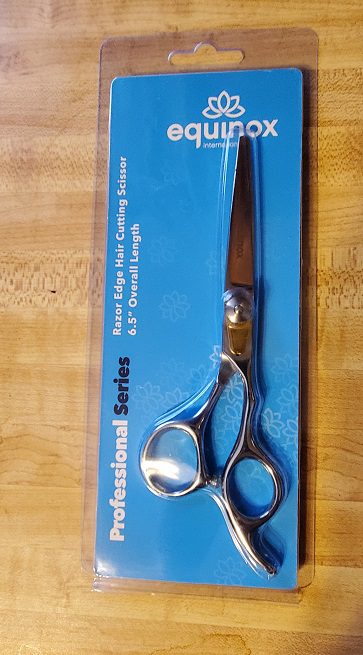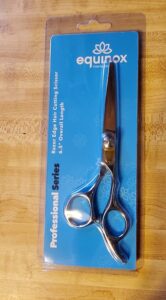 Equinox Specs
The material is made from stainless steel. The overall length is 6 3/4″ inches long. I measure the blade length to be 2 1/2 inches long. The tips are blunted and have no pointiness to the tips.
In the middle of the scissors, there is essentially a thumbscrew that allows you to perfectly adjust the amount of tension. Turn it clockwise to stiffen it up and counterclockwise to loosen the amount of tension when you close the scissors. I really love the feedback it gives you when adjusting it as it gives you clear easy to hear clicks.
Overall Look & Performance
I have been cutting my hair for decades and have used a cheap pair of scissors for cutting hair with lackluster results. I recently upgraded to this Equinox Professional Razor Edge and I am pretty pleased with the results I have seen and experienced using these very affordable scissors.
Once you have settled with mediocre you just don't really know there is better out there. Until you get fed up with the results, that is! These feel like quality scissors in your hand and perform well. I don't really think they are really professional-grade scissors but for the average Joe at home, these will handle all kinds of work easily. They probably are one step down from professional quality.
The core material used in these scissors is stainless steel. Which should last a long time.
These are pretty darn sharp and cut hair easily. These are adjustable as well, as you can adjust the amount of tension when closing and opening the scissors by simply turning the screw in the middle of the scissors. This is a nice fine-tuning feature and adds to the overall quality of this product.
I have bigger hands and fingers and find the finger holes in the scissors to easily allow a comfortable fit for my thumb and fingers. The cool smooth stainless steel feels very comfortable as well on my thumb and fingers.
Pros & Cons
Pros
Nice clean cuts, as the blades are sharp.
The manufacturer claims that the blades are hand-sharpened.
34,000 plus positive reviews with a 4.7 rating.
Decent affordable price.
4 color options to choose from Stainless Steel, Liquid Gold, Matte Black, and Titanium Blue.
Solid weight to them but not too much. Feels like you have a quality tool in your hand.
Has a fine-tune adjustable thumbscrew located in the middle of the scissors for easy adjustment of tension when opening and closing scissors. Gives a nice click when adjusting so you know when and how much you have moved it.
When fully closed it has a cushioned stop.
I have bigger hands and fingers and my fingers fit decently into the holes.
Cons
Made in China.
I have only seen these sold for right-handed people.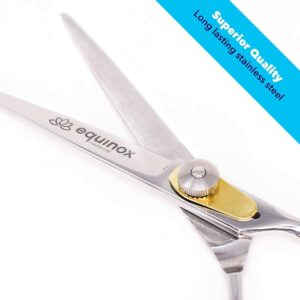 The Final Shave
These are very proficient scissors that I highly recommend. Not only that they are very reasonable to boot. So if you are looking for a decent pair of scissors that don't cost a lot but perform better then these are it. If you are looking for scissors to cut your own hair or a family member's hair these are hard to beat. I know I am pretty happy with my purchase.