Go Go Gadget
This seems like something brought into real life from the cartoon Inspector Gadget. A long extendable multi-adjustable tool that helps perform a task. But does it work?
That's the question, right?
How well does this gadget (aka, ButyFace Back Shaver) perform at shaving one's back?
Well, let's proceed to find out.
Go Butyface go!
What Is ButyFace Back Shaver?
This is another back shaver that allows one to become self-sufficient and allow to shave your own back without an assistant or holding someone at gunpoint.
The ButyFace Back Shaver is a long highly adjustable handle, that has three pivot points that easily adapt to reach any spot on one's own back. Along with the adjustable handle, it comes with a unique-looking shaving head. As the shaving head has three beard razors aligned side by side to allow for easier coverage of the large area, known as the back.
Now, that I have introduced you to the ButyFace.
Let go careening through ButyFace's universe.
What Is Included?
1 – ButyFace Back Shaver Shaving Handle
1 – Shaving Head (3 -5 blades for each head)
1 – Bath Sponge Scrubber
1 – Adjustable Lanyard
1 – Wrench (hidden in the bottom of the handle)
1  – Set of instructions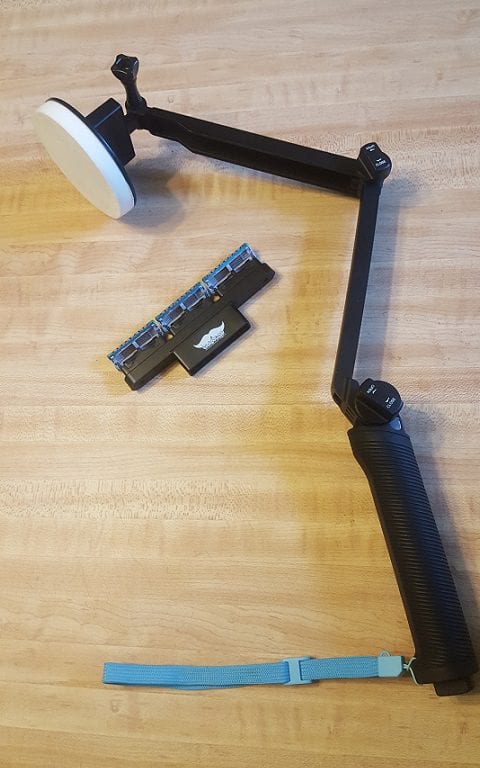 Specs On ButyFace Back Shaver
With the handle fully extended I measure from tip to end a total of 22 1/2 inches long. When fully collapsed, I measure 7 3/4 inches long, this is a great option to just have it stored out of the way or if you are traveling with it. As it really gets compacted when fully collapsed. What allows for this versatility, is three adjustable pivot points strategically placed on the handle. These can easily be adjusted with your fingers or with the wrench provided to help maintain the correct angle.
The shaving head consists of three 1 3/8″ inch 5 blades shaving heads. (shown below) These are stacked side by side with a gap in between. These shaving heads are a typical 5-blade beard shaving head, used for shaving one's face. The shaving heads have a nice springiness, as they adjust to the contours of your back. The shaving swath for the ButyFace is 4 3/4 inches wide.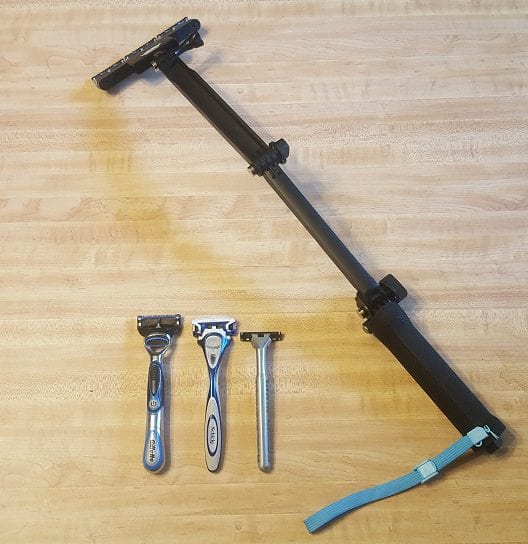 How Does ButyFace Back Shaver Perform?
I was expecting a lackluster performance from the ButyFace, and you know what?
I got a lackluster performance from ButyFace. After reviewing multiple back shavers I have the ability to ascertain by just carefully looking at a back shaver to know how good it will perform.
The first clue that this shaver would underperform, is the type of razor. The ButyFace Back Shaver uses beard razors. Beard razors were specifically designed to shave your face, not long hard-to-reach back hair. This will clog this type of razor in no time flat. Most Back Shaving Companies are aware of this design flaw in the beard razor and avoid using this type of shaving cartridge.
The second clue is the total 3/4 inch gap between the blades. This makes it more of a challenge to shave your back with multiple passes. Leaving room for missing patches of hair.
This is a frustrating way in which to shave your back. At least this was my experience. As it seems to be a combination of not having the proper razor in which to shave your back and getting the optimal angle (despite the multiple pivoting points on the handle. As well as the total 3/4 of an inch gap between the blades.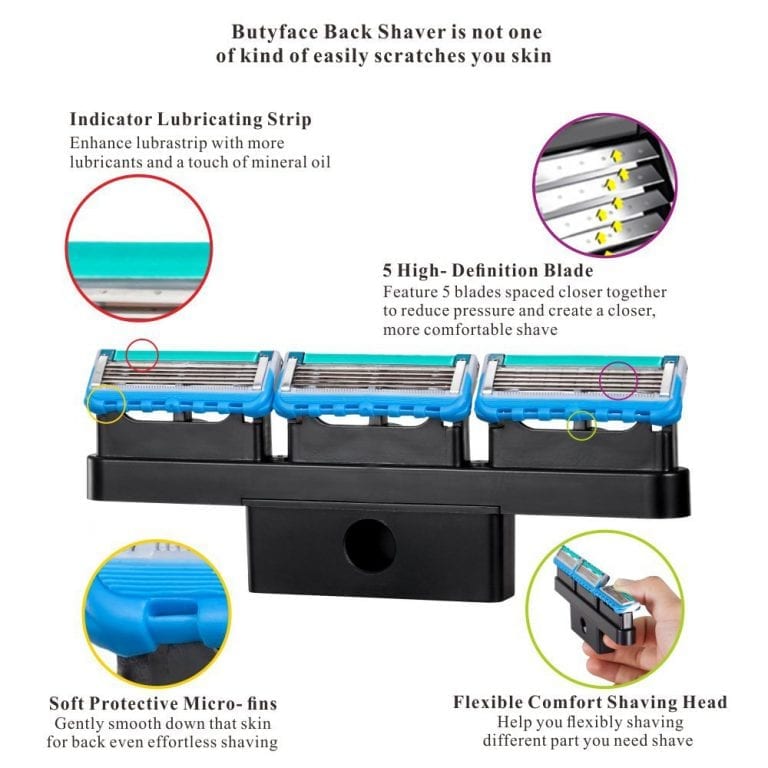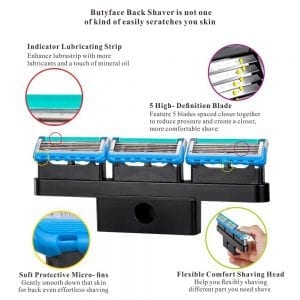 What I REALLY liked about the ButyFace Back Shaver is the handle. It is the most adjustable handle and it is very simple to use as well. This is the silver lining here, but unfortunately, the razors on this back shaver underperform.
If they could attach a good single-bladed razor to this handle you might have a very competitive back shaver.
Pros & Cons
Pros
3 Pivot points, allowing you complete control over any possible angle on your back to properly shave it. Probably the most versatile handle I have reviewed to date.
Comes with a bath sponge scrubber, great for applying shaving cream or just scrubbing your back with soap or body wash.
This can be easily collapsed for better traveling or for out-of-the-way storage.
Comes with a plastic wrench for securely locking down the pivot points. I've found tightening with my fingers works just fine as well.
Comes with an adjustable lanyard for secure handling.
Quick and fast adjustment to angles. (if you aren't using the wrench)
Very lightweight.
The rubber handle provides a non-slip grip.
Great length when fully extend and easily provides enough reach.
I love when instructions are sent with products. Shows the novice proper techniques and suggestions.
Quick changing of the replacement head.
Came packaged really nicely. Plenty of bubble wrap.
High rating on Amazon, but I am not impressed with its performance.
Cons
Clogs with hair. This is due to the design of the beard razor which requires constant cleaning. Tapping on the side of the sink or/and running water.
I measured between each razor head and got a total of 3/8 of an inch between each razor, for a total of 3/4 of an inch, that won't be shaved with each pass. This will add to shave time and possible skin irritations, as you will have to keep going over an area to get the job done right.
Not an efficient shaver of back hair. Constantly having to go over the same area over and over again to rid that spot of hair.
You're using a beard razor to shave your back. Not the best razor for dealing with thick back hair.
Replacement blades are hard to find.
Expensive to replace the razor head, as it has 3 – 5 bladed shaving heads.
You can choke up on the handle but it isn't very comfortable.
Would like a small stiff little brush to help clean the razor blades.
Tried contacting ButyFace multiple times with no response.
Horrible Name. Confusing or insulting name…right? I mean, I am supposed to shave my back not my face with this…right? And what the freak is a buty? Is this the nice way of saying Butt Face or Butter Face, I'm lost…
When tapping on the edge of the sink to try and unclog the razors (believe me you will be tapping it), the last pivot point likes to change the angle.
Tips On Using ButyFace
Head over to my page, What Is The Best Back Shaver?, to read and found out my top three picks for back shaving. So much better than this one.
Shave with a dry back, as this is a must with this type of razor blade. The hair has more of a tendency to just fall away, instead of sticking if it is wet.
When you have the correct angle you want, make sure to tighten the pivot point. Otherwise, it will just move on you.
Apparently, you can replace razor heads with certain brands. I don't see the worth in it for me, as I am not a fan of shaving with a face razor for my back hair.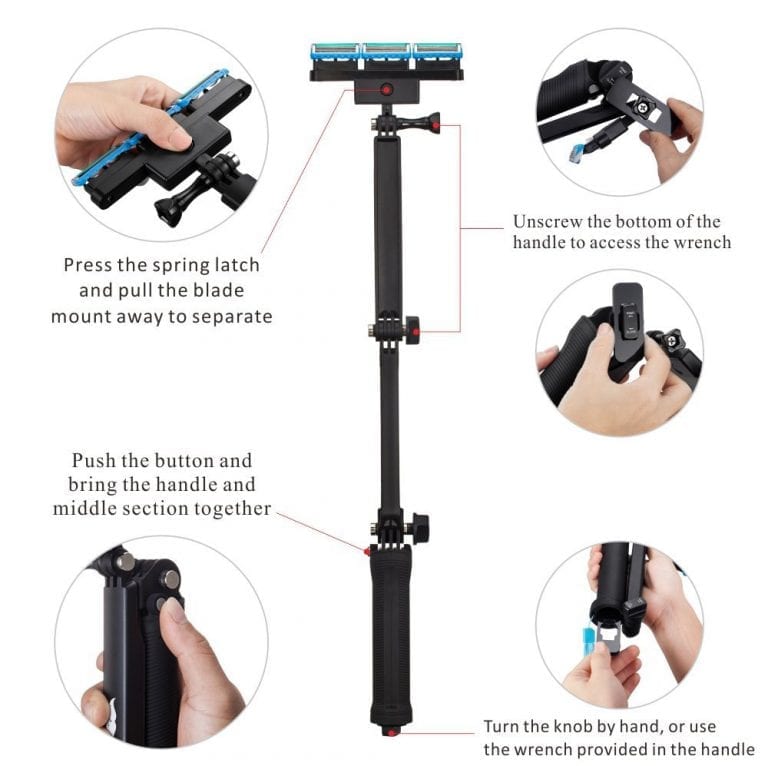 The Final Shave
The flaws of this horribly named back shaver are obvious to an experienced back shaver reviewer.
The shaving head just doesn't perform well for shaving one's back with it but…the handle is the saving grace as this handle is amazeballs. Highly adjustable, easy to store, and comfortable. It's got one of the two things right for a quality back shaver.
Having more clogging beard razors which could clog with hair isn't a good feature, it's more work!
This falls more to the middle/bottom of my list for shaving one's own back. This I can assure you, won't be picked up by me, when I need to shave my own back. As I have a plethora of BETTER performing back shavers in my bathroom closet to choose from and rather avoid the frustration.


[wp-review id="1380″]