What Is ManBlade Pro Back Razor?
The ManBlade Pro Back Razor, at first glance, is an impressively wide back shaver that has some interesting key features on their take on a back shaver.
For example:
Extreme Reach Ergonomic Rubberized Handle
Huge 6 Inch "Wide Glide" Blade Design
Roll and Shave Grooming Technology
Keep reading to see if it is worth buying.
What Is Included?
You receive:
1 – ManBlade Pro Back Razor
4 – Safety Razors
Key Features Of the ManBlade Pro
The first thing that this back shaver stands apart from other back shavers is the W-I-D-E shaving width.
Just looking at the width and you're like, Woh! This can hold 4 safety razors side by side for a cutting swath wide enough to play football on.
A couple of swipes with this sucker and you should be all done, right?
Ahh…not really. More on that is below.
The second feature that sets it apart is the blue roller that is situated below the razors. They call this the Roll and Shave Grooming Technology. They claim that "it channels and guides the hair against the razor to effectively and efficiently remove back hair."
Wideness Doesn't Mean Effectiveness
After using this back shaver I have to say I hate the blue roller, I don't care if you have a patent on it, as it doesn't work right. It makes shaving your back harder and more tedious. It is probably the combination of the roller and the extra width that makes shaving the contours of your back difficult.
The wideness might also be hindering the ability of the effectiveness of this back shaver.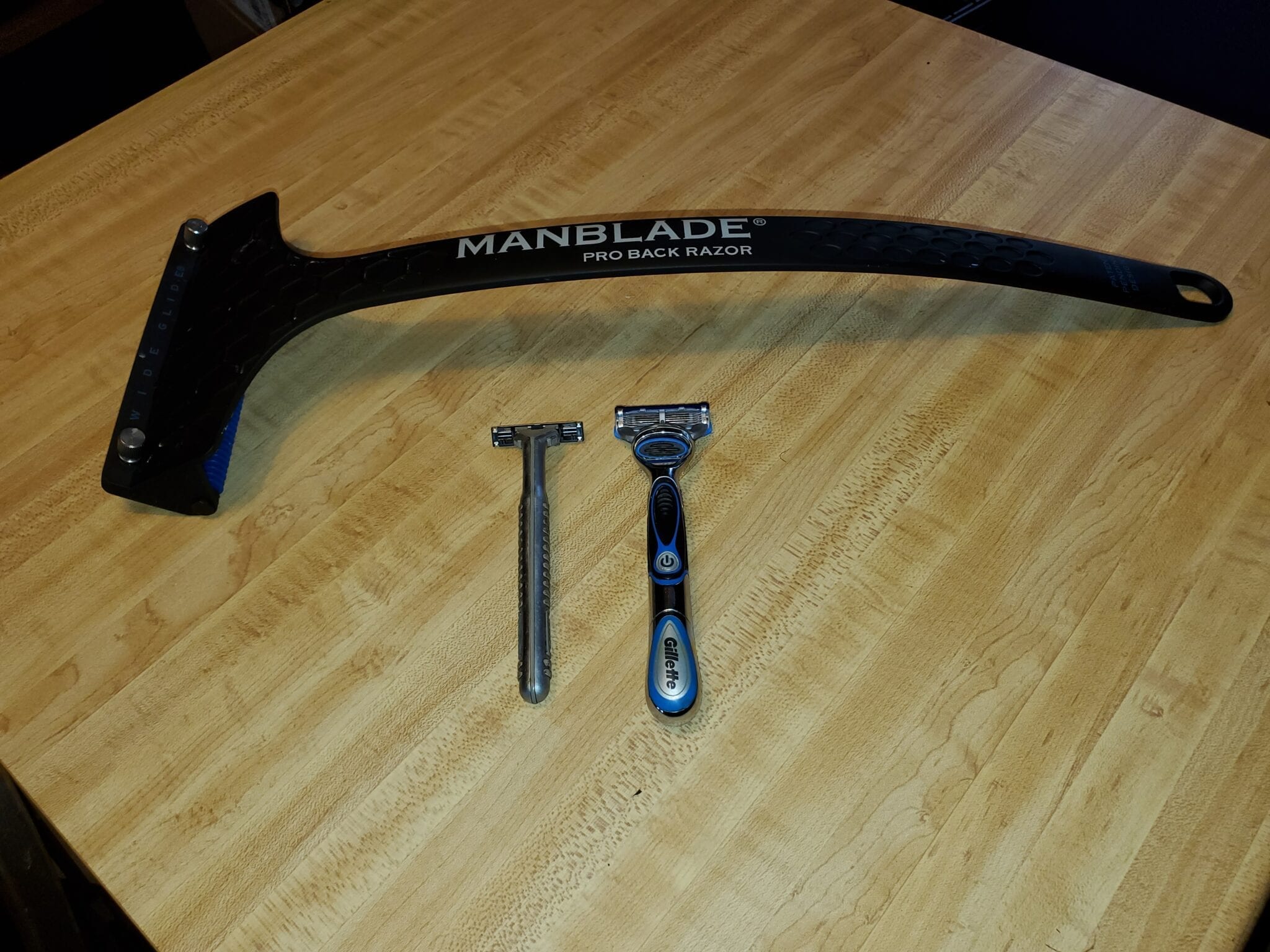 What I do like about this product is it uses (affordable) double-sided safety razors instead of an (expensive) pre-built cartridges. Manufacturers usually overcharge for cartridges. This will save you a ton of money over the years.
The ManBlade also has two stainless steel thumbscrews which make it easy to change out blades in a snap.
The handle too is impressive as I really like the rubberized feel and texture, as well as length. Someone put some time and thought into this product.
Pros & Cons
Pros
Wide Wide Wide. Count them 4 blades across. This provides the widest shaving area of any back shaver I have reviewed. Total shaving width measures in at 5 13/16″. Massive just massive.
The handle has a unique texture for a non-slip grip.
The handle is rubberized which is preferable over hard smooth plastic for easy gripping.
Handle length is long coming in at an even 20 inches long.
Two stainless steel thumbs screws make for super easy changing of razors when it's time to do so.
A hole at the end of the handle for hanging out of the way or for a lanyard.
I love having not to buy expensive replacement cartridges, as the ManBlade Pro uses dual-sided safety razors, which I might add are pretty darn cheap.
You can register your back shaver in case something breaks or what have you.
ManBlade has a two-year warranty against defects due to manufacturing.
Plenty of information, tips, and videos on ManBlade's website. Love to see this on a company's website. You can visit their website www.manblade.com
Cons
Hard to find in stock at the time of writing this review. As Amazon, Walmart, ManBlade's website, Bed Bath & Beyond, and Groupon were all out of stock.
The wideness is also its downfall as I struggle to easily shave the counters of my back. I would have to go over an area multiple times all the while making adjustments to rid my back of the hair. Usually, just a small section of the blade is actually cutting, this is disappointing.
The blue roller I think hinders the effectiveness, there is just something that makes it harder than it needs to be and I struggling to understand what it is, but I can tell you it shouldn't be this hard.
Shave time with a product that doesn't work the most efficiently is going to be longer, I would say at least 10 to 15 minutes more to make sure every hair is gone when using the ManBlade. Yeah…doesn't work the greatest in my opinion.
I find the width of the roller to hinder the razor's ability to shave the unevenness of the back.
Storage is a problem, as this thing is huge and cumbersome.
Practical Tips On Using The ManBlade
The ManBlade works best for me when I take short quick strokes with a back-and-forth method, that sounds bad…lol, but it's true.
For me to adequately get all the nuances of the back this is the best method. For if I take one big swipe, I can tell there are areas of hair I didn't shave on my back by the lack of sound and feel.
Shaving hair should make a certain sound, I always look for the sound to be constant when making a stroke. I get a more consistent sound with short strokes then back up a slight bit then pull and repeat.
For first-time back shavers, I highly recommend you check out my page, Tips On Shaving Your Back.
Plenty of tips and general questions and answers.
The Final Shave
My first thought after using this is a hard PASS!
Nope, just not good enough.
It's just too much trouble to be hair-free on your back with this back shaver.
Also, you can have the best back shaver in the world but if you can't find it to purchase it doesn't matter how good it is. This by no means is my favorite back shaver due to it being a struggle to get the right angle to shave hair.
There are a lot of thought-out features that I truly appreciate but in the end, it has to work with ease. That's where I am let down by the ManBlade Pro. It doesn't work with efficiency, it will shave your back but it will take longer, and annoy you with how long it will take. Someone spent a lot of time designing this but it falls short.
Head on over to my highest-ranked shaver and pick that one up if you're looking for a great shave, BakBlade 2 Review.