Are Your Nuts Happy?
In this Happy Nuts The Ballber Electric Hair Trimmer Review I will be giving this product a thorough run-through to see how it performs. This is a dedicated ball shaver and overall body hair trimmer with 4 guide combs to keep your hair in check.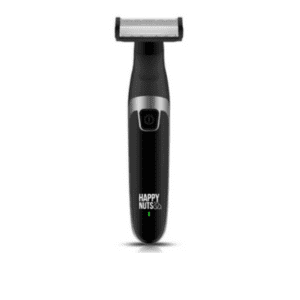 As of late, I've been on a little kick reviewing nut shavers and am pretty excited to give this product a turn. I recently reached out to Happy Nuts to ask for a sample product in which to review for my website and they happily sent me their The Ballber trimmer. In full disclosure, I am a recently joined affiliate of their product and could make a small commission on clicked purchased items. This will in no way affect my review as I pride myself on being honest. If a product sucks I will let you know, if a product rocks I will let you know as well too.
Onwards…
What Is The Ballber?
The name Ballber is a take on the words "ball" & "barber" so in essence a barber (trimmer) for your balls. Along with the company's name Happy Nuts, they focus on this region of the body just to make that crystal clear. The Ballber is a dual-sided blade rechargeable trimmer designed specifically for trimming hair on your nut sack. The slim trimming head has micro teeth to which to trim hair.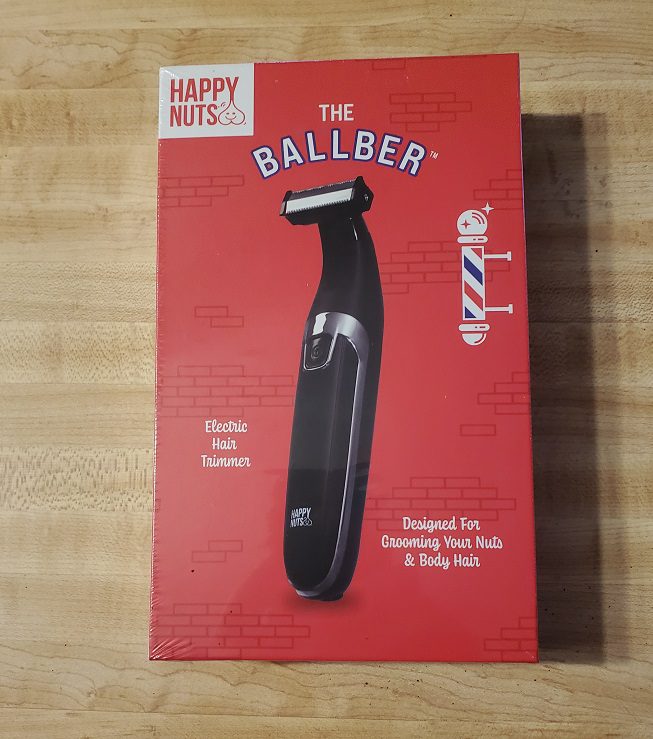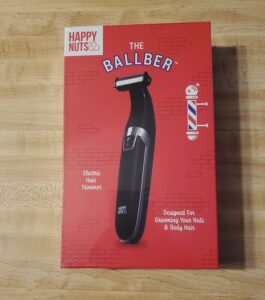 What Is Included?
1 – The Ballber Trimmer
4 – Guards (guide combs 1mm, 2mm, 4mm, 6mm)
1 – Charging Cable
1 – Wall Plug
1 – Cleaning Brush
1 – Instructions Manual
Specs On The The Ballber
The length of The Ballber is 6 1/8″ inches long. The trimming head measures 1 1/2″ inches wide and the blade height is 7/16″ tall.
The motor is a powerful 7,000 rpm ultra-quiet motor a great combination.
This also comes with a Lithium-Ion rechargeable battery that when fully charged holds 150 minutes from a single charge.
Does It Work? Does It Cut You?
The powerful motor and blade design really cuts through the hair. The motor runs at 7,000 RPM and is one of the quietest electric trimmers I have heard. When I first opened it I turned it on and attacked a portion of arm hair and it buzzed right through it and I was pleasantly surprised. It came fully charged out of the box which is great. I always test it on my arm first just to initially see how well things work and to get a general overall feel of the device. This has no problem mowing down any type of body hair and is a real workhorse.
The handle is slim and fits nicely in the hand.
Design
This has a slim design of the handle which supports a comfortable and secure grip. The trimming head is dual-sided to allow trimming both pushing and pulling and is a great feature and allows you options when addressing any trimming hair situation. The slim trimmer design allows you to get into other places bigger trimmer heads won't allow you to. The trimming head also pivots to 30 degrees for more shaving options.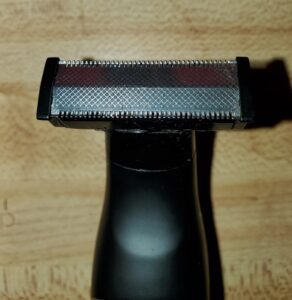 Does It Cut You Down There?
The true test is to use this without any guards and tackle the groin region and see how this performs more or less on the ball sack. To mostly see if it will nick you down there, right? As nobody wants to experience the discomfort of nicking your balls. We want it to cut the pubes but not the skin.
No, it will not cut you. This works just fantastically. I had ZERO nicks or cuts and no blood. That is pretty damn good if you ask me, allowing you to trim hair without any nicks or cuts. I have seen and reviewed dedicated ball trimmers that left me a bloody mess down there. Not here with The Ballber. After the first couple of swipes, I knew this was a great ball shaver as I knew it wouldn't cut me. It never pulled or tugged my skin or hair, it just trimmed hair efficiently.


How Does It Work On Your Beard?
This will trim the hair on your face pretty darn well. With no guard attached it will leave a very short stubble and is great for trimming the hair around the mouth and under the nose as its slim profile lends itself to getting in the hard-to-reach or tricky areas. Using the other 4 guide combs provided you can surely get the right length of stubble you need on your face.
Pros & Cons
Pros
Comes neatly packaged in an easy-to-open box. Not some hard-to-open bubble pack here.
Comes fully charged. Love this as I hate waiting for it to charge before using it.
Guide combs are labeled for easy identification.
Waterproof as this has an IPX7 Waterproof rating.
The motor is pretty quiet. It is one of the quietest I have seen.
7,000 RPM motor.
6 months plus on blade life. Pretty darn good.
Guards attach easily.
An indicator light lets you know when it is time to charge when it is flashing red light.
They donate a portion of proceeds to prostate cancer prevention and research too.
Dual-sided blade cut both ways pushing and pulling. Great option.
Very slim blade profile to get all the hard-to-reach spots.
Stainless steel blade.
The handle fits nicely in the hand and is wieldy.
Doesn't clog with hair.
Comes with a cleaning brush.
90-day warranty.
150-minute run time on a full charge.
Cons
Would like to see a little more texturing on the handle for a better grip.
Also Checkout Out There Comfort Cream (Ball Cream)
I was really impressed with their product Comfort Cream which is used on your balls to protect against moisture and chafing. A great product and I highly recommend getting it.
You can read my full review of Happy Nuts Comfort Cream here, Happy Nuts Comfort Cream Review.
Tips and FAQ
Discount Code To SAVE MONEY!!!!
For 10% Off all purchases use the promo code – BACK10
Is It Waterproof?
Yes, and it has an IPX7 waterproof rating which means it can be at a depth of one meter for 30 minutes. So feel free to use it in the shower or just clean and rinse it under the sink.
How Long Does The Battery Last?
When fully charged lasts up to 150 minutes.
Does This Have A Warranty?
Yes, it has a 90-day warranty.
Can You Buy Replacement Blades?
Yes, replacement blades for The Ballber can be found here, Ballber Replacement Blade.
How Long Does The Blade Last?
The manufacturer claims it lasts for at least 6 months if not longer. This is pretty darn good as I have seen other trimmers have a shorter lifespan. They offer replacement blades if your blade becomes does happen to become dull.
How Long To Charge?
It takes up to 120 minutes to fully charge.
How Long Does A Full Charge Last?
On a full charge, you can expect up to 3 hours on a full charge.
The Final Shave
This product lives up to its name "Happy Nut" because it doesn't cut or nick you and will leave your nuts with a smile. For a ball trimmer, this feature is the most paramount. It is super quiet for a trimmer and has a powerful motor. This is a true winner if one is looking for taking care of groin hair and other body hair.
I can happily recommend this trimmer to anybody looking to manscape themselves. A solid performer with no real negatives to highlight. Don't forget to use the promo code – Gift15 to save 15% off your total purchase.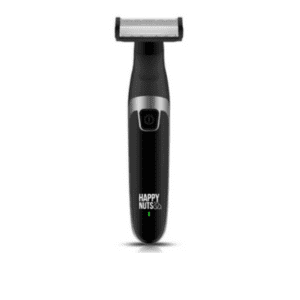 Any questions or comments? Please leave them below. Thanks