Is This A Quality Organic Soap?
Ahoy…today Matey we will be looking at a nautical theme soap company called Kraken Wash. I will be seeing if this is pirate booty or a bilge-sucking Hornswaggle. So prepare your sea legs as we voyage on into uncharted seas in this Kraken Wash Soap Review.
Disclaimer
I recently just joined the Kraken Wash affiliate program. I will earn money at no additional charge to you if you click and purchase through links on this page. I purchased the soap pictured on this page with my own money in order to properly review this soap. I will highlight both the negatives and positives of this product.
So, What Is Kraken Soap?
Kraken Wash is based out of Temecula, California that provides high-quality but affordable personal hygiene products. They sell soaps, beard, body, hair products, and even cologne/perfumes. All of the soaps come in 5 ounces squares.
What Soaps Are Available At Kraken Soap?
Kraken Wash is stacked deep with many different scented soaps. As they have currently 26 different bars of soap for sale. They also have some of these soaps with an exfoliant added for that extra scrubbing power if you are interested. I will put an asterisk by the soaps with an exfoliant below.
Caribbean Scrub* – Citrus Blend with hints of sage and other greens.
Troubled Waters* – Deep musk with light floral notes and a touch of sandalwood and patchouli.
Shipwreck – A blend of sweet orange, plumeria, patchouli, amber, vanilla, and a bunch of other scents.
Sandalwood – Earthy and woodsy with natural and undiluted sandalwood.
Coral Reef – A popular fruity aroma that smells like Victoria's Secret Love Spell.
Pumpkin Spice – The very popular scent of fall that everybody knows is both sweet and spicy.
Pearl Cove* – Very similar to cotton blossom but with more life. The scents contain musky undertones with ground oatmeal and sea salt for an exfoliant.
Mermaid Bubbles – Lavender mixed with sweet peppermint oil.
Grapefruit Tea Tree – Natural grapefruit blended with tea tree oil.
Blackbeard – Strong earthly scents with cedarwood, hints of tea tree, and patchouli.
Sea Queen – Their best lavender fragrance balanced with sweet lemon.
Atlantis – Tropical coconut with passionfruit, black raspberry, and banana.
Bermuda Triangle* – Mango blended with apple and orange with floral hints.
Black Spot – Traditional African shea soap with Oakmoss, Aloe, and light floral undertones.
Davy Jones Locker – No sweet smells here just green and earthy tones.
Dead Sea – Musky earthy scent with amber and green base notes.
Deep Ocean – This smells like a modern sporty cologne.
Kraken Blood – Amber, vanilla, patchouli, and hints of orange and some fruity bases.
Pirate Code – Lily of the Valley and green floral undertones.
Walk The Plank – A clean and strong scent of sage and a plethora of mild green scents.
Forbidden Curse – With scents of fresh clean linen and aloe vera.
Mermaid Scales – Simply eucalyptus and aloe.
Port Royal – Black raspberries and vanilla beans.
Plunder Me Peach* – Peach tea.
Seven Seas – Smells like strong coffee.
Golden Doubloons – Orange and oatmeal.
Ingredients
Here is what is posted on the Kraken Wash website,
"All our soaps are vegan-friendly and organically made with no preservatives, animal products, petroleum products, parabens, or lauryl sulfate. Basic ingredients include olive oil, coconut oil, soybean oil, canola oil, hemp oil, organic Shea butter, water, lye, crushed oatmeal, peppermint leaves, and other natural fragrances."
Here is what is printed on a bar of soap. I will list the ingredients of their Troubled Water soap but bear in mind that other soaps can have a different list of ingredients listed.
Ingredients
Coconut Oil, Canola Oil, Soybean Oil, Organic Shea Butter, Water, Sodium Hydroxide Lye, Olive Pomace Oil, Sunflower Oil, Activated Charcoal, and Fragrance.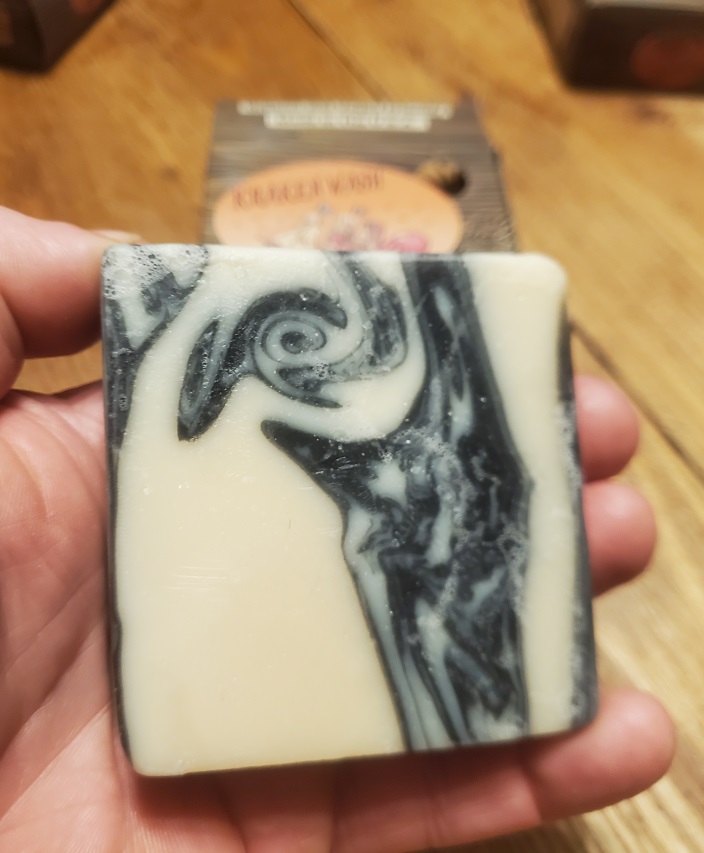 My Overall Experience & Opinion – Is It Worth Buying?
Having used and reviewed quite a large number of different soaps from different companies I would say this is a quality bar of soap with scents that aim to please. They check all the marks you look for in a quality bar of soap. Like, available scents, quality ingredients, and the ability of the soap to form suds easily and generously.
Scents
Soaps should smell fresh and clean and all of the scents that I have tried meet this quality. Nothing smells like a cheaply produced bar of soap made with cheap fragrance oils. They smell very natural and well-blended. This is actually pretty hard to do and when you consider the number of scents it is even more impressive.
Out of everything I purchased I didn't hate or dislike any of the soaps and that is saying something as I bought 14 bars of soap to use and review. While some scents appealed to me more than others there is nothing I hated or disliked.
What Are My Favorite Scents – Must Buy
My favorite soaps are:
Sandalwood
Port Royal
Black Beard
Mermaid Bubbles
Deep Ocean
Black Spot
Deep Sea
Davy Jones Locker
Atlantis – I think I would love this scent but it was out of stock when I ordered.
Overall
The soap quickly forms a nice layer of suds and it doesn't take a lot of effort. This doesn't leave my skin feeling dry either and it has helped my skin during the dry summer months. I also enjoyed the milder exfoliants used in some of their soaps. It is not as aggressive as some others I have tried.

Pros & Cons
Pros
Big selection. A wide selection (26 different bars of soap to choose from) of a variety of different scented soaps to choose from.
If you love Kraken Soap you can potentially save money by subscribing to having their soap ship either weekly (20% off) or monthly (10% off).
Certain soaps in their lineup have exfoliants added to help remove hard-to-get-off grease and dirt.
Great suds. The soap suds up right away with a thickness.
The scent lingers on the skin for a good while. I would say at least 4 hours it can be smelled and it is definitely a skin scent as it doesn't project into the environment. This is actually what I prefer.
Doesn't dry out the skin.
Vegan-friendly soap.
Safe for people with sensitive skin.
Organic soaps.
Paraben-free.
15-day return and refund if not happy with the product.
Kraken Wash also has a rewards program called Kraken Rewards that you can sign up for and earn points that you can turn into rewards.
Highly colorful with swirly patterns that make it pleasant to look at.
Decent price for a good quality bar of soap.
I really enjoyed their Sandalwood soap as I am a sucker for a good sandalwood scent.
They sell a lot of other general hygiene products too.
Cons
I don't see a list of ingredients on the individual soap page on Kraken Wash but can be found on the FAQ page. This would be more helpful for people if was on the individual soap pages and not so hard to find. Kraken Wash needs to be more transparent with its ingredients and list them on each individual soap page.
Was disappointed that Atlantis soap was out of stock when I ordered as I really wanted to try it. As I am a big fan of a quality coconut scent.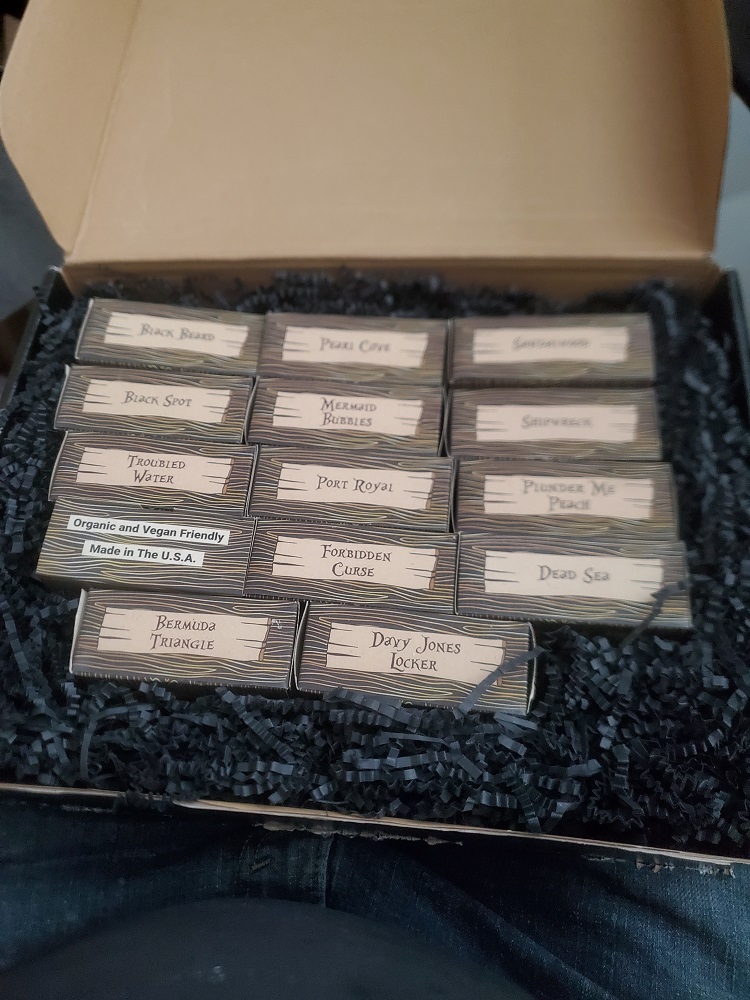 How Does This Compare To Other High-Quality Soaps?
This soap I would rank towards the top of the best soaps I have reviewed for quality and scents. I will list some other high-quality soaps if you are interested.
Harry's Soap – Quality low-cost soaps. Read more about it here, Harry's Soap Review – Is It Any Good?
Huron Soap – The best creamy rich lather that is just amazing and hydrating. Great for dry skin. For more information head on over to my page Huron Men's Soap Review – Quality?
Grondyke Tactical Soap – Soap that is infused with pheromones to attract the ladies. Enough said…Read more here, Grondyke Tactical Soap Review – Does It Work?
Promo Code – Save Some Money
Use the coupon code BACK to save 10% on all purchases at Kraken Wash.
Just enter the promo code at checkout.
The Final Shave
I have been really fortunate to have reviewed and personally use some amazing soaps over the years. I believe Kraken Wash Soaps also fall under this favorable cloak. If you are searching for a good soap to dip your toes into this surely will have something to offer.