This List Isn't Made Out Of Thin Air
A little note here, I would just like to state the trimmers in my list are actual products that I have reviewed currently to date, if I review in the future a better trimmer I will update the list. I can't know if a trimmer is good or not by just reading information on the internet, as I like to personally use the trimmer first and then and only then, formulate through its performance an opinion. I will post links to my original review if you want a more in-depth look into the trimmer. In my reviews, I post unique pictures that show I own the product.
Before We Start
I am an Amazon Affiliate as well as a member of other affiliate programs. This doesn't affect how I review a product, I am honest. The links below are to these links and I make a small commission of purchase products. If you find this page helpful I ask you to help support my website and I can continue to bring quality reviews. I often end up buying many of the products reviewed here with my own money and every bit of help I get counts towards bringing you honest and detailed reviews.
The Best Trimmers
There are many different trimmers on the market and almost an overwhelming amount of many different brands to choose from. You can quickly become lost in the sheer number of different features and brands.
What Trimmer Is Right For You?
Keep in mind what kind of trimmer are you looking for when purchasing a trimmer. Are you looking for a dedicated trimmer for a specific body area or a general all-purpose trimmer for multiple body parts? As there are many options to choose from. For example, some people like to have a dedicated groin trimmer and also a dedicated beard trimmer, keeping these two separate for obvious reasons. While other people just want a general trimmer for everything, cutting hair, beard trimming, body hair, and groin hair to save money.
I hope to lay out each of the trimmers below and their features and their general purpose.
An amazing all-purpose trimmer!!! If you want a trimmer that does it all…this is it! The word is out too as this recently sold out over the Christmas Holiday of 2021.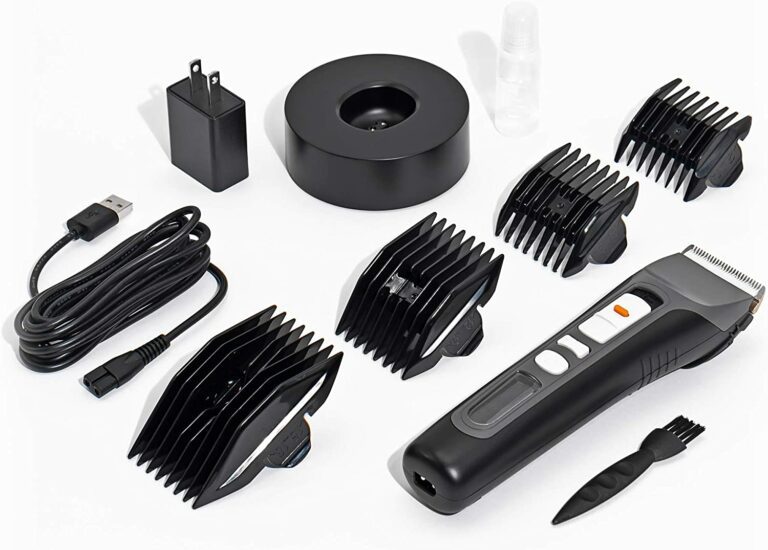 It does everything. This is at the top of the list because it is the one I like the best. This really shines as a beard trimmer as it is super versatile in its Micro Adjust Lever and/or combination of guide combs to get the perfect stubble or beard length.
This gets tons of love from men everywhere and is highly regarded as the best grooming trimmer out there. Once you use it, you will know why too. It's that damn good.
Once you become familiar with how this operates and the features of the Brio Beardscape this is a pure pleasure to own and use. This can handle any grooming chore you throw at it and it really shines with trimming your beard, as the name obviously suggests. But you can also give yourself a great haircut too if you cut your own hair. As well as trimming hair in other areas it performs great too. This does everything well.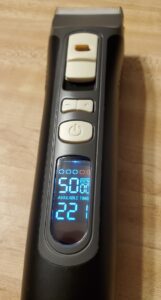 You can read my full review of this trimmer here, Brio Beardscape Beard Hair Trimmer Review.
Features – Why You Should Buy It
The best trimmer that does it all and does it well.
A rechargeable cordless & can be used with a cord when using. Love the option.
Micro Adjust Lever goes from 1mm to 1.9 giving real options for length with or without guide combs attached.
A super great battery provides an extra-long run time (up to 4 hours).
Ceramic blade.
Quality build and performance.
Long cord for charging or trimming.
Best beard trimmer.
The LCD display lets you know the run time, speed, load, and when to clean and oil.
Quiet motor.
5-speed settings (5,000, 5,500, 6,000, 6,500, 7,000)
4 dual-sided guide combs. (1-2mm, 3-6mm, 9-12mm, 15-18mm)
2-year warranty.
Maybe Reasons To Avoid
Not waterproof. I don't like using any trimmer in the shower for multiple reasons but thought I would include it anyway.
Guide combs can be tricky the first time you try to attach them, at least they were for me but I watched the video and it was cleared up.
I bought the kit that didn't have the zero blade. I didn't need it but would like to see how it performs.
This is what I consider the top groin trimmer!. This is the best-dedicated ball trimmer on the market in my opinion.
Why is that?
The number one reason it is the best is that it will not cut or nick you down there, you know…your ball skin, that sensitive area. I have used this for almost a year now and it has not once ever nicked me. A dedicated ball trimmer needs to be able to adequately trim pubic hair without cutting the skin and the Meridian Trimmer has lived up to this challenge with flying colors. My steadfast rule for a ball trimmer is number on safety, I do not need to bleed down there.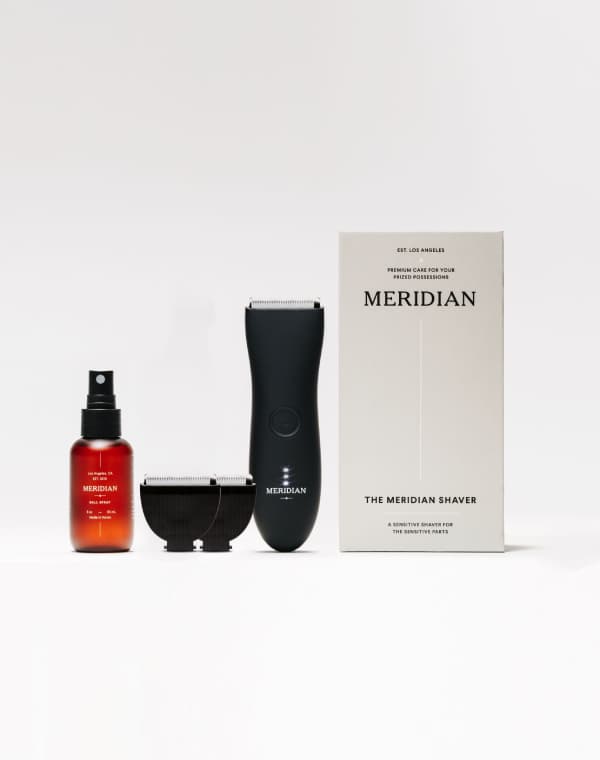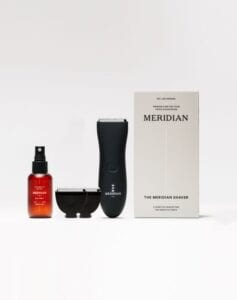 Another reason why it is a good ball trimmer is that it trims body hair great. The motor operates at 6,000 strokes a minute to easily mow down hair. Meridian also uses a ceramic blade on its trimmers to prolong the sharpness and life of the blade. The handle is also the most comfortable handle in a trimmer I have used to date, their unique handle design makes getting into tight areas easy. This has a uniquely wider blade width of 1 1/2″ inches wide than most dedicated ball trimmers, as most have a 1 1/4″ inch wide. While being only 1/4″ inch wider makes it a lot easier to use and I actually prefer the wider blade width.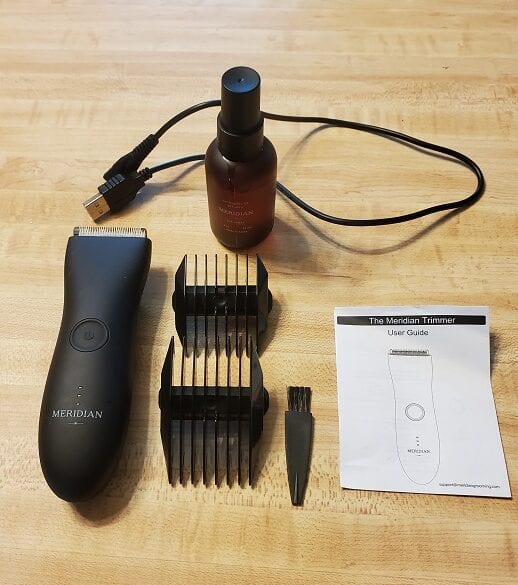 For more information check out my full review here, Meridian Trimmer Review – Best Male Pubic Trimmer?
Features Why You Should Buy It?
Doesn't cut you down there. So very important!
1 1/2″ inches wide blade.
2 two side guide combs (3-6mm, 9-12mm)
90-minute run time on a fully charged battery.
The charge indicator light lets you know the current battery level.
Uses a Lithium-ion rechargeable battery.
Best handle.
Quiet operating noise level.
Cheaper than most dedicated trimmers and works better than other well-known names out there.
Many different kits in different price ranges from which to choose.
I've put these head-to-head against other dedicated ball trimmers and this beats them all.
3-year warranty.
Maybe Reasons To Avoid
Could have more sizes of guide combs included.
PROMO Code
10% off any purchase – use code SUMMERVIBES10 offer is good til July 31, 2023.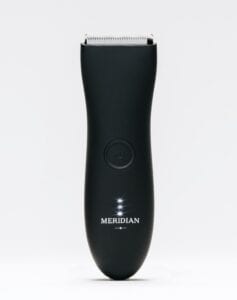 This is another dedicated ball trimmer that doesn't cut down there but also can be used for trimming hair elsewhere on the body too. This newer and little-known company Happy Nuts has entered into the world of ball trimming and has made a wonderful functional nut trimmer called The Ballber. This is very similar in design but different from the highly popular Phillips Norelco OneBlade (listed below). As it has a dual-sided trimming head that trims hair both pushing and pulling, thus giving you versatility.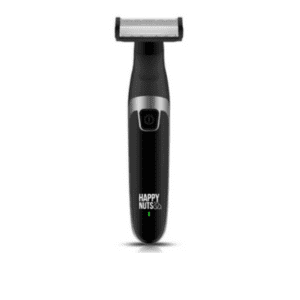 This has a powerful motor that runs at 7,000 strokes a minute but it also runs very quietly. This also has a very comfortable slim handle design. The trimming head is only 7/16″ inches tall making it very easy to maneuver and get into tight spaces. The blade is stainless steel.
Read my full review here, Happy Nuts The Ballber Electric Hair Trimmer Review.
Features Why You Should Buy It
Doesn't cut or nick your ball skin.
7,000 rpm motor.
Slim and very comfortable handle.
Very maneuverable.
Slim trimming head lends itself to getting into tight spots.
Guide combs provided (1mm, 2mm, 4mm, 6mm)
Lithium-Ion battery.
Dual-sided trimming blade.
Doesn't clog with hair.
Great set of guide combs that easily attach to the blade.
90-day warranty.
Maybe Reasons To Avoid Buying It
I would like to see some texturing on the handle, it would just provide a better firm grip.



This is another grooming tool that has become rather popular in the trimming world, as it is generally used as a beard trimmer and is much loved for this grooming ritual. This uniquely designed trimming head cuts extremely close to the skin. Making it great for trimming down the beard to any stubble length with or without the supplied guide combs. The blade is extremely thin and allows you to get really close to the skin.
This plows through the hair by making 200 cuts per second and doing a great job with any density of hair. The blade is stainless steel and is extremely thin. This really shines when dealing with the beard either providing a super close trim that it almost shaving or getting that perfect stubble length you desire. This can be also used as a groin trimmer but the proper trimming guide comb needs to be attached, as it will cut you down there if a guide comb is not attached.
The handle is slim and comfortable. This is also waterproof and can be used in the shower. This has a Lithium-ion battery that has a maximum run time of 60 minutes.
Read my full review of this here, Philips Norelco OneBlade Face & Body Review.
Features Why You Should Buy It
Fast and effective at trimming beard down.
It cuts at 200 times per second…how is that for power.
So close to the skin, it is almost shaving.
The dual-sided blade can be used for pushing and pulling.
Hair falls away and doesn't clog.
Cleaning and maintaining is super easy.
Waterproof and can be used for wet or dry shaving.
Certain kits of this come with two blades for trimming the beard and are used as a groin trimmer for hygiene's sake.
High positive rated.
Shaving head pivots for easier trimming.
Can be used as a groin trimmer only with a guide comb attached.
2-year warranty.
Maybe Reasons To Avoid Buying It
Prone to easily damage the trimming head if dropped and should be replaced immediately.
A guide comb needs to be attached to trim groin hair (pubes)
This is a general overall body trimmer that is advertised as such. It does everything decently as there are multiple guide combs and attachments provided for specific body parts. From your nose hair to shaving your face the many attachments should handle all of your grooming needs.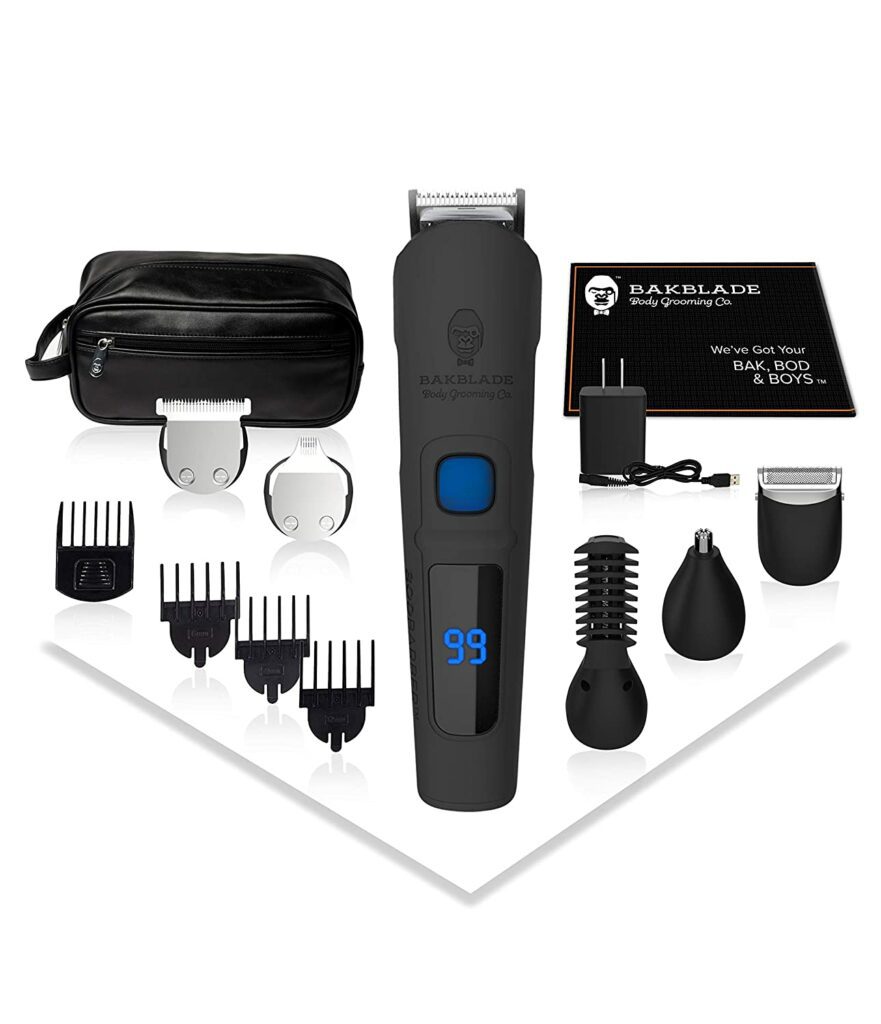 Although this has many features and it performs these tasks adequately it doesn't really shine in any one category but makes a great general-purpose trimmer.
You can read more about it here, Bakblade Bodbaber 11 in 1 Total Body Groomer Review.
Features Why You Should Buy It
Waterproof.
A Dopp kit is provided with purchase and comes in handy for keeping all the small parts together.
Every attachment tool worked.
Well built.
Easy to change attachments.
Power indication light.
60-day warranty.
Maybe Reasons To Avoid Buying It
Needs to have guide combs more clearly labeled for easier identification.
Does everything decently but doesn't wow any one category.
Small trimming head that I feel needs to be wider to perform better.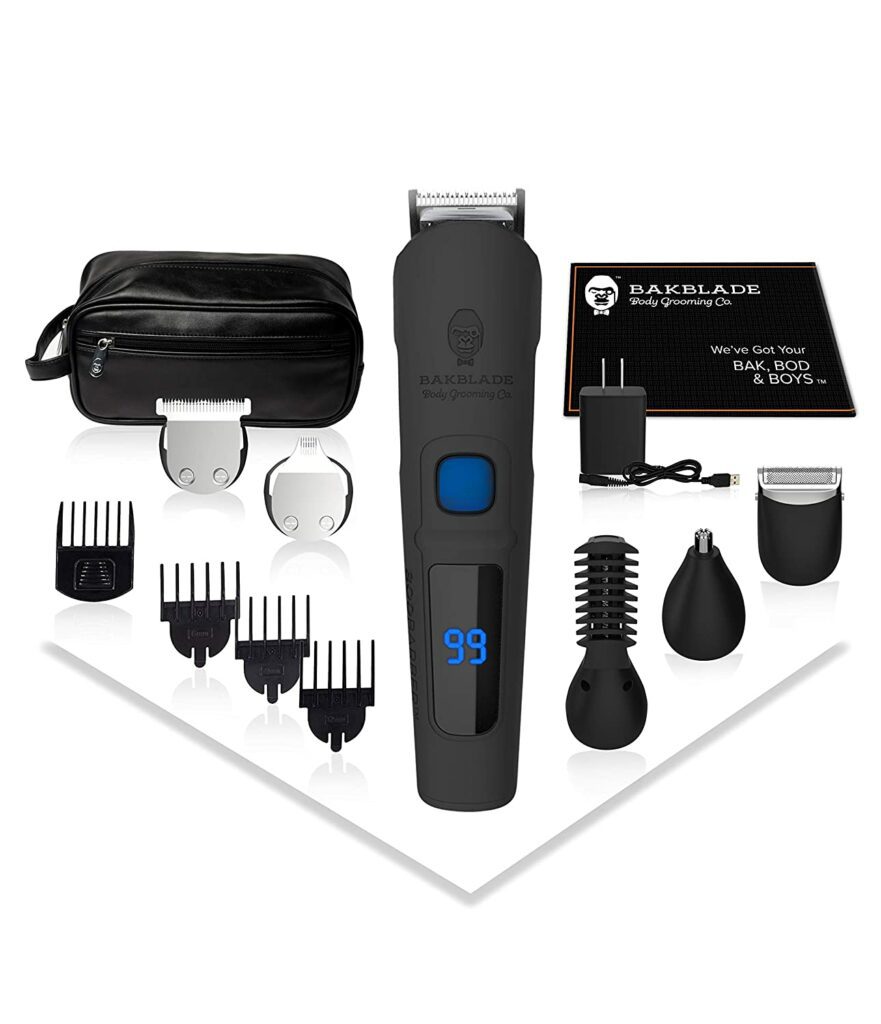 The Final Shave
For the best overall trimmer, the Brio Beardscape Trimmer is a great versatile tool for trimming hair all over the body. It can be used from head to toe. This lived up to the hype about this product.
What trimmer do you use? Have suggestions for grooming tools? Post it below.