A Do-It-All Trimmer?
Today I will be looking at the Hatteker 5 In 1 Rechargeable Hair Clipper Model RFC-588 Review. I purchased this by scrolling through Amazon looking for a multi-purpose grooming tool and decided on this model. I am totally unfamiliar with any of the Hatteker products and not even sure how to correctly say it but I have seen their products around for years. So here is hoping for a quality product that performs well, as if it does I will be potentially diving deeper into their product line.
Let's go cut some hair, shall we?
What Is The Hatteker 5 In 1 Clipper?
This is a multi-functional rechargeable grooming tool designed to tackle most of the hair that can be found on the body. It is designed and marketed to cut hair on your head, beard, mustache, nose and ear hair, and body hair. This has a menagerie of different attachments and guide combs to address the different areas of the body that grow hair. The 5 In 1 Clipper (trimmer) is referring to the five different trimming/shaving devices that can be attached to the Hatteker Trimmer.
There is a slider switch located on the front of the trimmer that allows for fine-tuning the cutting length as setting 1 is for 0.8mm, 2 is for 1.3mm, and 3 is 1.8mm. Also on the front of this device is an LCD display which shows you how much time is left on the battery in minutes.
What Does It All Come With?
1 – Hatteker 5IN1 Trimmer
1 – USB Charging Docking Station
1 – Storage Bag
1 – Hair Trimming Attachment
1 – Beard Trimmer Attachment
1 – Precision Attachment
1 – Body Groomer Attachment ( I call it the foil trimmer)
1 – Nose/Ear Hair Trimmer Attachment
5 – Guide Combs (3mm, 6mm, 9mm, 12mm, and 15mm)
1 – Precision Adjustable Rotating Dial Beard Trimmer Guide Comb (1mm all the way to 10mm)
1 – USB Adapter (wall wort)
1 – USB Charging Cable
1 – Cleaning Brush
1 – Beard/Mustache Comb
1 – Lubricating Oil
1 – Instruction Manual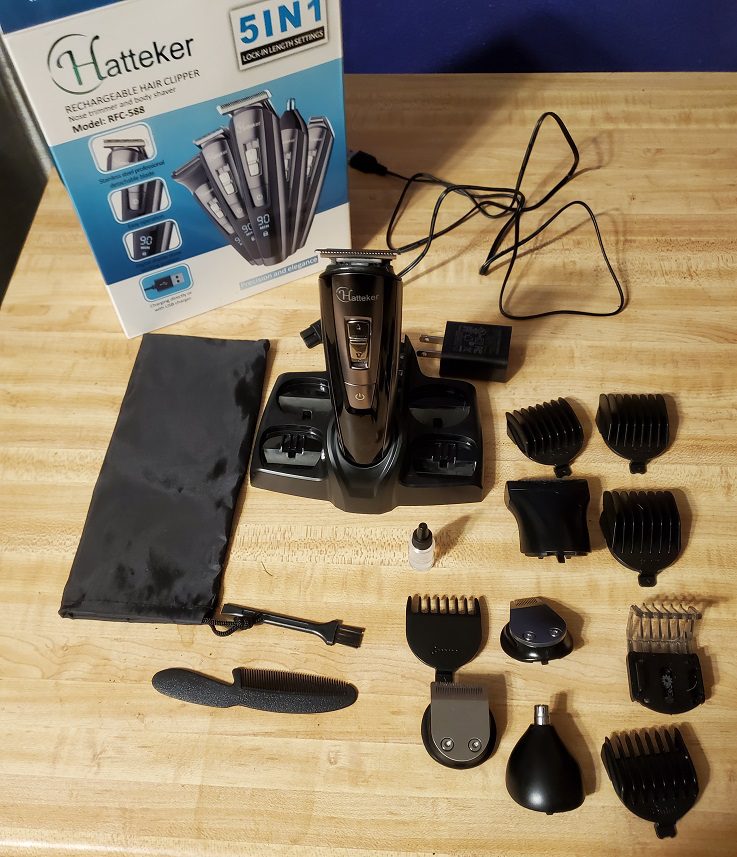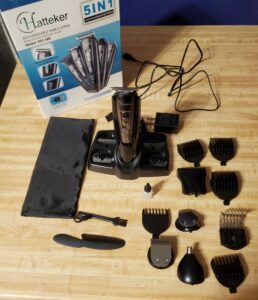 Specs Of The Hatteker
Depending on what trimming attachment is attached to this device will vary the length of this device but with no attachment attached it measures 6 1/8″ inches long.
The Trimming attachments measure:
Hair Trimmer – 1 1/2″ inches wide
Foil Shaver – 1 7/8′ inches wide
Beard Trimmer – 1 3/16″ inches wide
Precision – 5/8″ inches wide
The rechargeable battery supplied with this is a LithiumIon 14500-500DC 3.7V. The battery must be charged prior to use and has a charging time of 90 minutes to fully charge and with a maximum battery life of 60 minutes when fully charged.
Every blade included is made from stainless steel. A decent size cord for recharging is supplied.
Most Importantly How Does It Work?
In general, it does a decent job of most jobs. Exactly what you would expect for the price point at which it is sold. I think it works better as a beard trimmer and general overall body hair trimmer than for cutting hair. As I expect a lot more out of a device that is used to actually cut hair on your head though it will cut hair. I mean it can tackle cutting hair but is it something I wouldn't reach for knowing I have better trimmers at my disposal.
This has just a one-speed setting. This is either good or bad depending on the user. I find I never really want a slower cutting speed but maybe for those wanting to prolong their battery charge life but other than that I find the one speed setting adequate.
The foil shaver also called the body groomer attachment is a big flop for me. I absolutely hate foil-type shavers and this doesn't change my mind on that fact. This attachment also grabs and pulls hairs infrequently or it is the trimmer itself doing it, I don't know. This gave me slight discomfort. The worst part of this trimmer.
I hate the cheap plastic docking station. This left me in fits of anger. It is so easy to knock things out of the docking station, like all of the attachments.


Pros & Cons
Pros
This is a good edger for sideburns, under your nose, and mouth area.
I like the docking station for a couple of reasons it keeps your attachments all in one spot for easy access, is easy to set on the bathroom counter plugged in, and you never have to worry about charging it and
Changing the different trimmer attachments is easy and quick.
A decent-sized cable is provided. I absolutely hate short cords. This one measures roughly 52 1/2″ inches long.
Love the idea of including a beard/mustache comb. This is the first time I have seen this included with a beard trimmer.
This comes mostly fully charged at least for me it did.
I like the slim profile of the hair trimmer attachment as it maneuvers easily.
Fast to charge as it takes only 1.5 hours.
Waterproof for easy cleaning or great protection for those accidental incidents.
LED display lets you know how much time is left on the battery.
Despite the weird-looking beard guide comb attachment appearance, it works pretty well.
Stainless steel is used on all blades. This will prevent corrosion and long life.
The nose hair trimmer seems to work well. No horrible hair pulling.
Cons
The body groomer attachment, the one with the foil shaver, and the two trimmers on the top and bottom of the foil shaver pulled hairs on my neck when using it. It did this sporadically. Ouch!
The storage bag is small and cannot fit the trimmer and all the attachments and charging cord.
All these trimmer attachments make me feel overwhelmed, as I don't know which one to use initially.
Will I actually change out the trimmer attachment for the precision attachment? I am doubtful but maybe you are, I don't know. I would just get by with whatever is attached at the moment.
Would like to see smaller guide combs provided since it is marketed as a hair clipper. Like a 1mm and a 2mm instead of a 12mm and 15mm. I like to cut my hair short on the sides and a 3mm won't cut it for me personally.
Wonky docking station. Bump the docking station and all the attachments fall out. Ugh…this pisses me off. Have yet to see a quality docking station.
The docking station should be labeled for what part fits where. I was shuffling the different attachments trying to figure out what goes where. Frustrating to say the least.
There is a lack of power (as with all battery-operated trimmers) as compared to a clipper you plug into the wall.
I hate any type of foil shaver, as I have yet to find a foil shaver I liked.
A Better Mutli-Groomer
The best multi-groomer that I have reviewed is the Brio Beardscape. You can read about it here, Brio Beardscape Beard Hair Trimmer Review.
The Final Shave
When you try to do every task given to you with one device, it can leave you feeling underwhelmed about the performance and this is how I am left after using this product. It performed decently in most areas but never really impressed me all that much overall.
If you are looking for a general multipurpose hair trimmer this might be it for you but for me, I would look elsewhere. It has a decent price point and does most of its jobs adequately. Are there better general all-purchase trimmer out there. Yes, but you will have to pay up for them.
It's a solid middle ground trimmer.