Head To Head Battle
The highly advertised and popular Manscaped 4.0 vs the lesser-known Happy Nuts The Ballber Trimmer. Which one is better? The answer might surprise you. I will compare features, performance, and price to better help you determine which one is right for you. I of course will give my preference but ultimately I hope to present details that leave it up to you to determine which one is better.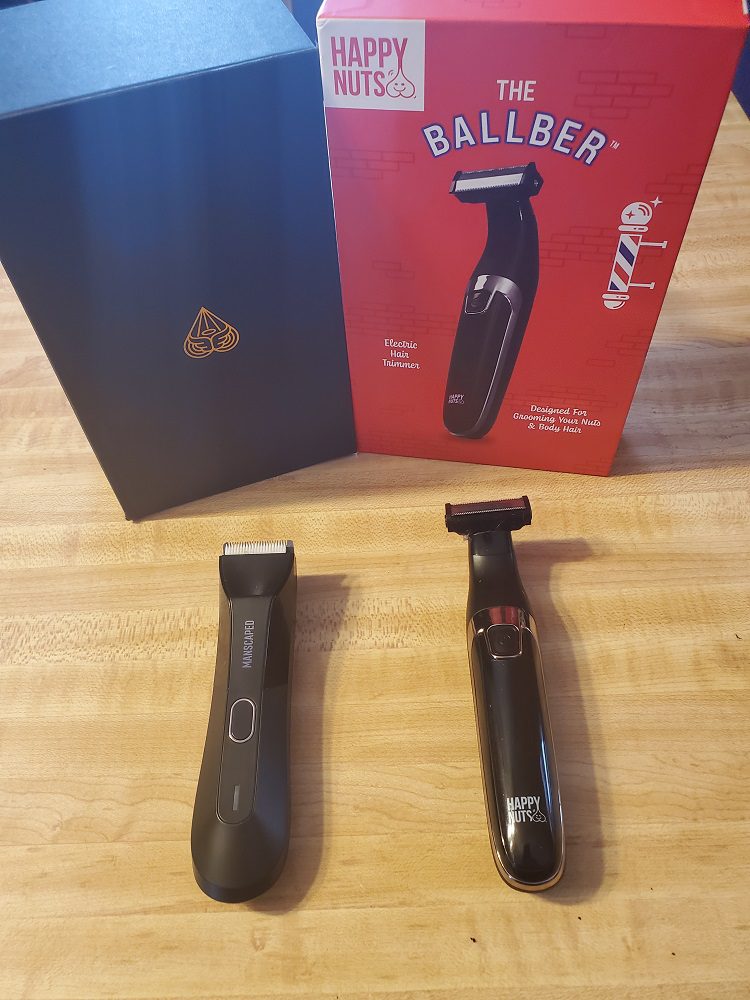 In full disclosure, I did reach out to Happy Nuts, and they did send me The Ballber Trimmer and Cream to review. I am an affiliate of Happy Nuts. I did reach out to Manscaped and never heard back from them, so I bought it with my own money, which is typically the case. This will not alter my reviews of these products, I pride myself on honesty, and you will get my honest results from using both products. If you find this review helpful, please help support it; I work hard and spend my own money to bring you quality, honest content.
Let's shave some nuts…
Let's Meet These Nuts Trimmers
Manscaped The Lawn Mower 4.0 – The newest Lawn Mower 4.0 from Manscaped. I have previously reviewed this more in-depth here, Manscaped The Lawn Mower 4.0 Review. Suppose you want to do a more thorough deep dive into this.
Happy Nuts The Ballber Trimmer – This is the new guy on the block here, I also have reviewed The Ballber here if you want a more detailed review, Happy Nuts The Ballber Electric Hair Trimmer Review.
Let's Get Right To The Answer: The Winner Is…
I like to get the answer right away, so I thought I would cut to the chase right away and get to the point for people who don't have the time to read the whole article.
The winner is…Happy Nuts The Ballber Trimmer. Surprised? I know I would be, I figure most people would be if you believe all the hype surrounding The Lawn Mower 4.0, but after using and reviewing both trimmers, The Ballber wins.
This quote comes to my mind about these two trimmers, "What is right is not always popular and what is popular is not always right." Albert Einstein.
If you want to know why, keep reading below on why The Ballber Trimmer truly will leave your nuts happier.
Features Of Both Trimmers
| | | |
| --- | --- | --- |
| Feature | Manscaped The Lawn Mower 4.0 | Happy Nuts The Ballber |
| RPM | 7,000 strokes/min | 7,000 strokes/min |
| Blade Width | 1 1/4″ inches wide | 1 1/4″ inches wide |
| Nicks & Cuts | Experienced Multiple Nicks & Cuts | Zero Nicks & Cuts |
| Guide Combs | 2 two-sided combs (3-6mm, 10-13mm) | 4 guide combs (1mm, 2mm, 4mm, 6mm) |
| Battery Life | 150-minute run time | unknown, but it is lighter than the 4.0 |
| LED Light | Yes | No |
| Charging Light Indicator | Yes | Yes |
| Colors | 1 (black) | 1 (black) |
| Weight | 8 ounces | Both are the same: very quiet |
| Waterproof | Yes has an IPX7 waterproof rating | Yes, has an IPX7 waterproof rating |
| Battery Type | 600mAh Li-ion Rechargeable | Lithium-ion |
| Handle Comfort | Good | Very comfortable |
| Charging Dock | Yes | No |
| Blade Type | Ceramic | Stainless steel |
| Cleaning Brush | Yes | Yes |
| Noise Level | Both are the same: very quiet | Both are the same very quiet |
Performance
Both of these trimmers trim hair great and are solid performers. They just plow right through the thickest of hair without even blinking. I would consider this to be an even tie when talking about performance, but there are some nuances to consider. They both have a 7,000 rpm motor, and this is a straight-up tie.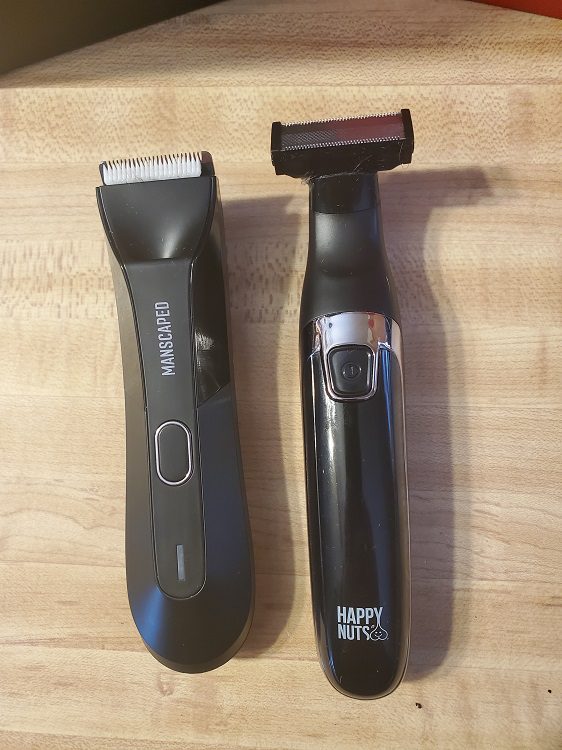 I do find that The Ballber has a more comfortable handle and is more wieldy. This just feels better in the hand and makes it more enjoyable, and you just want to pick it up and go to town destroying hair. The Lawn Mower feels boxy and not as comfortable in your hand.
Trimming yourself with The Ballber is just much easier to use, as you don't have to think about which way you are holding it just happens more naturally. As compared to the Manscaped where you have to adjust your hand more and slightly think more. Thus making the Happy Nuts easier to use and reducing shave time.
Manscaped Features
The trimming heads on both of these trimmers are quite different from each other. The Manscaped 4.0 uses the traditional approach as it has the typical hair clippers design. It also uses a ceramic blade that will retain its sharpness for a longer time.
It has a great battery life, and you can get a 90-minute run time from a fully charged. This is up there in being in the top 3 for quietness. It also has a docking station, which I am apathetic about. The LED light helps illuminate and is not a bad idea, but I am not sure if it is that big of a deal. I'll leave that up to you.
The Ballber Features
The Ballber Trimmer has a dual-sided ergonomic design that has two cutting edges that can cut both pulling and pushing. This design reminds me of the Phillips OneBlade but for your balls. This feature is great and very helpful when trimming into weird regions. The teeth on this trimmer as especially small (micro teeth) and a lot smaller than the Manscaped teeth, but they still tear through the hair. I think the micro teeth also help with avoiding cutting yourself when groin trimming.
Also, The Ballber trimming head pivots 30 degrees they claim this is engineered to keep you from cutting yourself.
Do They Cut You Down There?
This is where the path diverges in the woods and there are two paths to choose to take. One that will cut you and one that will not. Keep in mind any groin trimmer can potentially nick you down there. After multiple times of using both trimmers, I have been nick by Manscaped multiple times down there. Where The Ballber just as their names state did not and left my nuts feeling happy. This is without any guide combs attached, as you could use the guide combs to further reduce the likelihood of getting cut at all.
This is my personal experience using both trimmers and the results I got. I can only write about my experiences, as I know some people love the Manscaped and never experience nicks on their scrotum when using it but I did. I was initially eager and excited to use it but was soon left disappointed.
Guide Combs
As far as the guide combs that come included with both trimmers, the Manscaped comes with 2 two-sided guide combs that are 3-6mm, and 10-13mm. The Ballber comes with 4 guide combs that are 1mm, 2mm, 4mm, and 6mm in size. I like the guide combs on The Ballber because it allows you smaller sizes (1mm & 2mm) which in turn means shorter stubble lengths if you want to use the guide combs and potentially avoid nicking yourself at all. The smallest guide comb for The Lawn Mower is 3mm.
How Much Do They Cost?
Price plays just as much as a determining factor when considering purchasing two separate products. They both are relatively in the same ballpark as far as price is concerned but The Ballber is currently cheaper by a 20 spot and even more if you use my promo code below. Which makes it a great price.
Warranty
The Happy Nuts Ballber has a 90-day warranty and the Manscaped 4.0 Lawn Mower also has a 90-day warranty. So basically, you have the same protection from both companies.
The Final Shave
Both products easily trim hair and perform well in this task but the major difference is the number of nicks I experienced with the Manscape 4.0 Lawn Mower Trimmer. As opposed to having no nicks from Happy Nuts. For this reason and this reason alone, I recommend The Ballber over the Manscape.
I also enjoy using it more as the handle is more comfortable and a pure pleasure to use. There is something more satisfying in using it as it just works well.
I will leave the links for both products below. I would love to hear your experiences or thoughts about either product below in the comments section.