I am eager to write this review and see how it compares to other back shavers I have reviewed in the past.
Why? might you ask.
Well, this is one of the heavy hitter's brand names in the world of shaving, Philips Norelco, and I have yet to have the pleasure of using a back shaver from such a big and well-known company. I want to see how it performs compared to other quality back shavers out there.
Before we get started on this Philips Norelco Multigroom 3100 review, I would like to suggest you check out my highest-ranked back shaver found here, What is baKblade? A great back shaver!

What Is The Bodygroom Series 3100?
The Norelco Bodygroom Series 3100 is designed to shave everywhere below the neckline. That includes the back (my favorite), chest, armpits, arm, stomach, pubic area, butt, and legs.
The trimming head is 1 1/4 inches wide.
The shaving head is 1 1/2 inches wide.
The battery in this unit is a Ni-MH battery that takes approximately 8 hours to fully charge. When fully charge expect about 50 minutes of runtime, which should be long enough to get the job done, no matter how hairy. This type of battery is best used fully charged and then using it till it dies, with no charging it in the meanwhile. Then charging it when fully dead, will ensure optimal battery life.
What's All Included?
This has everything but the kitchen sink thrown in with this shaving unit. This gives you plenty of options for what kind of shave and functionality you want out of this shaver. Whether it's your back nether regions, this tool will accomplish the job.
Norelco Bodygroom 3100
Back Shaving Attachment (15 1/4 inches long)
Trimming Comb 1 (1/8 inch/3mm)
Trimming Comb 2 (3/16 inch/5mm)
Trimming comb 3 (9/32 inch/7mm)
Adapter
Cleaning Brush
Charging Stand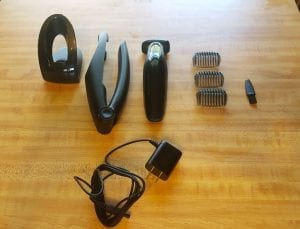 Philips Norelco Bodygroom Series 3100 Specs
The Series 3100 is 6 3/4 inches long by itself with the back shaving extension it is 16 inches long. The back shaving extension has a button allowing you to get different angles with it, but due to its rather shortness, a back shaver is really ineffective. It does little to help out the situation. I think I counted 9 positions it is adjustable too, but a lot of the angles are ridiculous and not practical at all.
The handle although too short for my liking is comfortable in the hand, with nice rounded corners for both the groomer and extension attachment.
How Well Does The Bodygroom Perform?
To quickly summarize for those with ADD (Attention Deficit Disorder), it performs how you would suspect a multipurpose groomer would perform.
Mediocre. Not the best for back shaving.
Will it get the job done? 
Sure…but it takes multiple passes, and doesn't give the closest shave even after the multiple passes of the same area. Shaving my back was uncomfortable, as I was straining my neck to try and get the right angle to hit either the trimmer portion or the shaver portion of this Bodygroom.
The design is flawed in my eyes for a back shaver, as the correct angle is difficult to attain due to the two trimmers and shaver all on the head of this shaver. Unlike the ManGroomer Lithium Max Back Shaver that has two separate attachments for trimming and shaving, this eliminates the constant guessing required with the Norelco Bodygroom 3100. I found the trimmer heads the easiest to get the correct angle with, but the foil shaver difficult.
Left me with a feeling of wanting to shave with one of the other shavers, which I know works great. If you want to know my top 3 back shavers, read my post here, What Is The Best Back Shaver? I am left feeling let down. I expect more from a well-known name, I suspect since it is tasked for everything below the neckline, that has much to do with its faults.
I found too that the length of the back shaving attachment extension to be a little short for me personally. I am 6′ 2″. The handle has multiple angle settings but they don't have a good cohesion between hitting the hard-to-reach areas with indexing of the shaver heads.
In essence, I would prefer a different back shaver knowing what I know and having used other back shavers that I loved using.
But if you are looking for a back shaver and a multipurpose manscaper this might be what you need. For manscaping, I think it performs a lot better than back shaving. I love the trimming combs and the correct angle is easy to get when you're not reaching around behind your back in awkward positions with this particular groomer.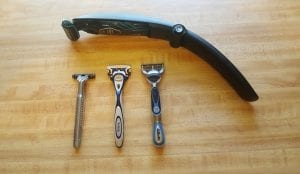 Pros & Cons
Pros
Much like the ManGroomer Lithium Max I reviewed (Review found here), this Bodygroom is both a shaver and trimmer. With the ability to get a relatively close shave or just knock down the majority of the hair and leave a little stubble. Some people don't like the itchiness of hair growing back and this is a way to avoid this.
Cordless.
I really enjoy and appreciate the three trimming combs that come with Bodygroom 3100. This is my first experience with this attachment on a back shaver, although I see no benefits of using it for a back shaver, as the trimmer adequately cuts the long hair off the back but leaves a little bit of stubble. But for other areas, this is a nice feature and they work great for trimming and leaving it looking natural.
Self-sharpening blades.
Comfortable handles.
The Norelco fits nicely into the back shaving attachment. Well designed.
It is showerproof and you can tackle your grooming chores with cascading water falling from a spigot that washes the hair down the drain.
The ability of this shaver to shave both wet and dry. Love not having boundaries.
Easy to freaking clean, just rinse under the tap. NICCEEEEE! I love easy to clean.
Small enough and collapsible enough to throw into a toiletry bag for easy storage or for traveling.
A two-year guarantee, wait it doesn't stop there. If you register your newly purchased Philips Norelco product right away online you get the Extended warranty for an additional 6 months, for a grand total of 2 1/2 years extended warranty. Might as well take a few minutes and register.
A whopping 50 minutes runtime with a full 8-hour charge.
No oiling is ever needed on this unit.
I enjoy it when a product includes a little brush comb to thoroughly clean your shaver when you're done using it. Especially for electric shavers.
I feel like Batman when I opened the box to the Bodygroom 3100. Gadgets galore. This by far has the most accessories of any back shaver I have reviewed yet. (See What's All Included for the complete list.) A total of eight parts.
A battery light indicator that lets you know when it's fully charged or almost dead. This can prove helpful when going for a complete manscaping episode.
A multi-purpose shaver/trimmer.
Didn't clog with hair for me.
A pretty detailed instruction pack is included and should handle more questions.
Cons
Doesn't really perform all that well for the general purpose of shaving one's back.
Has to have a charge on the battery, as you cannot plug this into the wall and use it with a cord. So make sure it's charged! Yes, sir!
Won't give you as close of a shave, as a razor will.
Constant adjustment is needed to determine what part of this groomer you need to use. As it has two trimers and one shaver. It's kind of complicated and not the most intuitive shaver.
Needs to be cleaned after every use.
Not a very wide shaving head (1 1/2 inches) for shaving such a large area, such as a back.
The increased amount of time is due to the short width of the trimming and shaving heads.
Lengthy charge time (eight hours, oh my Gawd Becky)
Hard to get the correct angle. When attacking the middle of your back it's hard to get the right angle for the trimmer, at least it was for me.
It seems I have to make multiple passes to get the area of skin free of hair.
The angle is hard to get as sometimes you are using the trimmer and sometimes just the shaver. Need a mirror to confirm what angle you are using.
Tips On Using Bodygroom 3100
It is recommended to change the foil on the Bodygroom 3100 every 6 to 12 months. The specific foil is the BG2000 replacement foil.
Take it slow when starting out with the trimmer. Slow deliberate strokes.
If you don't have a nice toiletry bag, I would really recommend getting one for storage of all included parts. You could put it all back nicely in the box it came in, but I would rather put it in a bag myself.
Don't press hard when shaving or trimming as you can distort the foil head and cause yourself some discomfort as well.
To remove the shaving head for both cleaning and replacement simply hold the Bodygroom facing you, then put both thumbs under the bottom of the lower trimming blade. Then simply push steadily upward with both thumbs until it opens.
Hair grows in different directions so try different positions and angles to get the best results.
To avoid false starts make sure your Bodygroom 3100 is fully charged and ready to go.
The power cord is strictly for charging the unit, it is not designed to be used when plugged in.
To help prolong the life of the battery,  it is best to only recharge only when the batteries are completely empty. So don't charge the Bodygroom 3100 in between sessions. Use it till it is completely drained.
Run the rechargeable groomer twice a year, pressing the on button and leaving it run till it runs out of juice. This will also help the battery life.
A green solid light means fully charged, a flashing Green light means is actively charging, and Flashes Orange means you got 10 minutes left on the batteries.
The Final Shave
You Philips Norelco, have left me humdrum with this product. I review back shavers and this is just okay. It doesn't WOW me in the performance aspect at all. I read other reviews saying it is a great product but I have a different opinion when it comes strictly to shaving one's back.
Multiple passes with ineffective results, leave me unimpressed. Hard to get the correct angle on the shaver head.
As stated above, when you generalize about a product design, you don't get the most optimized product for one task, you get a product that performs with hits and misses. This is better suited to manscaping other areas of the body, not the back.
A decent manscaper but…
You Philips Norelco, don't have my back on this one.


[wp-review id="1042″]
---
Would love to hear any comments or questions.