Stinky Balls? Tame That Stink With Nutt Butter
Today I am reviewing Tame The Beast Nutt Butter a product used for your groin area that helps reduce chaffing and stink. I have used a bunch of different brands of similar products and found that most are very beneficial. So, I will be putting this to the test and sharing my results both positive and negative results. So, let's get to this is Tame The Beast Nutter Butter Review -Worth Getting? Find out.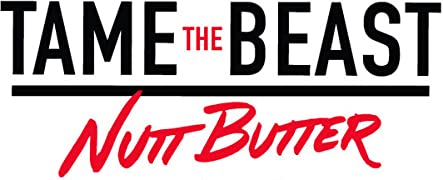 Full Disclosure
I am an affiliate of the Beast Brand and will make a small commission on purchased clicked links. I also reached out to Beast and they sent me sample products to use and review. I will share my results of using this product both positively and negatively. Honesty lives here. Keep reading if you don't believe me.
What Is Tame The Beast Nutt Butter?
This is a multipurpose lotion that helps deal with sweat, stink, dryness, and chafing. As the name suggests it is primarily targeted to use for your nut sack but also can be used elsewhere on the body as well.
To better understand its use we will look at their claim. Tame The Beast claims it is anti-aging, anti-shriveling, anti-chaffing, anti-dryness, and anti-sagging.
This lotion comes in two sizes an 8-ounce container and a 3-ounce container.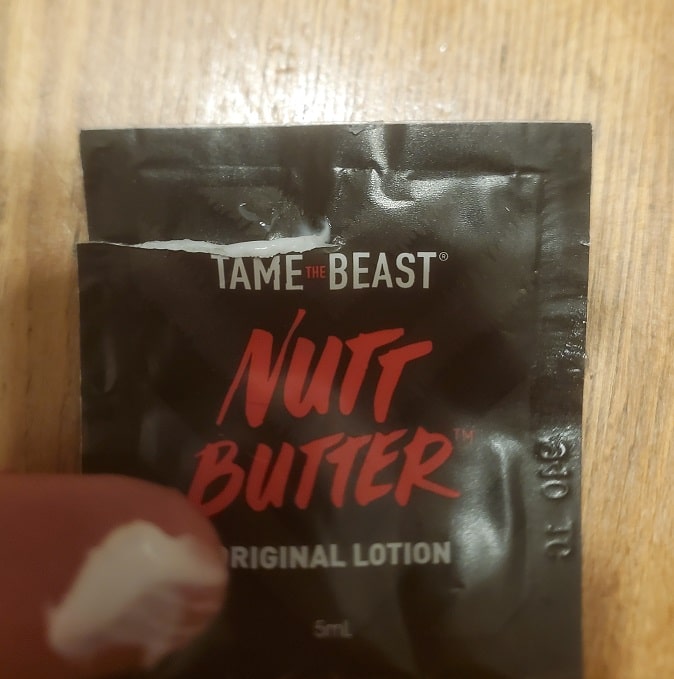 Where Can You Use This? Not Just For Your Balls!
As stated above it is just not for your bean bag but other areas of the body as well. I will list the areas below to help you get a better understanding of where they can be used.
Balls
Body
Back
Chest
Legs
Feet
Basically, anywhere you have skin.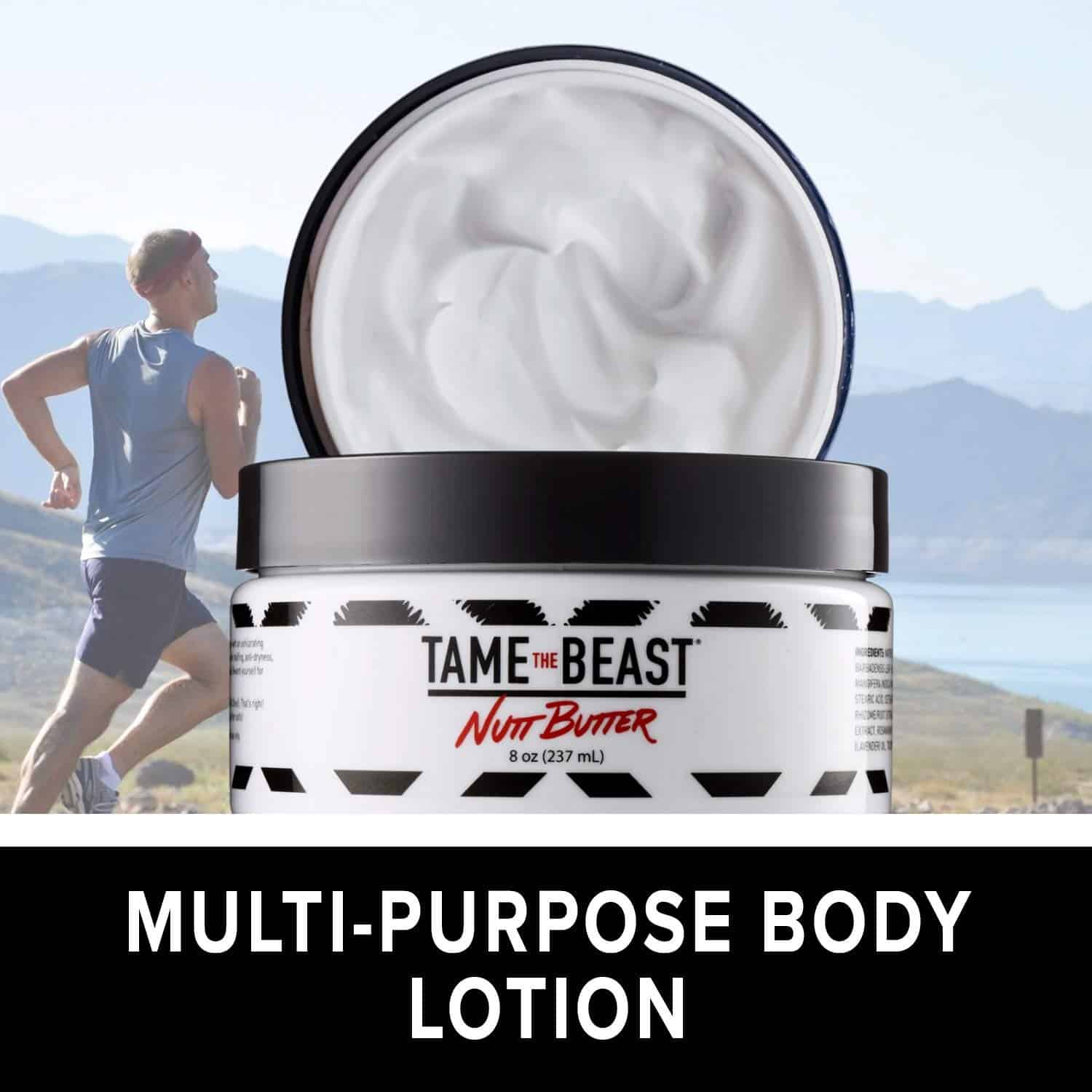 What Ingredients Are Used?
It is important to note that Nutt Butter is free of parabens, sulfates, phthalates, artificial colors and dyes, paraffin, gluten, and dea/tea. This is a good blend of natural ingredients as you can see below.
WATER, GLYCERIN, ZEA MAYS (CORN) STARCH, CAPRYLIC/CAPRIC TRIGLYCERIDE, JOJOBA ESTERS, ALOE BARBADENSIS LEAF JUICE, BUTYROSPERMUM PARKII (SHEA) BUTTER, THEOBROMA CACAO (COCOA) SEED BUTTER, MANGIFERA INDICA (MANGO) SEED BUTTER, SORBITOL, ALLANTOIN, PETROLATUM, CETYL ALCOHOL, CETEARYL ALCOHOL, STEARIC ACID, CETEARETH-20, SODIUM HYALURONATE, DIMETHICONE, SYMPHYTUM OFFICINALE (COMFREY) RHIZOME/ROOT EXTRACT, CALENDULA OFFICINALIS FLOWER EXTRACT, ANTHEMIS NOBILIS (CHAMOMILE) FLOWER EXTRACT, ROSMARINUS OFFICINALIS (ROSEMARY) LEAF OIL, EUCALYPTUS GLOBULUS LEAF OIL, LAVANDULA ANGUSTIFOLIA (LAVENDER) OIL, TOCOPHEROL, CARBOMER, PHENOXYETHANOL, ETHYLHEXYLGLYCERIN, TRIETHANOLAMINE.
Do You Need This? If Not Initially, You Still Might! Here Is Why…
Initially, I didn't need ball cream, powder, or lotion. As I often don't have a funk problem down there between my legs. But after both using and reviewing various ball products made specifically for your balls, I was quickly won over by how much I enjoyed how everything felt and moved throughout the day for me. This was quite surprising to me.
Does Tame The Beast Nutt Butter Have The Same Effect keep reading to find out.
Scent Profile – How Does It Smell
A very natural-smelling lotion that does not come off chemically. The notes I get are aloe and a touch of mango rosemary and eucalyptus. This makes for a very clean and pleasing scent.
There is nothing worse than using a product that smells chemical or like a teenage boy cologne, at least to my nose, and I get none of that here with Nutt Butter.
My Experience & How It Performs
Is this the best ball cream, lotion, or powder I've used?
For me, no, it is not the best product I've used for my balls…but it is a good overall product. For the best ball product, see below other products I recommend.
I applied the lotion for a whole week before going to work at my full-time job. It was pretty hot and humid and I experienced no bad odors, no dryness. I normally don't experience any of these symptoms, but I did the old sniff test when I got home from a 10-hour shift of manual labor, and it still smelled pleasant, though the scent was only there very slightly. But at least it was there still doing its job.
The big miss for me was there are no anti-chafing effects of using this, even though they claim it. I know this because I have used various other similar products that worked great for anti-chafing. Things just glided smoothly down there and provided real comfort. I felt none of this with Tame The Beast Nutt Butter. A swing and a miss here for anti-chaffing.
No stink while using this but it also provides zero anti-chafing protection. This is my opinion after using this product. I just don't like the obvious marketing hype and claims that have no substance to them. This leaves me with a bad taste in my mouth.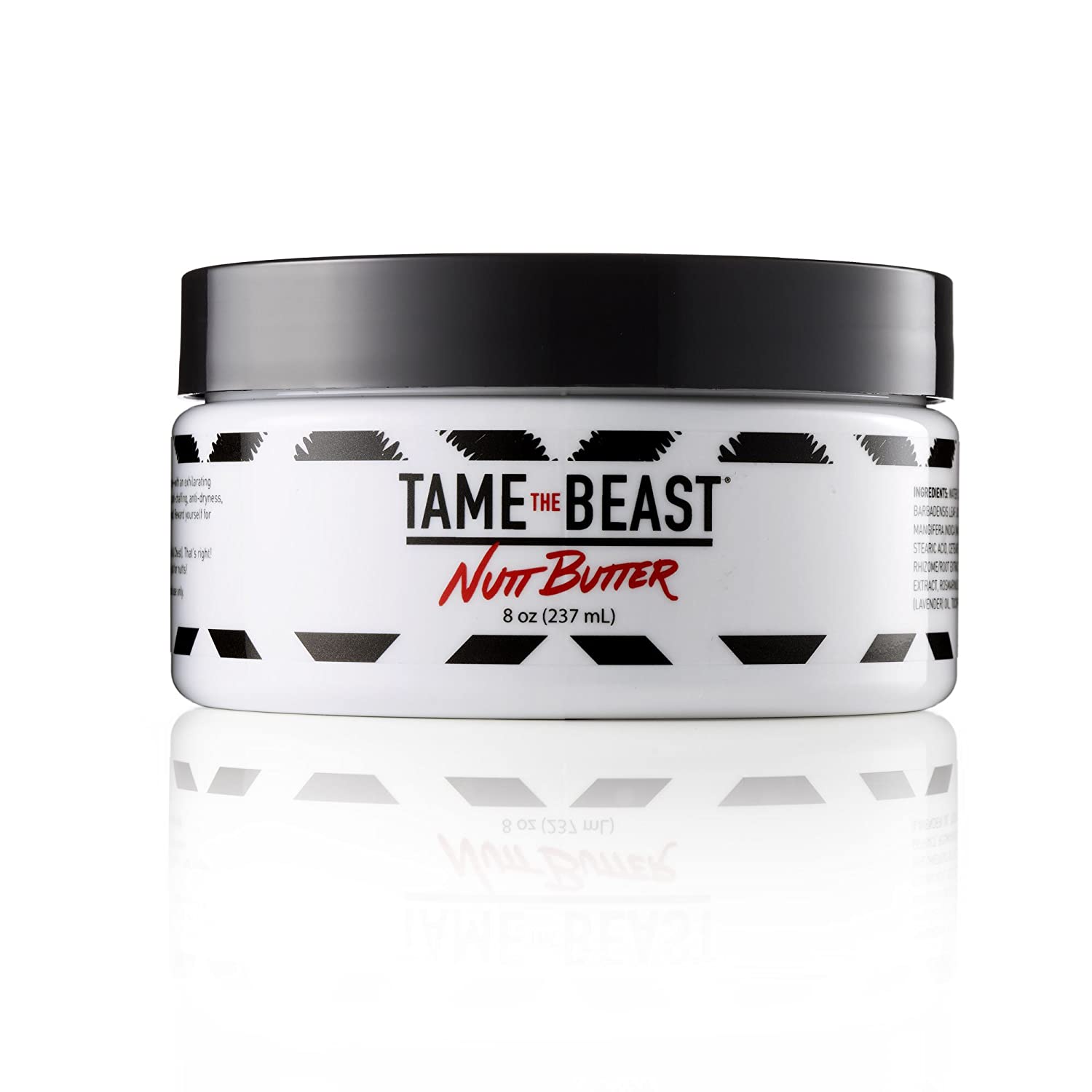 Pros & Cons
Pros
It is a decent natural blend of natural ingredients. You can feel comfortable about putting this on your nuts and not worry about having a lot of different chemicals affecting you and your boys down there.
Made in the USA.
Vegan and cruelty-free.
A light, natural, and gentle scent profile that will not offend anybody.
It is super easy to absorb into the skin. This lotion is very easy to spread on your skin.
Great odor protection.
Long-lasting protection.
It can be used just about anywhere on your body.
Doesn't take a lot of product to get good coverage.
Options are always great as they have two sizes to choose from. I would recommend if you want to try Nutt Butter out purchase the smaller 3 oz. Out.
They also have a subscription service where you can save 15% that is highly customizable from every month to every nine months and everything in between.
Cons
Anti-Sagging really? A cream that can stop gravity sounds like a bit of a stretch to me.
Not that great at reducing chafing. I've used a better product that lasted the whole day with anti-chafing properties.
Anti-Aging really? Another claim I have a real problem with. Sounds like marketing hype to me, and there is no scientific study or information, just a claim. Huh?
There are lots of empty marketing claims that leave me scratching my head.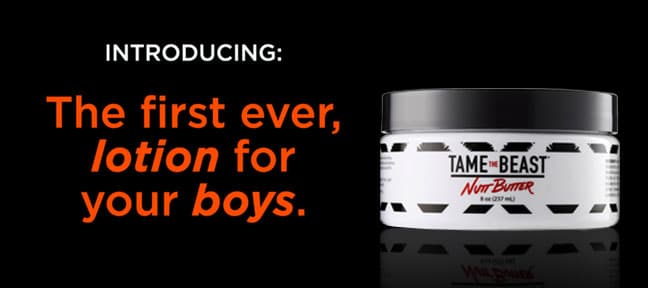 Need A Ball Trimmer? The Best One I Have Ever Used
Along with the various ball creams, lotion, and powder, there are other methods you can also use to control the various problems in the groin area. For example, using a ball trimmer. Trimming groin hair can help cut down on the stink down there as hair can often be a breeding ground for bacteria. It can also help in some cases with chaffing as well.
I have used a lot of different ball trimmers from reviewing them on this site and by far and away the best one is the Meridian Trimmer. This has never nicked or cut me down there and I have been using it for years now. The best groin trimmer on the market.
You can read my full review if you want to know why this thing just simply rocks here, Meridian Trimmer Review – Best Male Pubic Trimmer?
Promo Code
Buy One, Get One 50% Off Just use the code HOLIDAY at Meridian. Offer expires December 15th at 11:59pmPT 2023.
Other Similar Products That I Recommend
One of my favorite Ball Powders is the Happy Nuts Comfort Powder. This gives odor protection and real anti-chafing protection too. This smells fantastic to boot and is a real product that doesn't provide false claims. Just a great product. Highly recommended!!!
You can read my full review here if you want to find out more information here, Happy Nuts Comfort Powder Review – How Well Does It Work?
If a powder isn't your thing the Fresh Balls Lotion is just as good as the powder above. Great scent, great protection, and great anti-chafing that goes on as a lotion but quickly dries to a very fine powder. Just great stuff.
Read my full review here, Fresh Balls Lotion Review – Does It Really Work?
The Final Shave
The Tame The Beast Nutt Butter performs well in stink protection but also falls flat with anti-chafing. I would recommend this problem if you only have a problem with funkiness down there and would avoid using it if you have chafing. That being said other products give you performance in both categories and you might be better served by avoiding this Nutt Butter.