Most men think when first looking for a back shaver, do they work?
Then upon searching they see many different kinds of back shavers and wonder, which back shaver is right for me?
I hope in this post to shed some light and hopefully most importantly be helpful and explain and offer my insights on back shavers. As I am the self-proclaimed world's foremost authority on back shaving. Hah! Having used quite a few back shavers and written reviews on them I have developed a unique opinion on the matter.
The 3 Types Of Back Shavers
Basically, there are three types of back shavers on the market. They are Cartridge back shaver, replaceable safety razor blades back shavers, and electric back shavers.
Electric Back Shavers
Replaceable Cartridge Back Shavers
Replaceable Safety Razor Blades Back Shavers
All three types have pluses and minuses and these need to be properly considered in order to determine for oneself your back hair removing system.
This is just a general overview of the basic positives and negatives of the different shaving devices. With that being said, each and every back shaver is different and doesn't necessarily perform the same. For specifics, you need to check out their individual reviews
The Good & The Bad Of Electric Back Shavers
This type of back shaver is usually the most expensive. As it has more moving and operating parts than for example a blade on a stick. With more parts comes with a higher price tag. This is understandable and acceptable for what is provided, as beard electric shavers are generally known to cost more than disposable head shavers. The same with back shavers.
Positives
No changing razor blades or cartridges. Just flip the button and you're off to buzzing off back hair.
Absolutely zero cuts and zero nicks using an electric back shaver.
Negatives
Cost more.
Shaving time is usually increased. A smaller shaving head increases the time. Other electric has two heads, one a trimming head and the other a shaving head. So, this will double your time.
Reliant on a power source, as having to charge the device.
The shave is not a close as a razor system.
Battery life will eventually die and will be unable to charge it. I don't know how long this takes though.
The Good And The Bad Of Replaceable Cartridges Back Shavers
The main deal with cartridges for back shavers is they are expensive. Considering that they are just some plastic and some cheap safety razors blades. The markup is way more expensive than replaceable safety razors back shavers.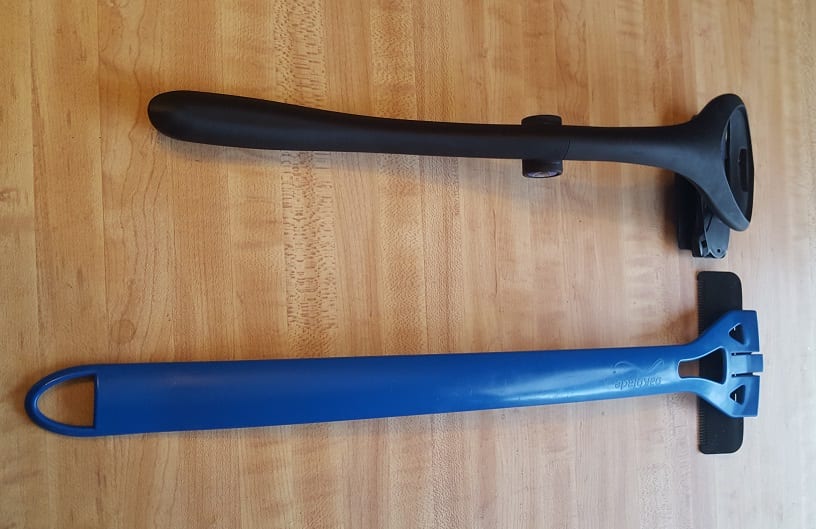 Positives
The easiest and quickest of replacing razors. Just simply slide in a new cartridge, no unscrewing anything, and carefully placing the razors into place.
Provides an excellent close shave.
Gives you the quickest fastest shave.
No power source needed.
Negatives
Cartridges are expensive. Huge markups!
You are stuck with what the manufacturer used for the brand of safety razor they put into the cartridge. This can be good or bad for the user, as there are plenty of different brands of safety razors out there. They also have different levels of sharpness. Often times you will never know what brand is even in there.
The Good And The Bad Of Replaceable Safety Razors Blades Back Shavers
If you are frugal, this is for you bro. Look no further.
After years of back shaving, this is my preferred back shaver type. I love being able to put on the safety razor of my choice. This also gives the closest shave. Plus it is the cheapest…I mean come on…it hits all the right spots for me personally.
Get a good one of this back shaver and a pack of safety razors and you will be good for a long time.
Positives
The cheapest method of replacing dull blades, hands down.
The ability to buy and put whatever brand of safety razor on your back shaver. As there are a ton of different brands of blades, as well as different levels of sharpness. Options!
The closest shave out of all the other back shavers partially because of the reason above this one.
Negatives
Changing blades is mildly troublesome, in the mildest sense.
Knowledge Is Power
If you want my advice on what back shaver to buy after reading this post I will recommend one of each type. I will provide links to each review below.
These get my stamp of approval.
Best Electric Back Shaver
Mangroomer Lithium Max Plus Back Shaver
Best Cartridge Back Shaver
Best Replaceable Safety Razor Back Shaver