What Is Xpreen Back Shaver?
The Xpreen Back Shaver is an extendable handle back shaver and can be purchased over at Walmart.com. I mistakenly purchased both this Xpreen and the Fresh Yeti Stick Back Shaver and didn't know that they are the same back shaver until I received both in the mail. In this Xpreen Back Shaver Review, I hope to help you determine if this is a good back shaver and worthy of buying.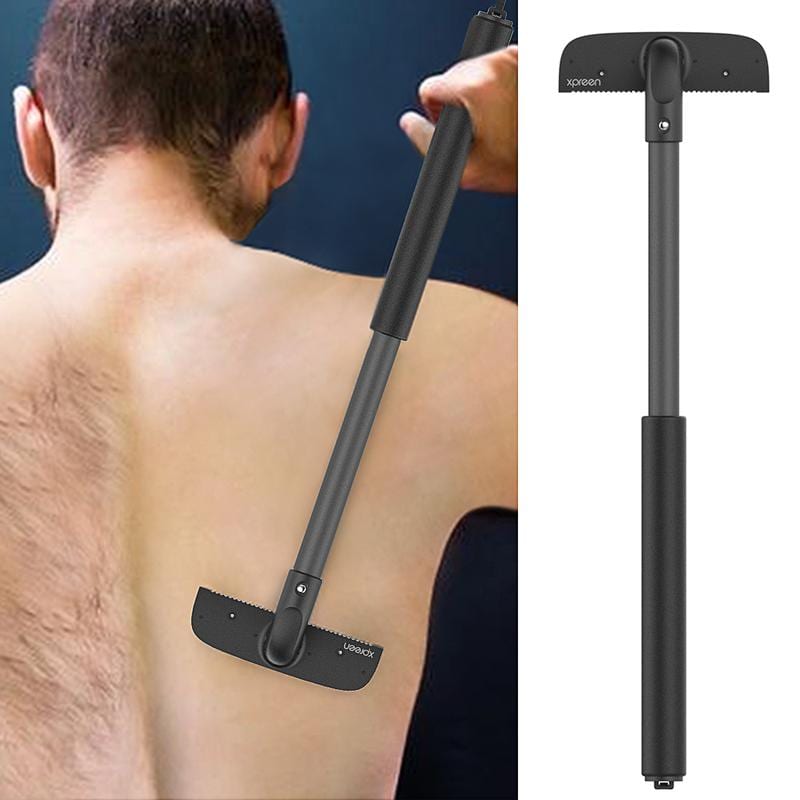 What Is Included With The Xpreen?
1 – Xpreen Back Shaver
1 – Shaving Head
1 – Set of Instructions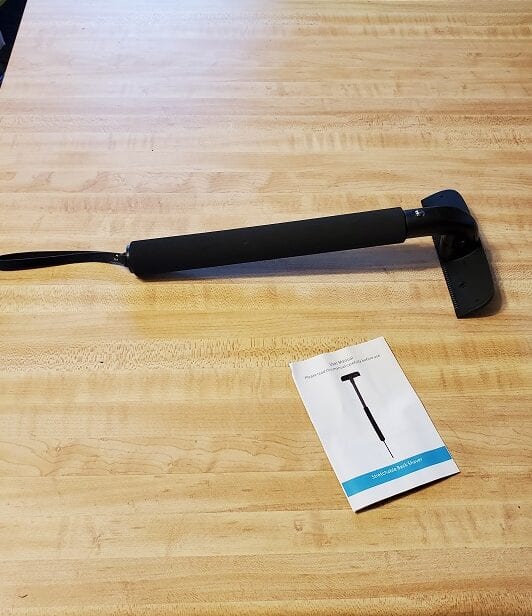 Xpreen Specs
The Xpreen has an extendable handle that starts off at 11 1/4″ inches long and extendes to 17 3/4″ inches long when fully extended. This automatically locks when extended and can be unlocked by carefully grabbing the shaving head and twisting it to the right.
The handle has a foam handle 8 1/2″ inches long. This is comfortable to grab and hold. The handle also lacks any curve to it, so this makes shaving in hard to reach areas a little harder. It should have some bend to it to allow easier access to shaving everywhere on the back.
The shaving head is detachable and is 4 7/8″ inches wide with a three safety razor blade width of 4 3/8″ inches wide. The shaving head snap in and out of the handle with no problem.
How Well Does It Perform?
This simple back shaver does a pretty darn good job of taking back hair and dispersing it on the ground and around your feet. The single row of razor blades seems good and sharp. This has one row of three safety razor blades stacked side by side. I took apart the shaving head to look at what brand of safety razor they had put inside of it and it was a Dorco Stainless Blade.
The biggest area of need improvement is the handle. The handle is arrow straight and I would like to see a little more bend or curve to it, to help improve getting to all areas of the back with less effort. The elbow joint from the handle that attaches to the shaving head helps you get to some areas without a problem though.
Pros & Cons
Pros
Very lightweight and balanced in the hand.
Performs pretty good, as soon as you lay the shaving head against your back and pull it starts destroying back hair.
I always appreciate it when a company provides instructions.
An actual leather lanyard is attached to the end of the handle.
A good comfortable grip is present on the foam-padded handle.
The handle is adjustable to different lengths.
Cons
This is an item that typically can be purchased and then dropped shipped, as a result of this you can find it all over the internet under other various names. This allows for confusion for customers and thus gets a ding in the negative column.
The leather lanyard doesn't fit around my hand. This is made for men with tiny hands. Useless.
The locking mechanism for the handle is a bit hard to lock and unlock. Would like to see this easier to perform without feeling like I am going to break the shaving head.
Expensive replaceable cartridge shaving head attachments. This is quite expensive over other models that allow you to replace the razors yourself with cheap safety razors. See any of the Bro Shaver Back Shaver.
This has many different names on different websites. Leaves people confused.
Tips on Using The Xpreen
With any cartridge replacement shaving head system, you can usually save more money by buying the larger quantity or replacement cartridges over just getting one or several cartridges. These are marked up unbelievably, as these are just cheap plastics and usually just cheap replaceable safety razor blades.
Since these are sold in multiple places on the web, I have research and found the one of the cheapest spot to get it is on Walmart.com. You can save $10.00 off the get go with this shaver.
This is no longer sold on Amazon.
The Final Shave
This does shave back hair pretty good, but does it blow my socks off and get me all excited. No, it does not. It is just a run of the mill back shaver. Back in the day when back shavers were new this would have been a top pick, but things have changed since then. Back shaver products have gotten a lot better and improved much since those years.
If you are looking for a more modern back shaver, I always recommend my #1 Ranked Back Shaver Bakblade 2.0 Elite Plus. You can read my full review here, Bakblade 2.0 Elite Plus Back Shaver Review.
If you have any questions or comments would love to hear them below.