In this post, I will recommend the best razor extender handle. I actually own and have used all of these extenders, so I have determined what is the best and most reliable. Razor extender handles can be used for a variety of different grooming tasks, but mainly it is used for helping shaving legs with people with mobility issues or just to help make shaving legs easier.
Full Disclosure
I am an Amazon Affiliate, and with the links provided below, I will make a small commission on qualifying purchases. I have purchased 4 of the 5 razor extenders below with my own money. I believe Ultraflexx sent me a product sample to review.
5 Best Razor Extension Handles
My Top Picks
Best Overall Razor Extender Handle:
What To Look For In The Best Razor Extender Handle
Lightweight – Having a lightweight handle makes using it easier.
Lanyard – This keeps you from dropping it and is super important if you are mobility-limited. This is usually attached to the end of the handle, and it is typically a loop that goes around your wrist.
Length – Depending on what you need to shave, determine the length of the handle.
Comfortable Handle – A good handle keeps it more securely in your hand while also making it more of a pleasure to use.
Secure Lockdown Of Razor – You want zero movement when you attach a razor to the handle. This can be velcro, o-ring, band, or tension.
Adjustable Angle – There is often a flexible end, or the whole handle is adjustable to make shaving specific areas more accessible for the correct shaving angle. If the handle is rigid, you are going to have to make the physical adjustments (if possible) to reach and shave that area.
Key Features
Complete total lockdown when attaching a razor as the velcro system, when used right, allows virtually no movement of the razor blade.
Extends to a full length (without the razor) to 20.8″. This is a great length and should reach all backs and legs.
It is excellent for people with mobility problems who still want to address hair issues.
Lightweight and sturdy.
An oh-so-important lanyard to help avoid dropping it and bending over to pick it up.
Non-slip comfortable handle.
It is great for older people, as the handle is easier to hold.
Easy to secure razor blade to handle as this uses a velcro strap.
The top of this handle is flexible and allows you to bend it to the shape you need easily.
Great for people with arthritis as it uses Velcro to attach the razor to the handle.
Read BackShaverForMen's full review here: Smooth Reach Long Razor Extension Handle Review.
For a back shaver, this will do the job but not as efficiently as a dedicated back shaver. This really shines for people who need to shave their legs but have mobility issues. This can really help pregnant women, people recovering from surgeries or injuries, and/or disabled people with limited mobility. Or even regular people who don't like stretching to shave their legs.
Once a razor is attached, it is not moving, and the velcro strap locks it in. The handle is highly adjustable in length as well as curvature. This is the best razor extension handle I have reviewed.
Key Features
Any razor, disposable or reusable, will fit on this handle.
Very lightweight and flexible.
Holds its bent shape and won't straighten when pressure is applied.
It will not rust on you, made of stainless steel.
Made in the USA.
No movement of the razor when attached when shaving.
Lifetime guarantee.
A velcro strap secures the razor to the handle and does a great job of allowing zero movement.
The length of this handle is 18 inches.
Please read my review here, Ultraflexx Contour Body Shaving Handle Review.
This is a solid choice for a razor extension handle. This is made from stainless steel and will not rust, so feel free to use it in the shower. Once attached properly there is no extra movement that would hinder shaving with this. The razor isn't going anywhere; it is fully locked into place.
The handle is very bendable to the shape you want or need.

Key Features
Very lightweight. The handle is hard plastic and is easy to maneuver.
O-ring locks down to secure the razor very solidly to the handle.
Very accommodating for different-sized razors.
Has a hole on the end to either hang out of the way or to attach your own lanyard.
The handle measures 16 inches long.
Works with a lot of different-sized razors.
16 inches long.
What I Don't Like
This should come with a lanyard to avoid accidentally dropping it.
Some people with arthritis might find it hard to correctly use the O-ring and slots as they aren't the easiest to use. As it is hard to get the razor attached to the handle with an O-ring.
The handle is not the greatest as it isn't that comfortable. Think hard, ridged plastic.
The O-ring will eventually wear out and need replacing.
The shaving angle is fixed, and there is no adjustment of the shaving angle. This means you have to adjust your arm or wrist to find an adequate angle instead.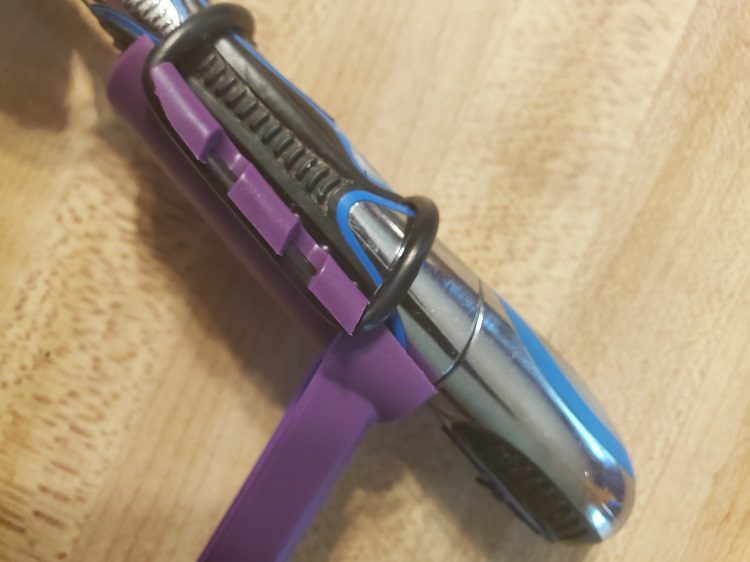 This is a two-piece razor extender with a plastic handle and a supplied O-ring. There are slots where you have to position the O-ring to secure a razor blade to the long handle. This is very lightweight.
You can read more about it here: Ape Scrape Razor Extender Review.

Key Features
It is an excellent option for people with mobility issues.
Multipurpose uses, back shaving, and leg shaving.
Excellent indexing when shaving needs little thought to get a proper shave.
The long handle adjusts to 20 3/16″ inches long.
Two shaving head attachments to accommodate just about every razor handle on the market.
Please read my full in-depth product breakdown here, Giraffe Razor Extender Handle Review.
Would work for a back shaver in a pinch, but expect longer shave times, as you are using a beard razor, after all with less shaving area. This is more designed for shaving legs and by the color of the product for the ladies. Should hold every razor you can throw at it with the two head attachments provided.
Key Features
This can be used anywhere.
The foldable handle makes it easy to store and travel with.
This has three blades per razor.
Great ribbed handle to allow for a secure grip.
Cheap replaceable blades.
Slim-designed handle.
16 inches long when fully extended.
Please read my review of this product here: Evolve Body Razor Review.
This is just a long foldable handle body razor for the back, legs, or wherever you want to use it. The handle is lockable when fully extended and offers a decent length. My wife has used this, and she likes it for shaving her legs even though she isn't mobility-limited.
This is better suited for shaving your legs and not your back. I would like to see some lanyards come with this handle.
Any questions or comments are always welcome.