Today we are going to be talking about and reviewing Bakblade's Bodwipes it's a new product in their product line. I have reviewed just about every Bakblade product they have made and I am looking forward to this review. Bakblade has decided to go deeper into the world of grooming and into the realm of the flushable wipes market as well.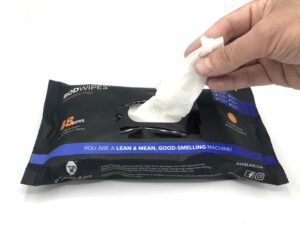 A Quick Note On Bakblade
For those that don't know Bakblade specializes in body grooming. Bakblade is the maker of my highest rank back shaver I have both used and reviewed, the Bakblade 2.0 Elite Plus. This company has continued to push improvements and innovate with each back shaver from the original Bakblade Widemouth 1.0 to the current Bakblade 2.0 Elite Plus. Every product they make is a solid product.
What Is Bodwipes?
Bodwipes is a flushable body wipe that can be used to freshen up various body parts to remain both confident and clean. This is currently sold as a two-pack with each pack having 48 wipes per pack giving you a total of 96 wipes. These are fragrance-free wipes, so you don't have to worry about potential skin irritations or smelling like you just came out of the club.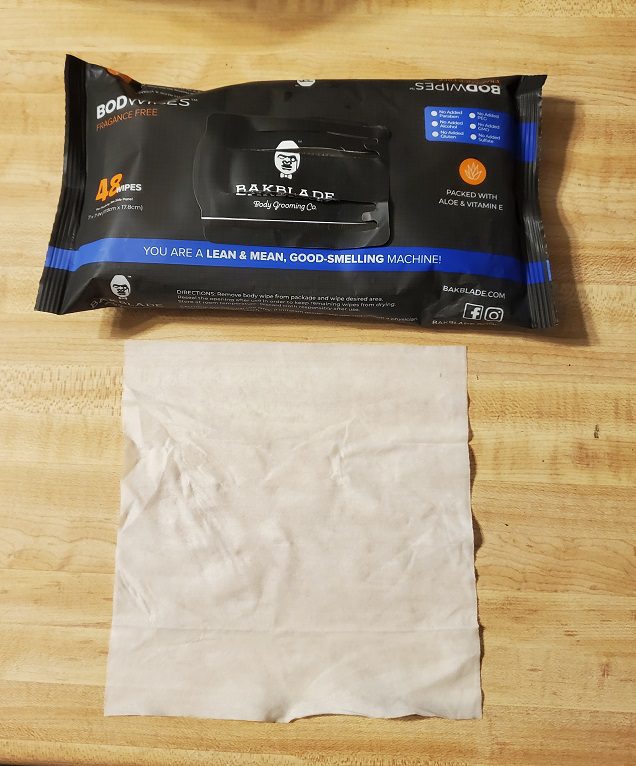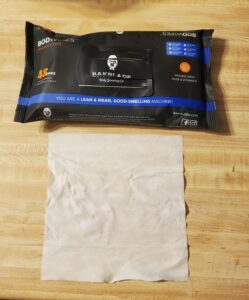 For those that don't know flushable wipes are pre-moistened wipes that contain a cleaning solution. These are designed to be used after using the bathroom to better clean yourself. Thes can be used by itself or in combination with toilet paper.
You Can Use This On Other Parts Of The Body Too…Not Just The Butt
They can also be used on other parts of the body to freshen up. For example the armpits, face, hand, or wherever you need freshening up. These are skin-friendly and gentle to use just about anywhere. This is a great way to clean up yourself if get sweating as well.
Who Could Use This Product?
Just about anybody can use this to help them feel fresher after going the bathroom or just to freshen up after exerting yourself and getting sweaty.
Places To Have Them To Be There When You Need Them
Your suitcase or carry-on luggage when flying or traveling.
The glove box of your vehicle.
Bathroom.
Garage or workshop to keep hands clean.
Gym bag or locker.
Cabin or hunting shack.
Purse.
Camper or RV.
Backpack.
Ingredients
Water, Polysorbate 20, Aloe, Barbadensis Leaf Extract, Chamomilla Recutita (Matricaria), Flower Extract, Althaea Officinalis Root Extract, Avena Sativa (Oat), Kernel Extract, Tocopheryl Acetate, Caprylyl Glycol, Phenoxyethanol
Does It Smell Good?
Although still recovering from Covid 19 I have regained a slight sense of smell and from what I can smell it smells pleasant, clean, and fresh. I like it, as it is pretty neutral and light. It has been a month today and I still haven't regained all my sense of smell yet.
Believe it or not, I have tried some flushable wipes that smelled like a 90s' cologne and it was quite off-putting, to say the least. I don't think people want to smell like a predetermined cologne.
Bodwipe Size
This is almost a perfect rectangle coming in at 7.5″ inches wide and 7″ inches tall. A nice big size that can sure come in handy.
Pros & Cons
Pros
Made in the USA.
Is more gentle on the skin than the toilet paper.
Enjoy the unscented smell as no perfumes are used. It has a nice pleasant clean smell that I enjoy.
A nice size that handles most of any clean-up jobs.
Using these are more hygienic after using the bathroom as they do a much better job of cleaning than toilet paper alone.
Helps reduce odors.
Can help to improve skin condition, as this has both Vitamin E and Aloe.
It has a resealable top to keep the wipes from drying out.
No added Paraben.
No added Alchohol.
No added PEG.
No added GMO.
No added Sulfate.
No added Gluten.
Cons
Can be a very controversial topic about disposing of them properly.
The Final Shave
A solid fragrance-free flushable wipe. It has a clean scent and does a great job of protecting the skin with aloe and vitamin E. If you are wondering if this is a good flushable wipe I would definetly say it is. I see no real negative with this product other than if you have a problem with flushing them down the toliet.