Look…Stink Can Happen. What Are You Going To Do About It?
Odors can happen. Some men are more prone to experiencing unpleasant crotch odors than others. Thankfully, there are things we can do to help mitigate this unpleasant occurrence. In this Ballsy Sack Spray review, I will be going over the negatives and positives of this product to help you determine if this product is worth you purchasing it.
Let's get spritzing…
Full Disclosure
I am an affiliate of Ballsy. I will earn a small commission on all purchased click links on my site at no additional cost to you. I only review products I actually own and have tried. This often leads me to purchase the products which I review. Such is the case with this review as well. I purchased the product with my own money in order to bring an original honest review. If you find my review helpful please help support my site. Thanks!
What Is Ballsy Sack Spray?
Simply put, this is a spray for your nuts that help you keep smelling good down there. Sack Spray is designed to help deodorize odors and also help alleviate skin irritations in your crotch region.

This comes in a little spray bottle that is 2 oz. (58ml) in size. This spray is pH balanced to help eliminate and destroy odors while also helping to avoid skin irritation. This small bottle can be stashed anywhere, so you can have it for when you need it.
How To Use
Simply lift your balls and spray.
No, really just spray 1-2 pumps onto your groin area. You can do this right after taking a shower, after a workout, or whenever you see feel you would need it throughout the day.
Who Would Benefit From Using This? Would You?
I think every man would at some time benefit from using a ball spray. I use to think I didn't really need this product but I think I was just in denial. I found after reviewing ball sprays and deodorants that actually using a good quality product makes life much easier and smelling nicer.
Showering is a must but especially in between showerings would make a great "freshen-upper". Especially after workouts if showering isn't available.
Most men that wear any kind of uniform, especially during hot weather would benefit from the Ballsy Sack Spray. The general rule is the hotter it is the more you would benefit from using this product. As balls are covered by multiple layers of clothing plus they are stuck between your legs. Prime area for a heat trap.
Any man could benefit from a ball spray. If you haven't tried a ball spray yet what are you waiting for?
You might surprise yourself with how much you love using it. At least I was.
Ingredients
Water, glycerin, propanediol 1,3, sorbitan oleate, Zinc ricinoleate, sodium lauroyl sarcosinate, tetrahydroxypropyl ethylenediamine, polysorbate 20, fragrance, phenoxyethanol (and) caprylyl glycol, allantoin, citric acid, lavender essential oil, tea tree essential oil, aloe vera extract, witch hazel extract, chamomile extract, green tea extract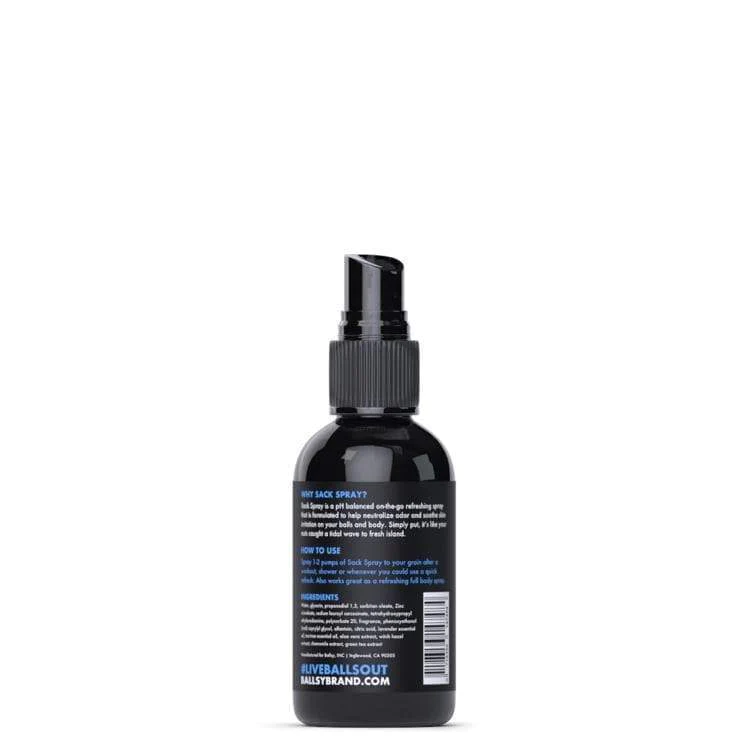 Overall Performance – Does It Work?
I've been using this product for over a week now and I can proudly report back to you this is a good product. After I get home I do the old sniff test…and yeah it passes that test. I work 10 hours shift working at a stainless steel factory. So…yeah it can get hot and I do a lot of heavy lifting. A pretty good proving ground to give this product decent testing.
The sprayer gives a large wide mist that easily covers a large area per spray. I am very happy with the sprayer on how it works. I usually just spray twice to make sure I get every area and for good measure.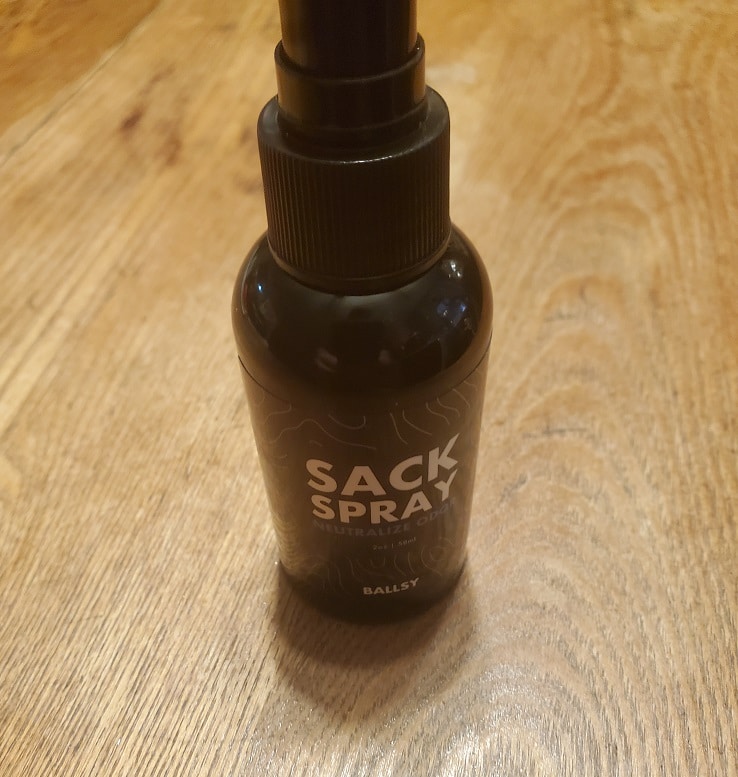 How Does It Smell?
I think the smell is good and pleasing. It smells very natural, light, and clean. Everything you want to smell like downstairs.
I require scents that I put on my body to smell natural. It must have some natural ingredients that add to the overall scent profile. Ballsy Sack Spray doesn't let me down in this area. They did a good job of blending the different ingredients to get a pleasing scent. Great job!
Overall
This is a good quality product. It performs its job and it smells pleasant and clean too. It staved off odors for a long time. You did your job Ballsy. I've been impressed with Ballsy as this is the second product I have reviewed from them and I am pleased.
Highly Recommended. Get some…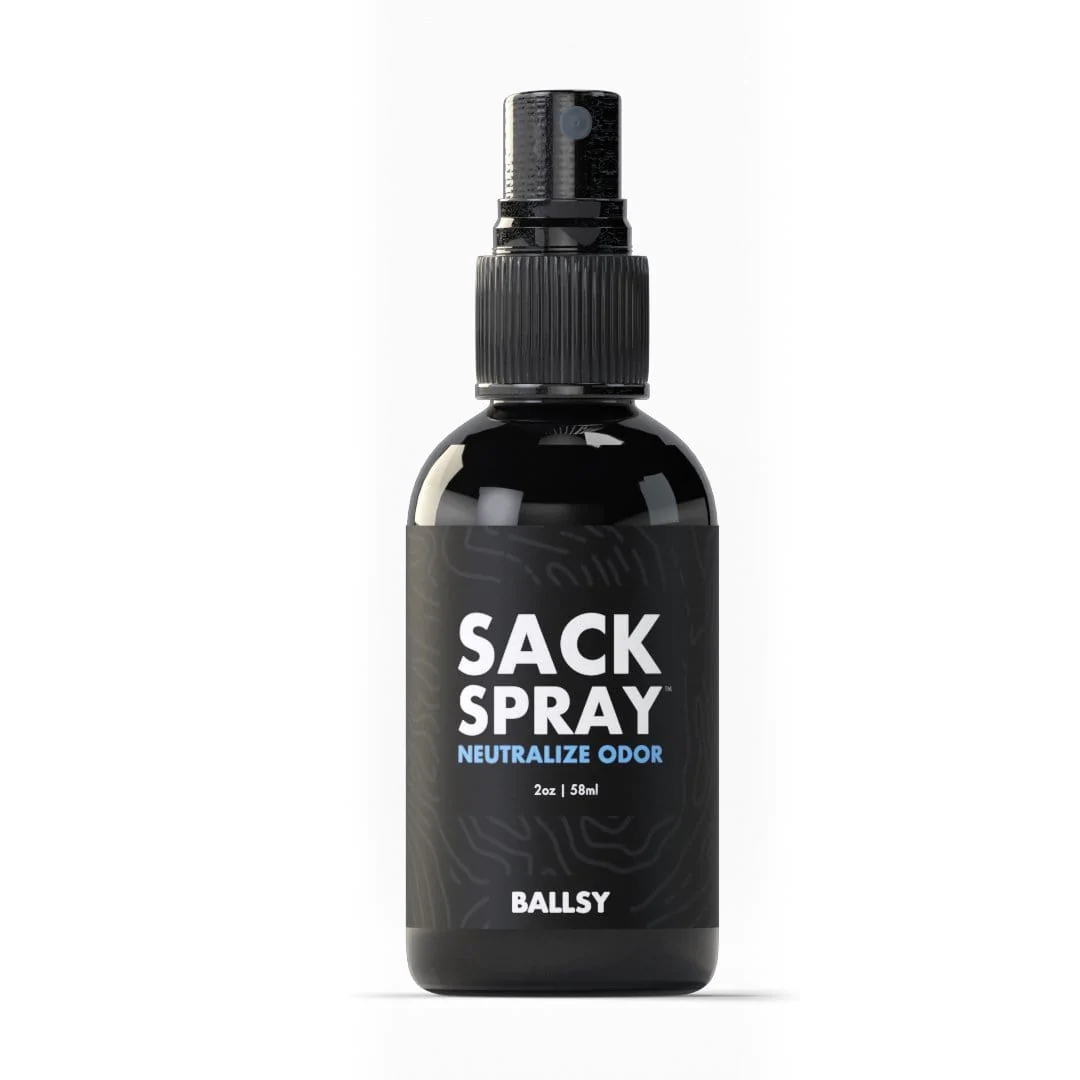 Pros & Cons
Pros
Keeps my junk smelling fresh throughout the day. Great longevity.
The scent of Ballsy Sack Spray is good. It is fresh and clean smelling and it shouldn't offend anybody as this is a nice and pleasant natural scent.
Can save up to 20% by subscribing to have it delivered every 1,2, or 3 months.
Made in the USA.
Cruelty-free product.
Sulfate & Paraben free.
30-Day Money-Back Guarantee.
I love having a small sprayer that can easily fit almost anywhere to deodorize or to just help freshen up your junk. Boosting confidence for sure.
Contains a lot of natural ingredients. (Aloe, lavender, tea tree oil, witch hazel, chamomile, and green tea).
Spray bottle gives a wide even distribution of fluid. Really nice as a couple of sprays should work very well.
Can also be used as a body spray as well.
Can help reduce jock itch and chafing.
Cons
Doesn't protect against chaffing. It doesn't claim to stop chaffing but thought I would just be clear about it. This is meant more for helping the aftereffects of chaffing, at relieving skin irritations.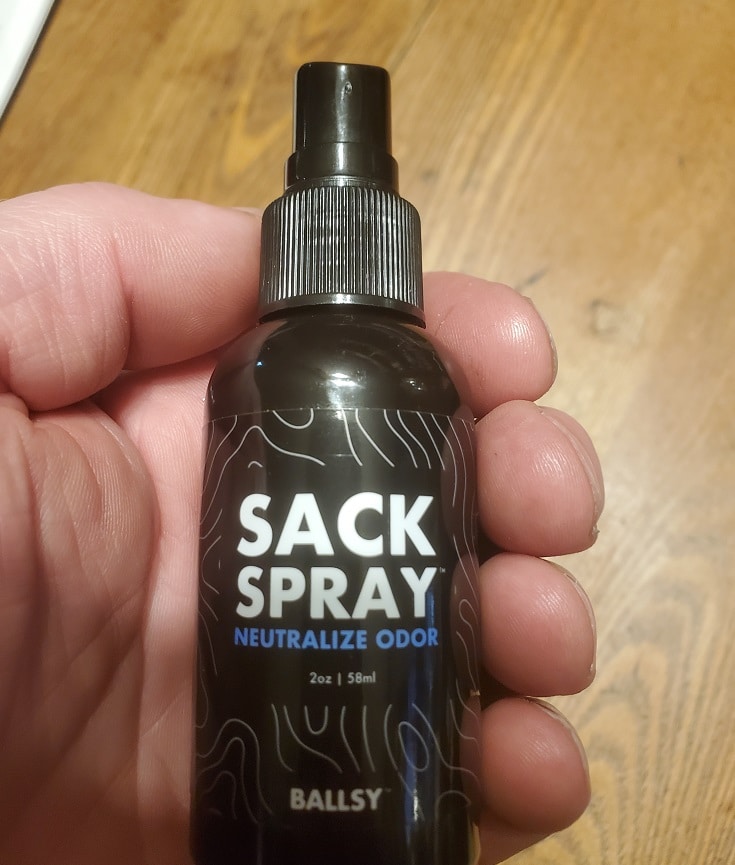 Tips & Questions
How Many Sprays Do You Need To Use?
I would say two would get you great coverage with a little extra to boost. That is what I used per application and it kept my partners in crime smelling so fresh and so clean.
Does This Help With Chaffing?
I would say primally this is an odor neutralizer and secondary as a light skin protector. So, no. I would recommend other products if you are dealing with chaffing issues like for example the Ballsy Ballguard Liquid Powder for example. This is designed specifically to help stop chaffing as well as odor protection.
Might You Also Need A Ball Trimmer? I Have A Great Recommendation
I would like to recommend two ball trimmers if you don't have one yet. Trimming your groin hair will also help reduce odors and heat and is another great way to spice things up down there.
This is my favorite ball trimmer I have used and reviewed to date. This never cuts or nicks me and just does a great job. A real quality product and much cheaper than other well-known names (like Manscaped) and performs better and doesn't cut you.
Read my full review here, Meridian Trimmer Review – Best Male Pubic Trimmer?
The other ball trimmer I would recommend is another great ball trimmer by the same company as Sack Spray. I recently reviewed this a few weeks ago and was very impressed. Another worthy ball trimmer worth mentioning.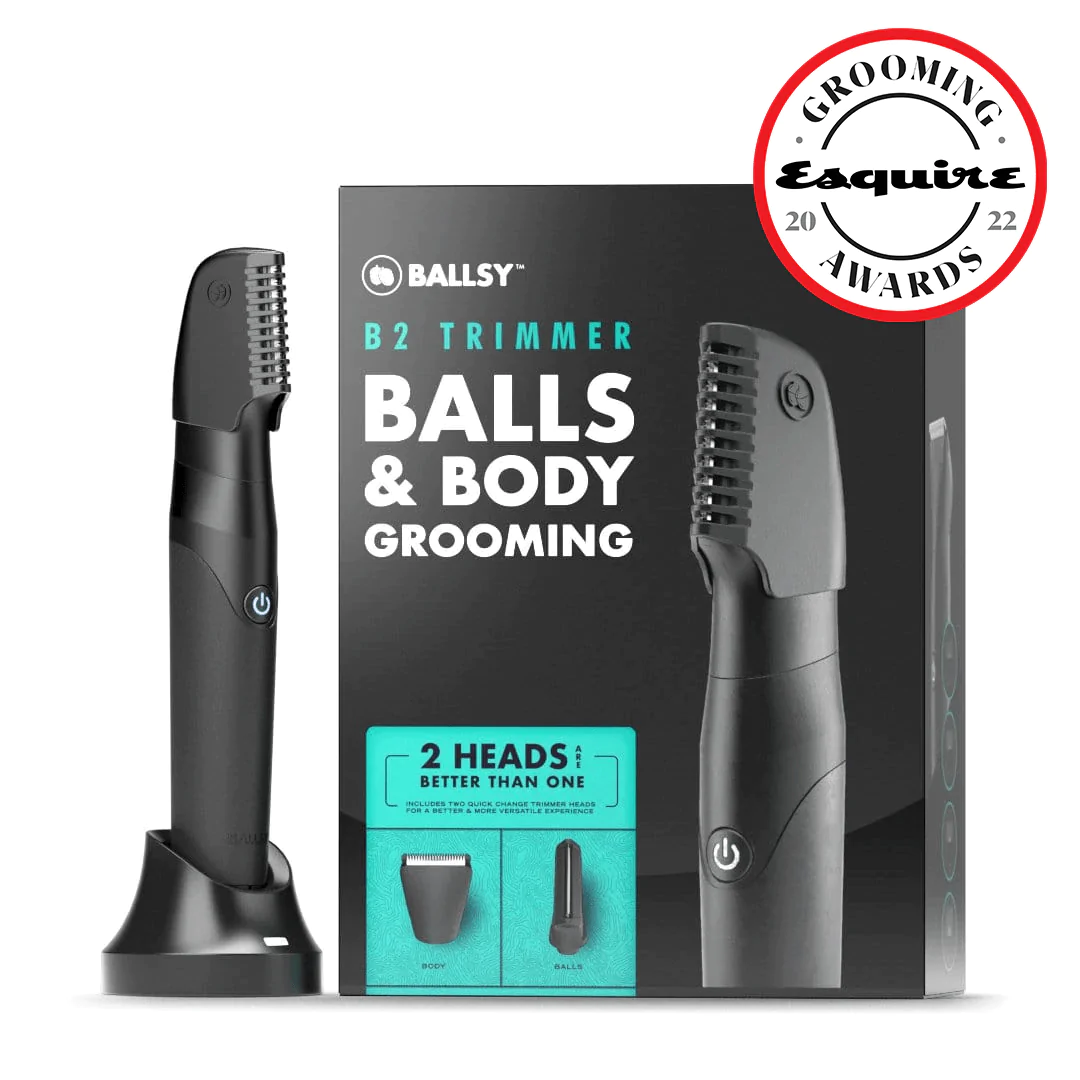 Find out more here, Ballsy B2 Balls & Body Trimmer Review.
How Does This Compare To Other Ball Sprays I Have Used?
This ranks right up there towards the top of sprays I have used that are for your sack. I have only used three other sprays but this is a quality product.
If you want a different option I would send you over to Meridian again, they have a product called The Spray that is also amazing. Very lightly scent and works very well. It is slightly more expensive than the Ballsy Sack Spray, FYI.
The Final Shave
Nobody wants to stink down there and Ballsy Sack Spray will make sure you don't. They have really made a quality product from their ingredients to their performance. The scent is very pleasing and natural too.
I highly recommend checking out Ballsy Sack Spray as it is a great product at an affordable price.