Nobody Likes Looking At Nose Or Ear Hair
Are you looking for a device that will keep nose and ear hair at bay? Something that is small lightweight but most of all performs well? The Meridian The Up-Here Trimmer Review Nose & Ear Hair Trimmer might just be what you are looking for. Continue to read to find out.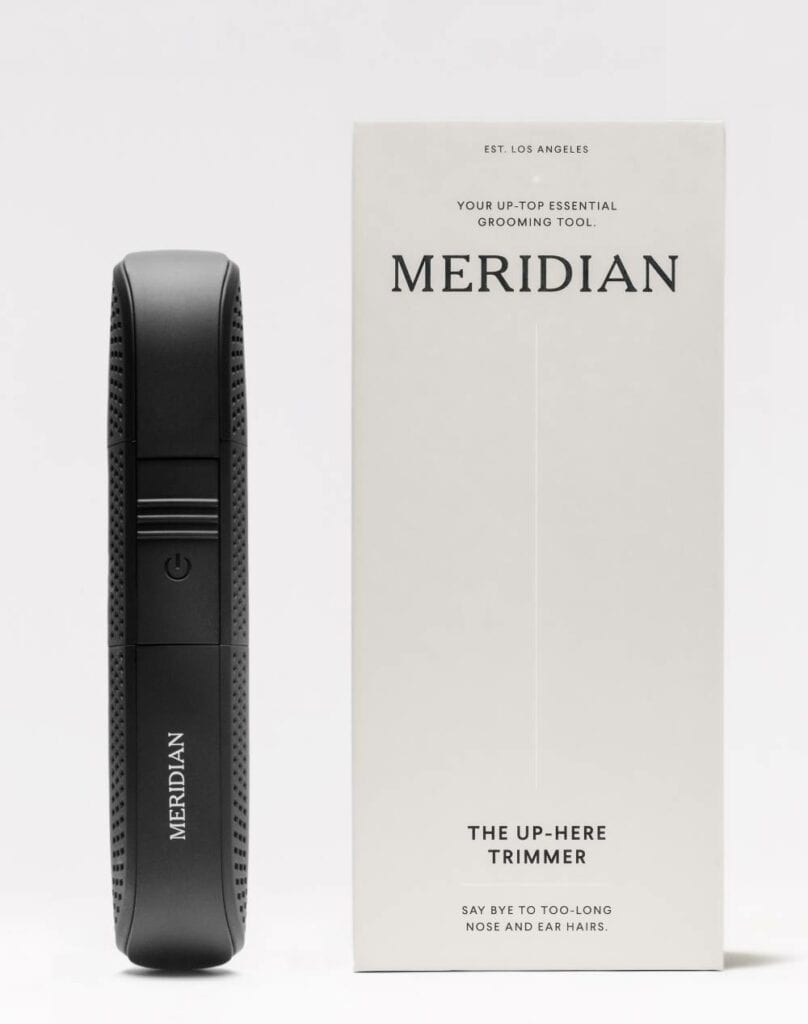 I have also reviewed another manscaping device the Meridian The Trimmer found here, Meridian Trimmer Review – Best Male Pubic Trimmer? This is for shaving body hair and ball hair and works fantastically.
What Is Included?
1 – The Up-Here Trimmer
1 – USB Charging Cable
1 – Cleaning Brush
1 – Set Of Instructions
Does It Work?
I have used nose hair trimmers before in the past often times these cheaper trimmers were not well designed. Oftentimes leaving multiple hairs still left in the nose after using it and also often pulling nose hair at random. Not to mention cutting the inside of your nose. Leaving you feeling like I would rather not use this or "This thing sucks".
Very Pleasantly Surprised
I have experienced ZERO of those past problems with this The Up-Here Trimmer. No cuts, no hair pulling, no hairs left after using this device. This is well designed and modern, being very lightweight and a pretty decent comfortable grip. Its small size is just right for holding and using.
For charging the unit, it comes with a USB cable. When fully charged it will provide 30-minutes of run-time, which is more than enough for multiples uses.
Pros & Cons
Pros
Very small and compact. A great size for traveling and throwing into a Dopp kit.
Painless. I had zero pulls and zero nicks or cuts.
Comes in two color variations. Onyx and Sage.
Has a small light that turns on when the power button is pushed.
Meridian sells replacement trimmer heads if you find the old one is getting dull.
Does not miss any hairs, as long as you are thorough.
Works fast! In less than five minutes you can be hairless in your nose and ears.
Comes with a small cleaning brush, which is great for keeping clean.
Waterproof, which is important when using in the bathroom.
An impressive 9000 RPM with this trimmer.
With a full charge, it has a 30-minute run-time.
Cons
Must take off the bottom portion of the case to charge.
Instructions have some weird word choices.
No wall wart, just a USB cable.
Find the light to have little to no value using inside your nose.
Tips On Using This
When using this for both the nose and the ears, it is best to go over the area multiple times until you don't hear the trimmer cutting anymore. It is also good to vary the depth of the cutting head making sure you get every hair. The trimming head is very small, so take a look at how small it is and understand you will have to vary the depth in which you use it to remove all the unwanted hair. Just a small portion of the tip of the trimmer has the working end to remove hair, this will greatly improve its use.
Also, vary the angle of the trimmer head to ensure you get everything. I go clockwise and counterclockwise in circles to ensure you get everything. Maybe I am a little OCD about it but might as well do a thorough job the first time.
Great idea to use it everyday to potential get missed hairs and just maintain a hairless nose and ears.
The Final Shave
I can in very high confidence recommend the Meridian The Up-Here Trimmer as a solid nose and ear hair trimmer and should be in every man's arsenal of hygiene. The build quality and design have real applicable practicality that surpasses older flawed nose hair trimmers.