A Full Body Groomer
Today I will be looking at the MicroTouch Solo Titanium Rechargeable Beard & Body Razor. This is a newer style of trimmer (not a razor, even though it is its name) that uses very fine micro teeth that can trim hair very close to the skin. So, I will be putting this through the wringer to help you determine if it is worthy of spending your money on in the MicroTouch Solo Titanium Review.
Well, let's see…
What Is The MicroTouch Solo Titanium?
This is marketed as a Full Body Groomer. This is a rechargeable trimmer and not a shaver, despite what their Amazon title and description say. This trimmer uses very small teeth for trimming hair on your face and body. This allows you the option of using it with or without guide combs to attain different stubble for your face. There are three guide combs provided.
This has a lithium-ion battery that is charged via a USB cable which is provided. This is very lightweight and easy to maneuver.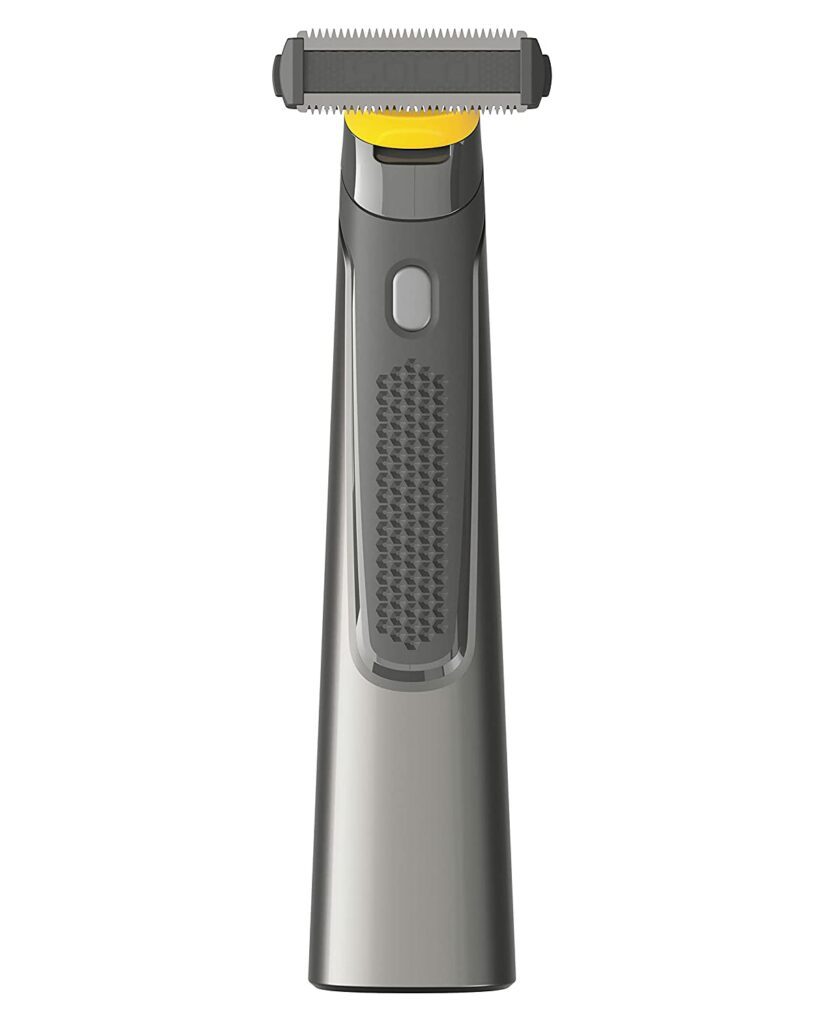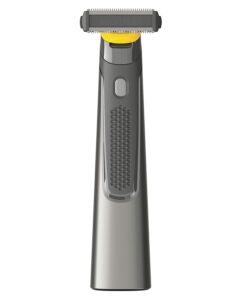 What Is Included With Purchase?
1 – MicroTouch Solo Titanium Trimmer
1 – USB charging cable
3 – Trimming Guide Combs (1mm, 3mm, and 5mm)
1 – Cleaning brush
1 – Blade cover
1 – Set of instructions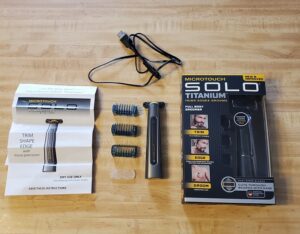 Specs Of The MicroTouch
The total length of this trimmer is 5 1/2 inches long. The trimming head measures 1 1/2 inches wide and is made from German stainless steel with a titanium-coated pivoting head.
The handle is slim with textured dimpling on both the front and back of the trimmer.
This is able to charge via a USB cable (provided). The battery is a lithium-ion rechargeable battery. It takes four hours to fully charge with a run time of 40 minutes on a full charge.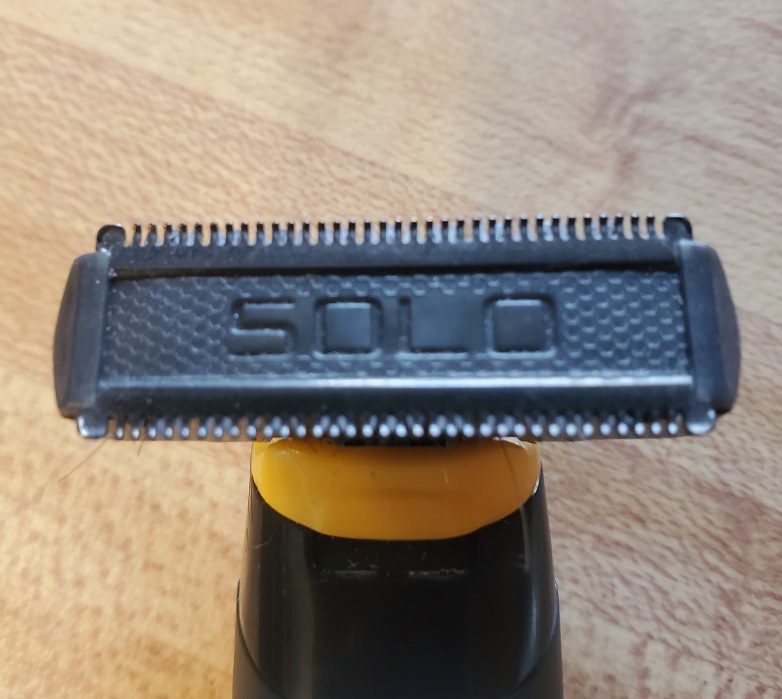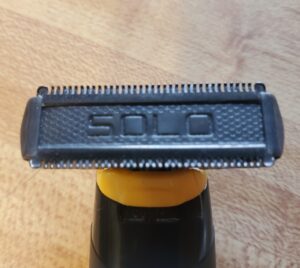 Where On The Body Can You Use This?
According to MicroTouch, it can be used everywhere but the groin and scalp.
Can be used to trim hair on the:
Face and beard.
Body Hair.
Arms
Legs
Armpits
Eyebrows
How Well Does It Work? Worth Buying?
Despite its extremely lightweight and rather small size it does work and trims hair with power. It never slowed down or failed to cut. It never pulled any hair either. The small trimming head makes it easy to trim around hard-to-reach spots like around the nose and around the lips. The micro teeth work great. It quickly took my week and a half old beard down to stubble in no time. It is very maneuverable and is great for edging and detailing when needed.
The closeness of the shave was pretty good but not the best I have reviewed. The stubble that was left was slightly longer than other comparable similar devices. It left no skin irritation or razor bumps after using it and I was appreciative of that fact.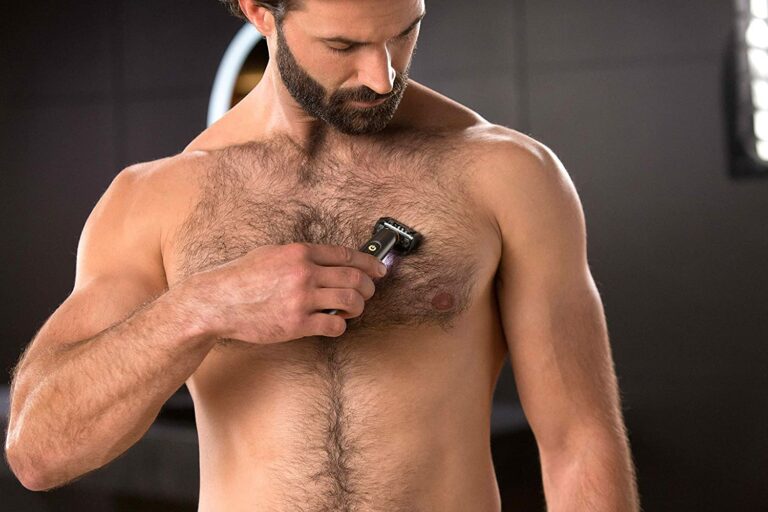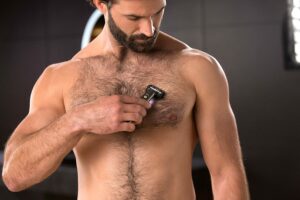 The slim handle fits nicely in my hand and has dimpling on both front and back to provide a secure grip. The power button I did manage to hit a couple of times accidentally and turn off when readjusting my hand when using it. This left me wishing they had placed it somewhere else. The LED isn't very bright but it did provide enough illumination to help see what I was doing better.
Now…Would I recommend this? Is this worth buying?
It is a solid trimmer but…I want the best. Right?
I review a lot of grooming products and the answer is kind of muddy. Well, it worked great for me but I know of a better product. That trims better and closer to the skin. The MicroTouch never failed to perform and it did its job. It just missed on the refinement of its tasks, mainly the stubble length. For its price point, I would say it is worth buying. But it is not the best product available. See below in Questions & Tips to see the product that performed better.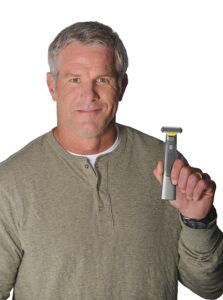 Pros & Cons
Pros
Trims hair on my face and other areas very close to the skin.
Left no skin irritation on my neck or face.
Never clogged with hair when I used it without the guide combs.
Very lightweight and hard to imagine that there is a battery inside.
On a full charge, it has an operating time of 40 minutes.
This can be used when plugged in and charging.
Charging indicator light.
LED light helps you see when using.
The trimming blade has two cutting sides, a top, and a bottom, so it can trim hair both pulling and pushing making it versatile.
Guide combs are marked what sizes they are on the back. I hate it when they don't mark the sizes.
Good battery as it uses a lithium-ion battery.
Cons
Claims to do it all in its packaging and ads but doesn't, it doesn't trim groin hair or scalp hair. Don't claim to do it all if you don't! This confuses people. Marketing bullshit!
Clogs with hair when using the guide combs, as the hair sticks to the blade and guide combs when using.
The power button to me should be placed somewhere else as I accidentally turned it off a couple of times when using it.
Not waterproof. Not to be used with wet hair, wet skin, or with any type of shaving cream. This will damage the trimming head.
You have to initially charge this trimmer for 4 hours prior to using it, as recommended by the manufacturer. Bummer!
Short USB cord supplied, normally this wouldn't be a problem but they say it can be used when plugged in, so why not supply a longer cable.
Can be easily damaged, as these are very fine teeth. Avoid dropping. Use the supplied Blade Cover when not in use to help protect the blade teeth. Do not use if teeth have been damaged.
No wall wart or brick is included for charging into the wall.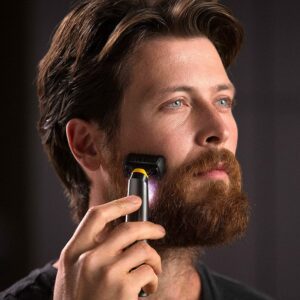 Questions & Tips On Using
I have also reviewed another MicroTouch device it can be found here, MicroTouch Solo Titanium Review.
How Long Does It Take To Charge?
It should take about 4 hours to reach full charge.
How Long Will The Battery Last?
The battery when fully charged should last 40 minutes.
Can It Be Used On The Groin Area?
No, the manufacturer says it shouldn't be used on the groin, as it is not intended for this area.
Can It Be Used On The Scalp?
No, it is not designed or intended for use on your head or scalp.
Can You Buy A Replacement Head?
Yes, Replacement Heads can be purchased here, MicroTouch Solo Titanium Replacement Head.
How Long Do The Heads Last?
I've only had this for a week but MicroTouch recommends for the best results to replace them every 3-4 months. I would take this advice with a grain of salt, as long as you don't drop the head it should potentially be longer than that but I don't really know.
Tips
Reading the instructions included will answer most of your questions.
Do not tap against the sink to dislodge hair. This will damage the fine teeth on the blade.
Always inspect the blade teeth prior to using. If the teeth become damaged it could potentially cut you.
When done using always put on the Blade Cover (supplied) when you are done to help protect the easily damaged blade. This will ensure a long life for your blade.
When using make sure the flat part of the blade is always laying flat against the skin.
Always clean this after each use to help ensure long life and it is working properly for the next time. As you are getting really fine hair that is cut by the micro teeth into the various parts of this trimmer.
What Trimmer I Do Recommend?
I really enjoyed and recommend the Philips Norelco OneBlade Face & Body. This is I feel a much better trimmer than the MicroTouch. Although the MicroTouch is a solid trimmer too. You can read my full review here, Philips Norelco OneBlade Face & Body Review.
The Final Shave
A good solid face and body trimmer. It performed its tasks decently with some minor glitches and negatives. But for its price point, it gets a decent approval from me as a trimmer.