What Is the Wisremt Men Back Shaver 2.0
The Wisremt 2.0 is a back shaver I found while looking on Walmart.com for back shavers. Never heard or seen this name before, so I bought it, with my back hair tingling with excitement.
Suspiciously Looks Familiar…
Barring the obvious, this looks very similar to the BakBlade 2.0 Back Shaver (see picture below), my highest-ranked back shaver. Head over to my page to read more about my highest-ranked back shaver, BakBlade 2 Review.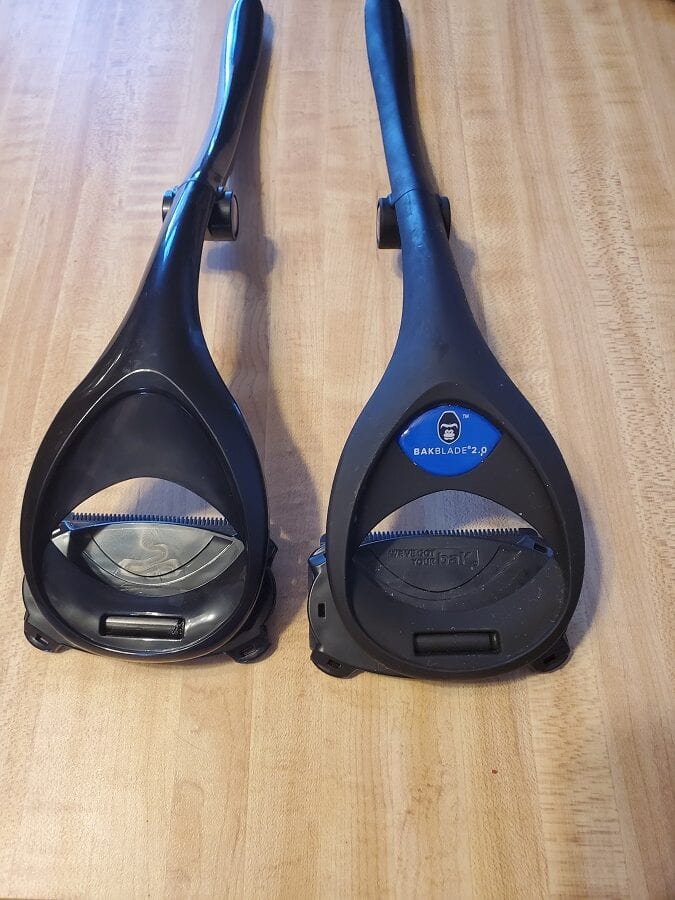 Though this is 90% similar, it is not 100% the same back shaver. By no means.
What Is Included?
1 – Wisremt 2.0 Back Shaver, also called KJ-B5. Comes with two cartridges installed.
1 – Little Brush
1 – Set of instructions.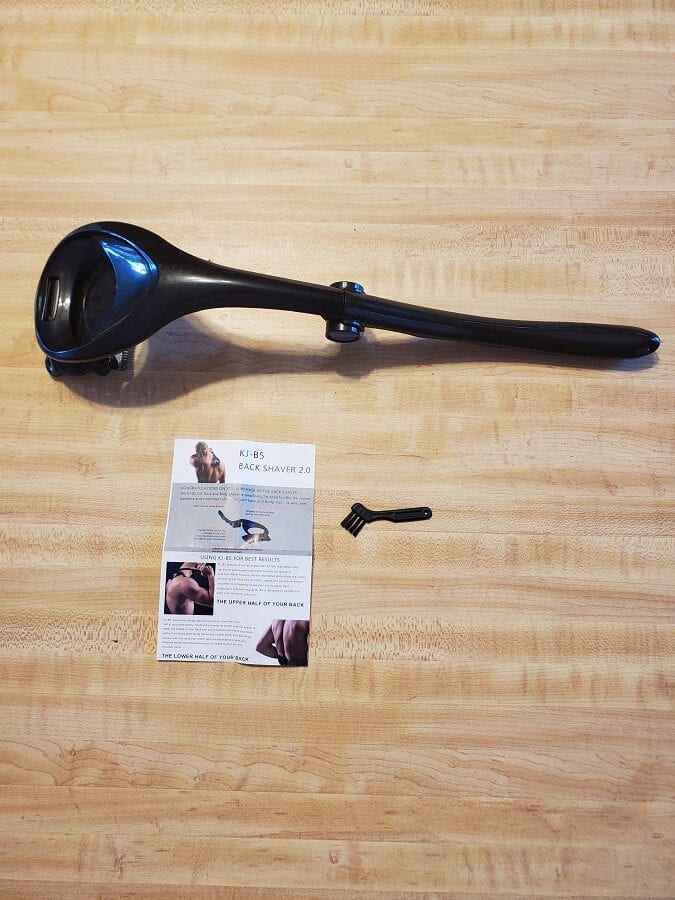 Wisremt 2.0 Specs
From stern to bow it measures 15 3/4″ long, with an s-shaped handle.
The width of the shaving head is roughly 3 13/16″, and it provides a 2 7/8″ cutting area. These are two safety razors placed side by side. The shaving head holds two shaving cartridges.
Wisremt How Does It Performs?
Just like the Bakblade 2.0 it works and works well. It gives a smooth finish with little to no irritations or cuts. Each stroke seems to effortlessly remove hair from the back.
You don't have to keep adjusting your hand position or wrist position to shave. It just shaves naturally. This is what you want.
The handle is the best in the business. The most comfortable there is. The recessed areas your fingers are placed add a lot of stability and a happy grip. Perfect length for reaching all otherwise unreachable areas.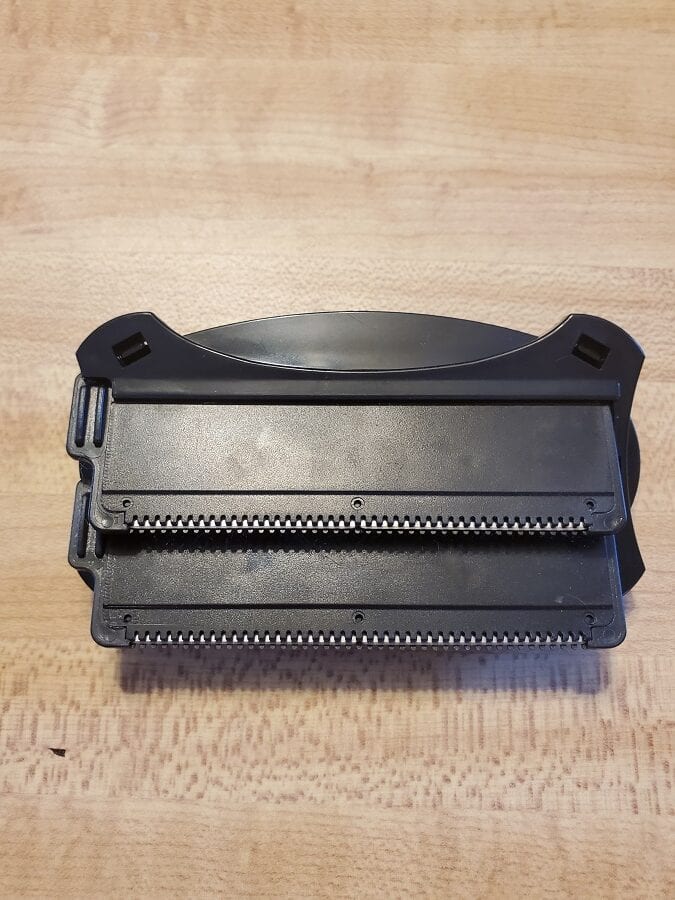 Pros & Cons
Pros
This works and works well. You can hear the unit working as pull the unit across the back. I always want to hear it working.
Super cheap price for this shaving unit.
Comes with a little brush for cleaning your back hair and skin cells off the razors when you're done. No place to store it on the back shaver, like the BakBlade 2.0. This will probably get lost instantly.
Foldable handle. This is great for storage and as well traveling.
The shaving head does come off for grooming other body parts.
The curved s-shaped handle makes reaching hard-to-reach areas on the back too easy.
Double cartridges stacked over each other really works great at removing hair.
Can be used to back shave both dry and wet.
Changing blades is soo easy…but I can't find replacements.
Never clogs with hair.
Love the handle, easily fits in the hand. No sharp edges, it is just comfortable.
Cons
I can't find replacement cartridges for this anywhere and I looked far and wide! Bad, bad, and bad.
Uses cartridges, I am definitely going away from recommending cartridges just because of the heavy markup on them. These probably cost pennies to make, after all, they are just cheap safety razors and plastic.
Couldn't find replacement cartridges at Walmart, where I bought the back shaver. Which is strange.
The name is…how do I say this…weird, or made up by someone whose language isn't native English. What does Wisremt mean anyway?
I tried switching the BakBlade cartridges to see if they fit into the Wisremt but no luck. They do fit but easily fall out, as they do not lock into place. Maybe some type of tape wrapped around the cartridge would help lock it in, idk.
The shaving head is removable but man is it hard to get out. Way too hard!!! This is very unsafe if you ask me, as there are razor blades really close when I am exerting maximum pressure. It took me banging it on the desk and prying on it to get it out.
Side by side with the BakBlade 2.0 the Wisremt 2.0 has the cheaper plastic. It is smoother and more slippery than the BakBlade 2.0.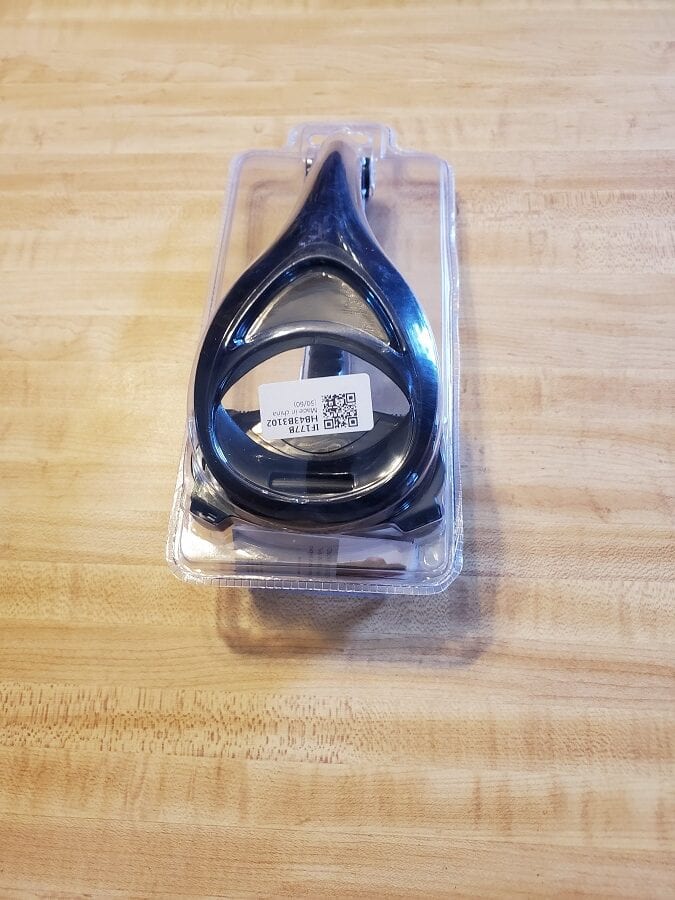 Tips On Using the Wisremt 2.0
To find replacement blades I would just recommend you buy the BakBlade 2.0 refills and I would also recommend you get the biggest pack. I believe they come in a pack of 12 blades for the cheapest price possible. Then wrapped in some sort of tape. If I had to give you an option, since I couldn't find replacements.
Avoid. Why would Walmart sell a back shaver with no replaceable razor cartridges? Totally unacceptable, especially from Wally World.
The Final Shave
This would make a hell of a back shaver, as it works great and is super cheap but you know what? I would have recommended it too, but NOPE.
Yeah, you guessed it, no replaceable cartridges. Oh, they might be somewhere but where? So it is reduced to using it until the blades become too dull, then for eternal life in a landfill.
Avoid until replaceable cartridges can easily be found. Just my two cents.
Go with the BAKblde 2.0 Elite Plus it is my highest-ranked back shaver you can't go wrong with this. You can read my full in-depth review here, BAKblade 2.0 Elite Plus Back Shaver Review.