What Is The Bodblade? Does It Work As Good As The Bakblade?
Bodblade is a newer manual body shaver from Bakblade. Bakblade is the producer of the world's best back shaver in the world, so they definitely have some credentials and customer trust. They have designed a shaver meant to shave other areas of the body, like the chest, arms, and legs.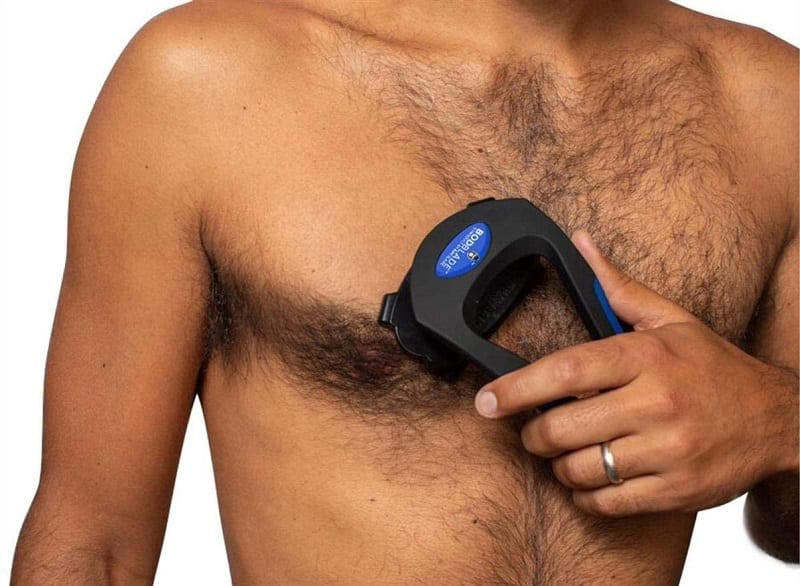 This is a shorter handle with two shaving cartridges attached, the shaving cartridges use the same patented DRYglide technology as the Bakblade. The DRYglide technology allows you to efficiently shave either wet or dry without clogging. This is important because body hair is often longer and more prone to clogging.
I am excited to give this a go, as I normally don't shave my chest but willing to give it a try and see if I like it or not. Also before I do if you are interested in a back shaver, I highly recommend checking out my article on the highest-ranked back shaver to date, Bakblade 2.0 Elite Plus Review.
What Is Included?
1 – Bodblade
4 – DRYglide blades (two attached to shaving head and two extra)
1 – Folding sensitive area shaver
1 – Suction Cup Hanger
1 – Set of Instructions
Bodblade Specs
The handle is 7 1/2″ inches long and at its widest is 3 5/8″ inches wide and at least widest is 2 3/4″ inches wide. The handle seems to be made of two types of plastic. The backbone is made of a harder plastic and where the hand touches the handle a little bit softer plastic.
The shaving head is 4″ inches at its widest and the actual shaving portion is 3″ inches wide. This is actually two safety razors side by side width and is exactly the same as their famed Bakblade 2.0 Elite Plus. Their patented Dryglide Blade Cartridges can be used both dry and wet.
How Well Does It Perform?
I don't shave ever shave my chest but I thought I give it a shot and so I did. I am hoping it doesn't become itchy when it grows in.
It performs really well, especially on my stomach. I feel, just like shaving your beard, you get better results with going in certain directions. I found going side to side got me the best results. Experiment with this to find what works for you the best. I did have go over an area more than once but this is pretty normal for a really thorough job. But it really drops hair effortlessly and did find myself having to blow the hair off the razors as it accumulated fast on the razors.
I sustain no cuts or any form of blood loss from using this body shaver.
Pros & Cons
Pros
Shaves really good. One swipe and you have no hair where the swipe took place.
Works effortlessly. The hair just comes off without a lot of effort.
A great clean shave, as you have two cartridges taking hair off.
The replacement blades for the Bakblade are the same for the Bodblade and can be interchanged. So if you already own the Bakblade or have bought the DRYglide Blade Cartridges you can use them seamlessly on all of the latest Bakblade back shavers.
I am a big fan of their DRYglide shaving cartridges, as you can shave both wet and dry.
A fine detail shaver called PrecisionBlade is included to deal with shaving around sensitive areas like your nipples and under the arms. This works decently.
I always appreciate having instructions include with any back shavers or any other shaving product.
The shaving head is detachable.
Great for athletes looking to shave body hair as it gives a real close shave. Sports like bodybuilding and swimmers.
I love the length of the handle seems perfect to me.
A suction cup with a hanger is attached for storage.
Quick and simple cartridge changing.
Zero cuts or nicks from using the Bodblade.
Cons
The handle to the Bodblade isn't the most comfortable and I have found it to be a bit too wide at the bottom of the handle, as it digs into my hand unnecessarily and doesn't fit the hand all that well. (maybe it is just my hand, idk)
Would like to have seen a cleaning brush included with this, to clean hair before storing away. As the newest Bakblade 2.0 Elite Plus has one.
Tips On Use Bakblade's Bodblade
I find using the Bodblade horizontal works really well as opposed to going up and down. I would assume this relates to how the hair grows on the body. But you might have to use any combination of these to get a dolphin smooth.
Just like my back, I prefer to shave dry but that is what I prefer. I use no water or shaving creams when back shaving or body shaving. You should both methods to help you determine what YOU like the best. You will find out pretty quickly which way you prefer.
The instructions state you should use the Precsionblade for problem areas first then use the big guy (Bodblade) for the larger areas.
I usually get 5 to 6 shaves with cartridges when shaving my back and don't see why this would change shaving my chest of other areas. But when you feel they are getting dull change them out to get the best possible shave. Always buy replacement blades to have them on hand, so you are never stuck with dull blades.
If you have a hairy back remember to check out my the Bakblade 2.0 Elite Plus, it is the best.
The Final Shave
If you are looking for a body shaver, I think you would be hard-pressed to find a better body shaver than the Bodblade. Especially great for athletes or men looking to be hairless, as it provides a clean shave with little risk of cutting yourself. Who knows I might be shaving my chest more often.
Another solid performer from Bakblade!!! A great body shaver.