Okay…Your Looking For The Best…I Get That
Now I am not going to say that there might not be a better ball deodorant out there. I mean I haven't reviewed and tried them all…yet. Give me some time to do that, please! But I have tried quite a few and I definitely have some real-world experience and opinion on what I feel is the best ball deodorant out there.
I plan on reviewing (yes…actually reviewing the product after using it and not just writing about it from information found on the internet…this goes on quite a bit btw) a lot more ball deodorants in the short future and will update this page often.
Powder, Lotion, Cream, Or Spray? Oh My!
There are a lot of options! Before we shortly get into what I feel is the best let's go over the options in the available field of ball deodorants. This could greatly affect what product is right for you personally. There are plenty of options out there, not just in terms of what brand to pick but also in what form of application is acceptable to you.
Lately, there seem to be quite a lot of products to choose from for ball deodorants and that is a good thing. Leaving us men with more options.
Ball Deodorant Options
Powder – This is a very fine powder that can be applied to the groin, butt, and thighs. The powder can sometimes get everywhere when applied and can be a problem for some people.
Lotions & Creams – Lotions go on evenly and smoothly and either get absorbed into the skin or also dry to form a slick powder. Very easy application!
Sprays – An aerosol spray or pump spray that spreads the product through the air. Also very easy to apply.
Stick – Just like a stick of regular deodorant but specifically for your balls and thighs. Simple to use.
Best Overall Ball Deodorant
To date, my favorite ball deodorant is Fresh Balls Lotion.
Why is that?
Well, it has it all. It has easy application, no mess, a great scent, dries quickly, and great anti-chafing, and odor protection. It just does everything really well. This is the first ball cream that made me realize even though I never thought I needed a product like this well…in fact, it made things so much better and now I use a ball deodorant, especially during the hot summer months of the year.
So, maybe if you are on the fence about buying a ball deodorant, at least give it an honest shot and try it out for yourself. It might really surprise you with how it works. I know I was!
If you want to know more about this product head on over to my review here, Fresh Balls Lotion Review – Does It Really Work?
Most Products Are Pretty Decent
Overall most ball deodorants whatever their application is pretty good. Sure I have run into a few horrible products but most fall in the medium to highly-ranked category. Generally, they are all pretty decent and do a good job overall.
Some ball deodorants also have different benefits as some of them don't deal with chafing and are just a deodorant. Some claim anti-chafing but fail to deliver real-world performance.
What I Found To Be The Biggest Problem Is…
For me, it is the scent. Some of the ball deodorants I have used smell like a really bad cologne. This in my mind is the easy way out for companies to just slap some cheap fragrance in the mix and sell it. This is not good enough for me and I prefer and most men and women prefer a more natural-smelling scent over a toxic projecting cologne.
So, it's a no-brainer to a ball deodorant that smells natural, pleasant, fresh, and clean.
Things You Should Avoid In A Ball Deodorant
Antiperspirants. Anything that has aluminum in it I try to avoid applying to my body. The jury is still out on this (I think) but I don't need aluminum on my body or possibly entering my body. Plus it can lead to staining your clothes.
Cologne scents.
Products that are made in other countries. Yes, there are ball deodorants sold in America that are made in other questionable countries. I just don't trust other countries manufacturing processes, labeling, or integrity.
Other Good Ball Deodorants Worthy Of Your Consideration
Meridian The Spray is a good general deodorizer for your private parts and body. The scent is really good and light but does the job without the overpowering cologne smell. This is a smaller spray bottle but just needing one or two spritzes should last you a good while. It is pH balanced with calming botanicals to hydrate skin and ease irritation.
They also make the best ball trimmer, the Meridian Trimmer. Check it out if you need a trimmer that won't cut you. My highest ranked ball trimmer.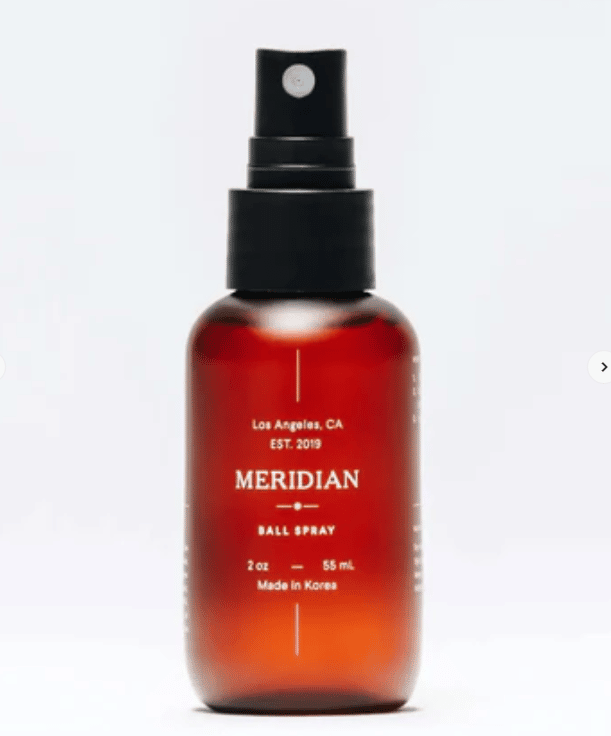 Happy Nuts Comfort Powder is a great powder ball deodorant. This uses great ingredients and smells fantastic. The performance is fantastic too. This comes in a nice big bottle and has a good price point to match. A solid choice.
Read my full review here for more information, Happy Nuts Comfort Powder Review – How Well Does It Work?
Pete & Pedro Powder is another great powder ball deodorant. Pete Pedro is run by Alpha M a popular YouTube creator that has started his own product line. I have reviewed some products from Pete & Pedro and all of their products work great. They have a total of three different scents to choose from when ordering and they are Fresh, Frost, and Fragrance-Free. The Fresh and Frost smell good.
Also, it has a great list of ingredients and great anti-chafing properties. Performance is stellar as well.
Read my full review here if interested, Pete & Pedro Powder Review – Does It Work?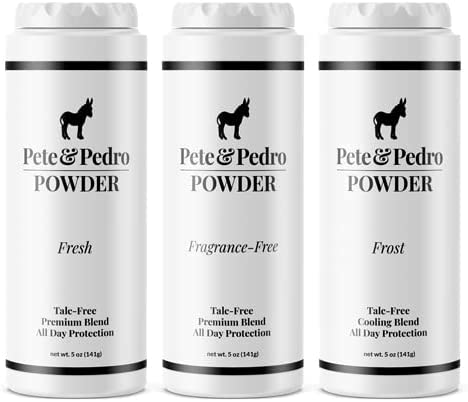 Some General Tips To Advice To Help Avoid Ball Sweat & Stink
I've written a post about how to reduce stink and sweat down south of the border. It is filled with good sound advice. Check it out here, How To Reduce Ball Sweat – Practical Advice.
What Is The Best Ball Trimmer? What Do I Recommend?
A great way to control odor and sweaty balls is to trim the ol' boys. This will help a lot, so what ball trimmer is the best?
Meridian Trimmer Plus is the best ball trimmer I have used and reviewed to date. Meridian makes the best trimmers and they really protect against nicks and cuts. The Trimmer Plus is their newest trimmer with a lot more features than their previous model.
To find out more head on over to my page, Meridian Trimmer Plus Review -Worth Getting? Find Out.
The Final Shave
The product listed here have all been reviewed by me and made a very positive impression on me. I hope you give some of these products a try and let me know in the comment section below how they perform for you.
If you have never tried a ball deodorant before and wonder if they help, rest assured they do.
Would love to hear any suggestions for ball deodorants or user experiences.