What Is Nair Men Hair Remover Body Cream?
Are you wondering how well this works? Is Nair Men for you? This website deals with back shavers in general but also deals with hygiene products. Nair Men also deals with removing hair and can be used to remove back hair and thus I wanted to review it for this website as a method of removing back hair but it can also be used for other body hair as well. So let's get to it on
Nair Men Hair Remover Body Cream is a lotion applied to the skin to remove body hair. Nair Men uses chemicals that break down hair. To be more specific, any hair on the back, chest, arms, or legs, and I wouldn't use this on any other area of the body as per the instructions. After a short time, the chemicals work their magic and the hair wipes away with a washcloth and then you wash with soap to rinse clean.
You can also check out my review of Nads For Men Hair Removal Cream Review – Good For Back Hair?
What Is Included?
1 – 13 oz. bottle of Nair Men Hair Remover Body Cream
1 – Instructions on the back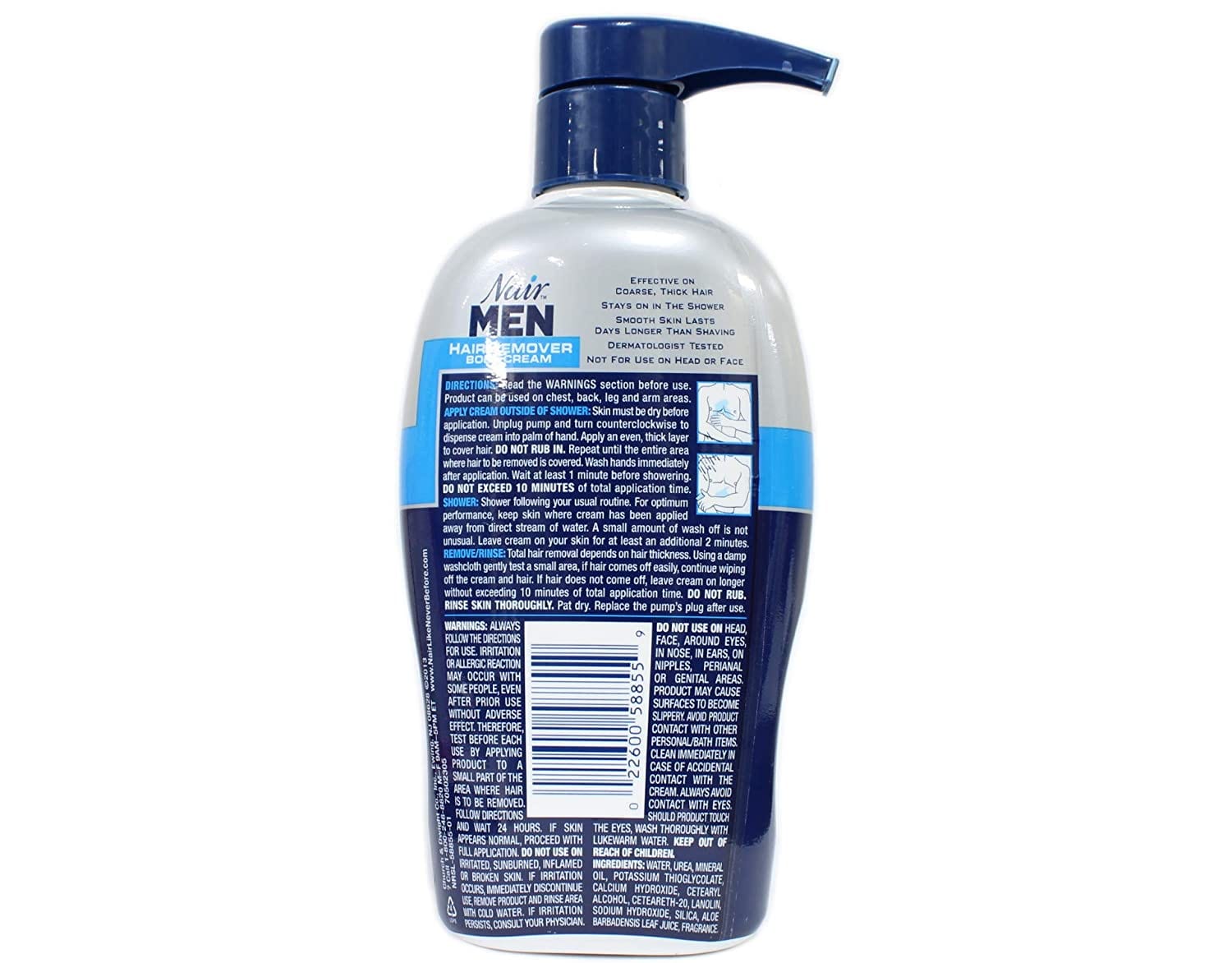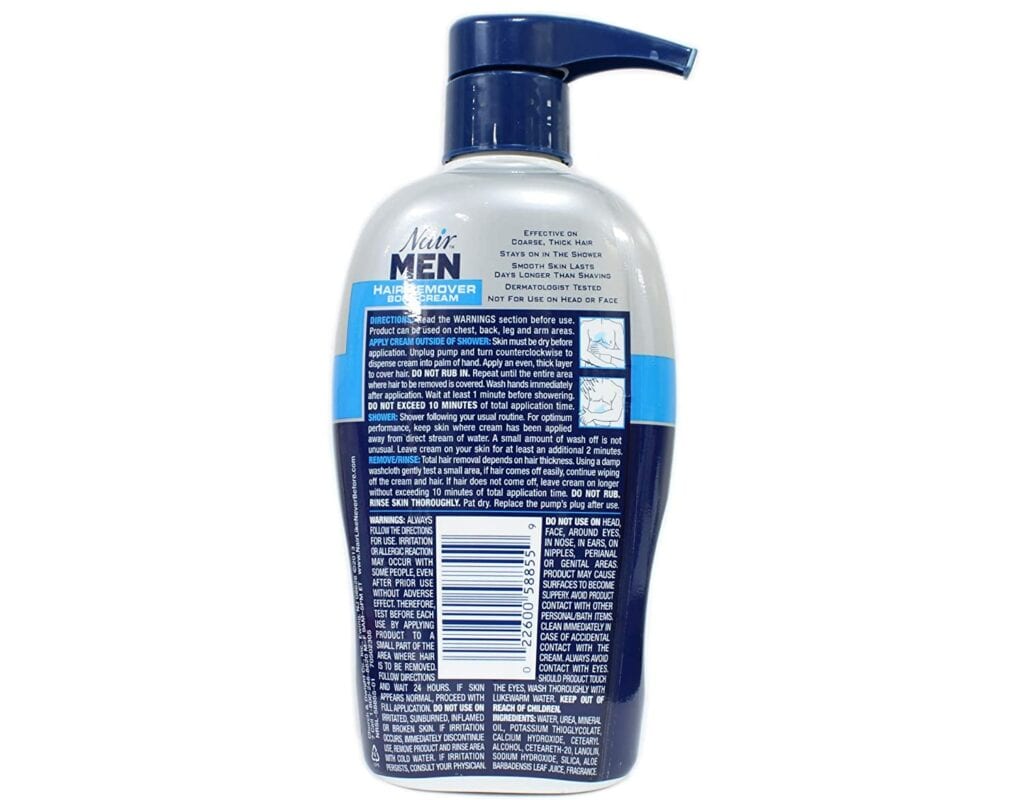 Specs On Nair Men
It is important to know what you are putting on your body, so take a look at the list of ingredients below.
List of Ingredients
Water, Urea, Mineral Oil, Potassium Thioglycolate, Calcium Hydroxide, Cetearyl Alcohol, Ceteareth-20, Lanolin, Sodium Hydroxide, Silica, Aloe Barbadensis Leaf Juice, Fragrance.
How Good Does It Work?
As long as you follow the direction it works great. I don't have thick hair and I left the lotion on my skin for 3:30 minutes and it removed all my hair. I applied it to my stomach area due to having recently shaved my back. I found the time I choose worked and I was left with a smooth but pudgy stomach. Lol, rocky the Dad bod.
If you attend to use it for removing back hair I highly recommend getting a lotion applicator with a long handle, keeping in mind you need to apply a thick layer of lotion and not to rub into the skin as much as possible. This will allow you to reach all the areas on the back, see below for lotion applicator recommendations.
Pros & Cons
Pros
Zero chance of cutting yourself.
Can be used in the shower. This is a great spot to use it as you can wash it off easily in the shower and keep it from going everywhere but it must be applied to dry skin.
Nair claims it lasts longer than shaving, I haven't tested this but I believe it goes below where a razor can cut when the lotion is applied.
Nair has been around a long time and is a well-known company.
Pretty simple application and ease of use to remove hair.
Cons
High rate of irritation or allergic reaction, as it is on the warning label. You must always try a small patch of skin, even if you have used it before, and wait 24 hours to see if there is any irritation. Then you can apply it to the skin.
There a lot of areas you are not supposed to use on your body, face, head, around the eyes, in the nose, in ears, around nipples, perianal, and genital areas. Avoid these areas!!!
Smell. I am not a fan of the smell.
Must be applied to dry skin.
Not following directions can lead to pain, chemical burns, and irritation.
Shouldn't be used on or around cuts on the skin.
Possibilities of applying it to the wrong areas. You know, the sensitive areas.
Needs another person or device to apply to the back for hair removal.
Tips On Using Nair Men
As always read and follow the directions. Also, have a clock nearby or set a timer and keep track of how long the product is on. Follow the times given on the back of the bottle and work up on time if the hair is still present.
Have some dedicated wash clothes for wiping the Nair off your skin.
If you are going to use it to remove back hair I highly suggest using a Lotion Applicator on Amazon. Basically, they are a device with a long handle and a foam head where any type of lotion can be applied. This makes reaching your back a whole lot easier and simpler. I have reviewed a couple of products and I will leave the links below, check them out, a great device.
Disposable gloves are also helpful if you are putting this on areas you can reach easily. After all, you are using chemicals to remove hair, and the less contact with your skin the better. Think about using some disposable gloves.
If you have thicker body hair, you are going to have to leave the Nair Men product on longer. The maximum time is 10 minutes, as thicker hair requires a longer time.
If you have long hair I would suggest putting it up in a bun or something to avoid the possibility of getting it on your head hair and avoiding an accidentally partial haircut.
The Final Shave
I am more used to and feel more comfortable using a manual back shaver overusing a product like Nair Men, I can see where some people would much rather use a hair-removing lotion. For me personally, I don't like chemicals on my body as I do have a health condition and would rather avoid using it regularly. If you are interested in back shaving I highly recommend checking out my review Bakblade 2.0 Elite Plus Back Shaver Review, it is my highest ranked back shaver that I have used and reviewed.
It works well, you just have to read the directions and follow the guidelines for removing hair.